WITH THE GAME ticking into the 76th minute, Leinster back row Max Deegan surges into the Munster 22. Things aren't looking great for the province wearing red.
Surely now Leinster will control the ball in the exact area of the pitch they want to be in, guarding their 15-13 lead and perhaps pressuring Munster into conceding a penalty that will allow Leinster to seal a home URC final.
The fatigue has clearly set in for both teams. The ball has been in play for a long, long time already. By the time the final whistle blows, the ball-in-play time will stand at a massive 44 minutes and 50 seconds, according to Opta.
But even with tired legs, lungs, and minds, Munster just want one more shot at winning.
Their opportunity arrives on the next phase as Leinster replacement tighthead Thomas Clarkson thunders onto the ball but loses it forward a split second before Munster sub back row Alex Kendellen tackles him.
The timing is just off as Clarkson accelerates and has to reach back in a bid to gather Nick McCarthy's pass. A lifeline for Munster.
Keith Earls pounces on the loose ball and as he turns upfield, out-half Jack Crowley is already pointing infield, urging Earls to pass the ball away from the main cluster of players and towards the space.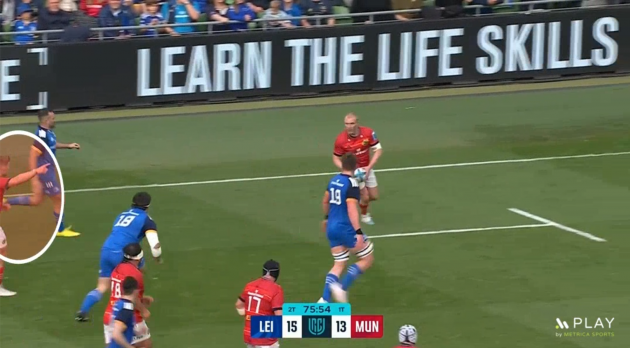 As Earls then throws his pass infield to wing Shane Daly, Leinster out-half Harry Byrne accelerates forward in a bid to make a ball-and-all tackle on Daly that nips the counter-attack in the bud.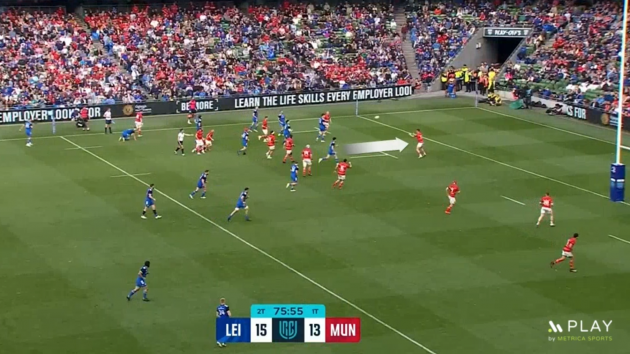 But Daly is aware of the threat and he does superbly to accept Earls' pass while he's static, get both feet off the ground in his next movement, and explosively step to his left, bringing the ball across to the other side of Byrne's tackle, meaning he can offload.
It's excellent skill under pressure from Daly.
With the ball in the air, flanker John Hodnett now faces a similar danger as Leinster number eight Jack Conan advances towards him, again looking for the ball-and-all tackle that allows his team to gather themselves.
As we can see above, Hodnett has had to retreat to actually catch the offload from Daly.
Again, the Munster man does well under pressure. Hodnett steps back to the inside of Conan, who falls off the tackle attempt.
The Munster back row then uses his right hand to fend John McKee and when the Leinster tackler slips down low, Hodnett gets the ball back into two hands for another offload.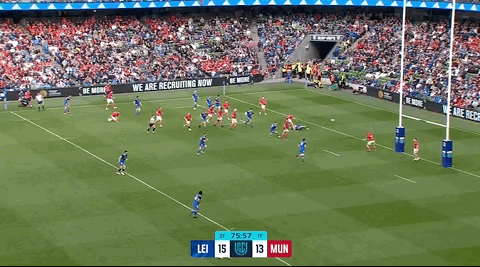 Replacement centre Rory Scannell is the recipient and with Leinster having moved to cover the two Munster players outside him, Scannell also steps back inside deftly, beating Conan's tackle attempt.
As Scannell does so, we can see Hodnett working back onto his feet, eager for another involvement.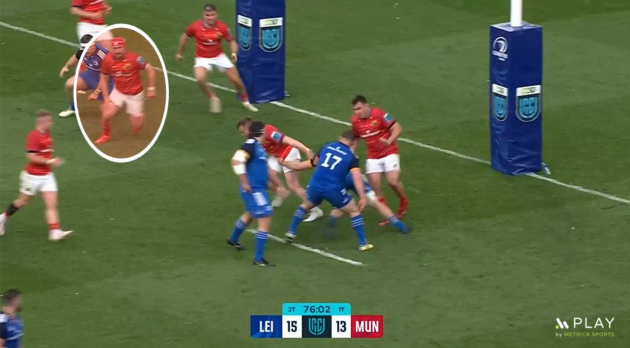 Scannell's footwork allows him to accelerate inside and upfield of Josh van der Flier, who can only grab onto Scannell's shirt and is unable to prevent a third Munster offload in quick succession.
Having got off the ground, Hodnett is in position to take the return offload from Scannell and carry up towards the 22-metre line before he's hauled down by the retreating Byrne. 
Munster threw 20 offloads in this game to Leinster's three and this short flurry of skills shows the value of Graham Rowntree, Mike Prendergast and co. having backed their players to be adventurous with ball in hand this season.
Suddenly, from a position where it looked like Leinster could kill the game off, Munster have momentum and scrum-half Craig Casey follows up the brilliant footwork and handling with an excellent kick deep into opposition territory.
Having just turned the ball over, Leinster's backfield is not set up to deal with a kick.
Just as Earls is passing infield to Daly, we can see that Leinster scrum-half Nick McCarthy is dropping into the backfield.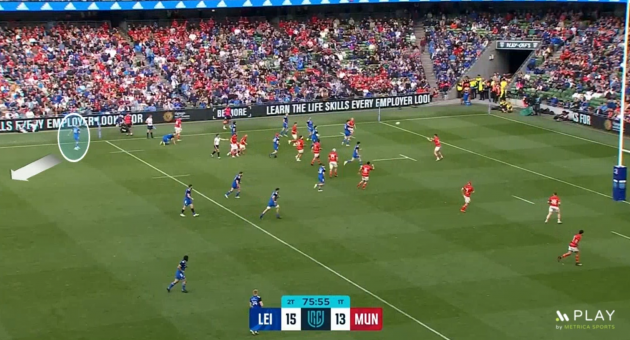 But he's the only one who drops off the frontline at this stage, meaning that by the time Casey scuttles in to scoop the ball up after Hodnett has been tackled, there's massive space calling out in the Leinster half.
Casey launches a fine kick down the left.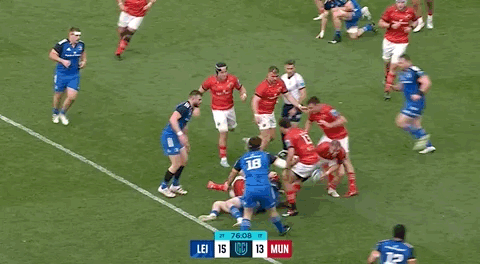 As important as the kick is the chase, led by the tireless Mike Haley, who must have racked up a phenomenal total of high-speed metres in this game. Haley thunders upfield past Tommy O'Brien in this instance.
On the inside, the work of Kendellen is crucial too as he sprints upfield to ensure that Haley isn't vulnerable to a step back on the inside by McCarthy.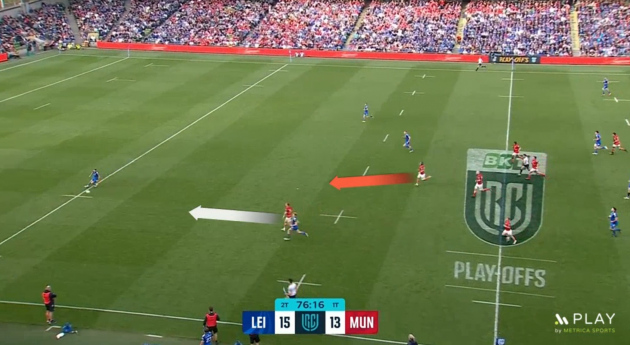 The pressure from Haley and Kendellen forces McCarthy to make his decision quickly after the ball bobbles just in front of him.
Perhaps McCarthy could try to step back inside Haley but with Kendellen closing fast, as well as Casey and Fineen Wycherley working up behind them, there's a danger of being turned over.
McCarthy can't kick out on the full after carrying back into his own 22. And he's fatigued after a long sprint back downfield. So he launches a kick of his own into the Munster half, looking to at least clear from his own.
And so, with 76:24 on the clock, Munster get the ball back as Crowley gathers it on the bounce.
The players are close to being out on their feet at this point but Munster summon the energy to produce the game-winning drive. It's a testament to the fitness they have improved with their high-intensity 'chaos games' in training this season.
As Crowley looks up, the Leinster players closest to him are retreating as they wait for O'Brien to get upfield and bring them onside.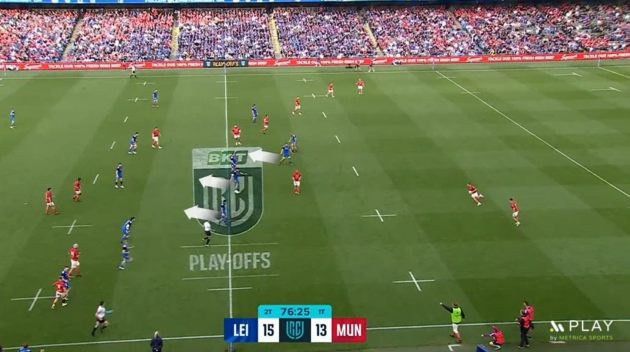 It's an open invitation to Crowley, who picks out Byrne in front of him.
Crowley winds up over 15 metres and smashes into the Leinster out-half with a venomous carry, bumping Byrne backwards.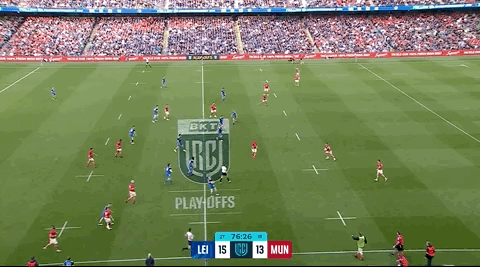 It's a dominant first carry to set the tone and give Munster a rapid recycle at the breakdown.
Even as Crowley is being grounded by Byrne, Munster are setting themselves to move the ball wide to the right.
Below, we can see Daly swinging from his left wing across to the right, the latest example of his hard work off the ball in this game and all season. Under Prendergast, Munster's wings are encouraged to create overloads with their off-the-ball work.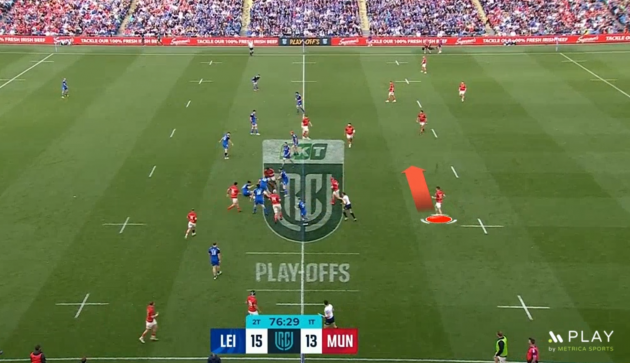 And over on the right side of the breakdown, Jack O'Donoghue is nominating himself to receive the pass from Casey as he sets up in a two-man pod with prop Roman Salanoa on the inside.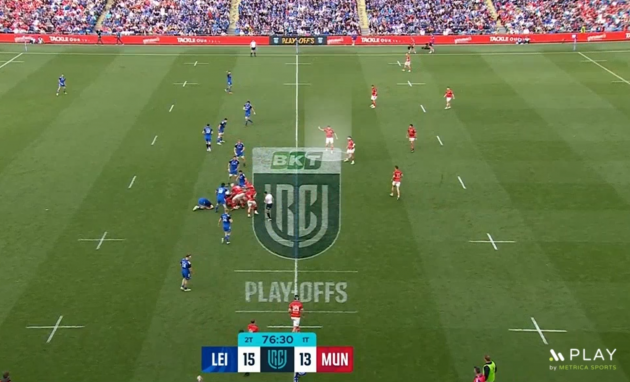 With Daly working hard to get across, Munster move the ball out to the right.
O'Donoghue links out the back to centre Antoine Frisch and he slaloms diagonally before flicking a nonchalant one-handed pass to Daly, who offloads to Earls.
Munster do appear to be lucky to get away with Scannell's run ahead of the ball here.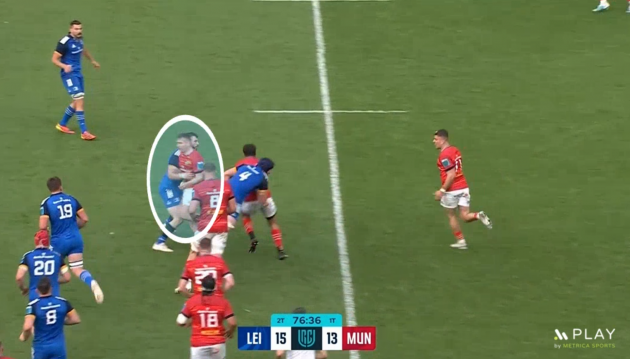 The Munster centre makes slight contact with Robbie Henshaw's inside arm and the Leinster man then struggles to get at Frisch as he slips out of Ryan Baird's tackle attempt.
We've seen this kind of thing called as obstruction before but that's not the case here and while Henshaw briefly appeals, play continues.
Earls cuts back infield and makes a pre-contact pass to Coombes, who offloads to O'Donoghue, who ekes out another couple of metres with a strong carry into van der Flier.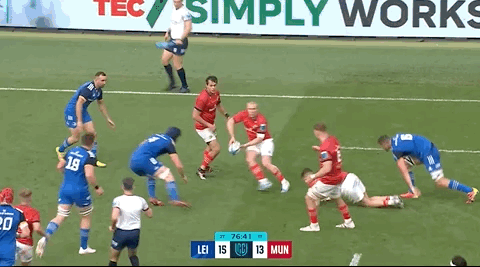 As we can see above, there's a jackal threat from Conan but Frisch and Salanoa combine to clear him away.
On the next phase, Munster have again found some attack shape that allows them to continue to drive upfield.
Niall Scannell is at the centre of a three-man pod of forwards with Fineen and Josh Wycherley providing options for short passes on either side of him, while Rory Scannell is connected in behind for the sweep pass option.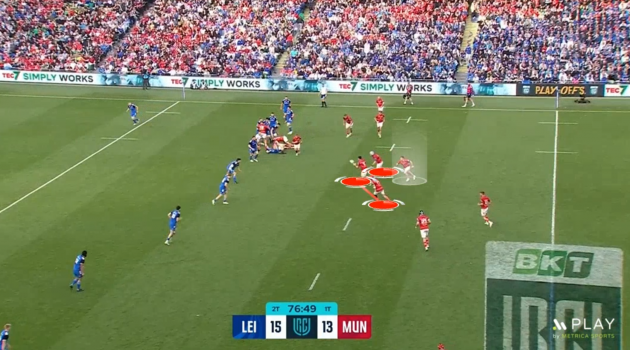 The three-pod helps keep the Leinster defenders closest to the ruck condensed so that when Niall Scannell sweeps his pass out the back to brother Rory, there is space beckoning for Munster in midfield.
The spacing between Byrne and Charlie Ngatai in the Leinster defence is inviting, with Byrne having to turn in to deal with the threat of Scannell darting at the line.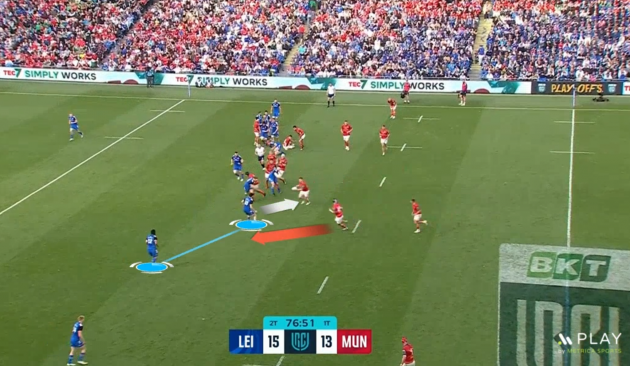 Kendellen can then accelerate into the space outside Byrne as Scannell slips him the short pass.
As we can see, Kendellen is tackled by a combination of McKee working from the inside and Ngatai turning in.
Rory Scannell needs to be sharp at the breakdown here with Ngatai staying up on his feet and attempting to reload over the ball for a turnover.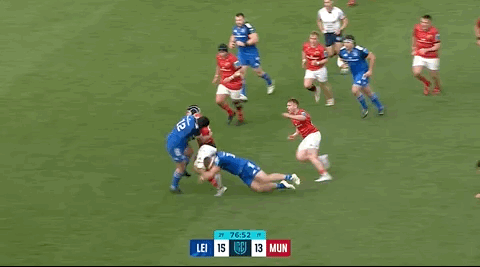 Scannell is coming from the right of the tackle but he does just enough to square himself up before engaging with Ngatai, making enough of a dent to ensure the Leinster centre can't get his hands clamped onto the ball.
Josh Wycherley arrives in and also targets Ngatai's arms to ensure he can't jackal successfully and while the Munster prop goes off his feet, referee Frank Murphy is seemingly content that it hasn't denied Leinster a turnover.
On Munster roll as the Leinster defence struggles to get any sort of linespeed with the speed of recycle so fast. Casey and Crowley's passes send Hodnett hurtling up into the Leinster 22.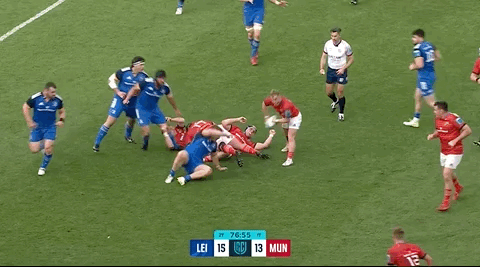 Again, there's a jackal threat as Leinster wing O'Brien looks to kill the Munster momentum.
This time, Crowley is first arrival but he slips up over O'Brien's back and it needs Haley's big impact to quell the danger.
Haley gets good contact with his shoulder into O'Brien's ribs and levers the Leinster wing's right leg up to destabilise him and ensure more quick ball for Munster.
Josh Wycherley and Kendellen are next to carry off Casey for no real gain, before Coombes produces yet another powerful carry after working around the corner.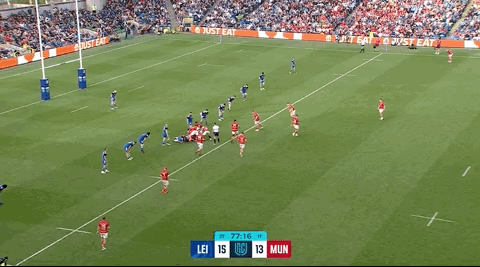 There's a useful bit of support work from O'Donoghue here as he connects with tackler Clarkson, allowing Coombes to use his leg drive to make a few more inches.
Josh Wycherley arrives in and helps to trap Clarkson on top of Coombes. Munster obviously want a penalty in these circumstances, giving them a shot at goal for the win, and they appeal that Clarkson hasn't rolled away.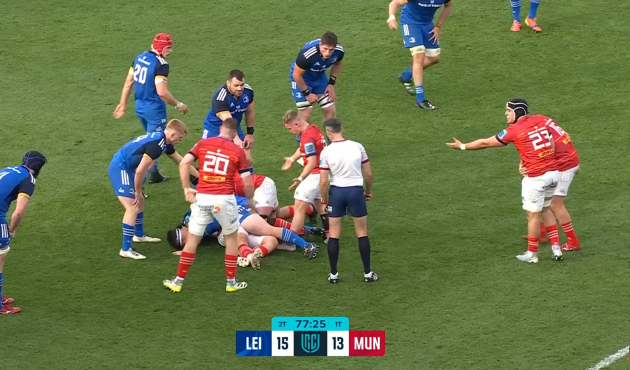 "Ball is there," is Murphy's reply to the appeals.
The lengthy delay gives Leinster prop Cian Healy time to consider the situation and he winds up before smashing into Wycherley on the counter-ruck, driving the Munster prop back into Casey and suddenly leaving the ball exposed.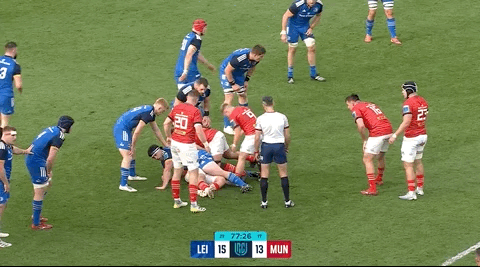 O'Donoghue and Niall Scannell react hastily, preventing Healy from getting up to own the space over the ball and Munster somehow rescue the situation.
It's unclear from the angle exactly how the ball rolls back to the Munster side here but it's now Leinster's turn to appeal.
"Hands on the ground," screams van der Flier twice, indicating that O'Donoghue or Scannell have illegally scooped the ball backwards.
"Ball is there," responds Murphy again. So Munster still have possession, but they've lost momentum. Kendellen takes matters into his hands to get it back.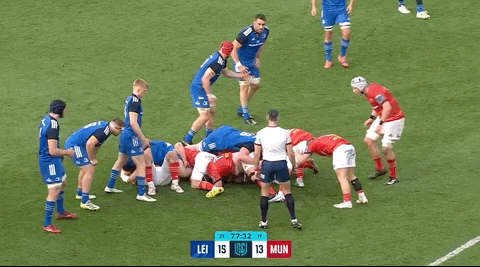 It's a powerful low carry into van der Flier to make a couple more metres for Munster and it's a straightforward breakdown this time for Fineen Wycherley, Salanoa, and Niall Scannell.
As Kendellen is carrying, we can see that Crowley has dropped into the pocket.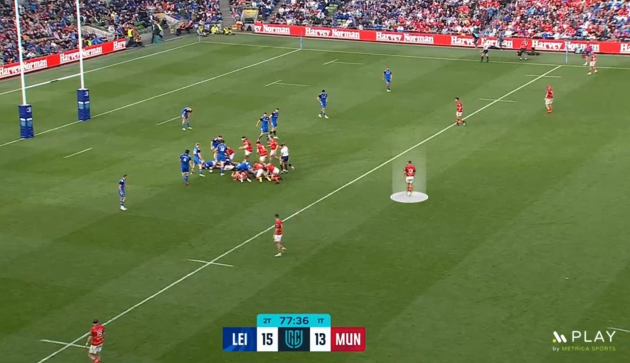 Munster don't have penalty advantage here. There's still more than two minutes left on the clock. So there's not an urgent need to go for the drop goal just yet. They could play more phases looking for a penalty or to batter their way to the tryline.
But Crowley senses the time is right, even with another slow recycle after Kendellen's carry. Crowley doesn't even set up a great distance back to give himself more time and space. He gives Casey the call or the nod and he takes on the responsibility.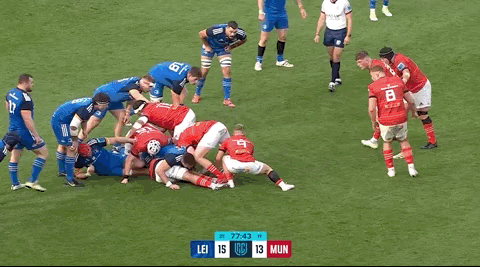 Casey's pass isn't a particularly long one but he nails it.
It's onto the right side of Crowley's body, so he doesn't have to swing the ball across to his kicking foot and it's also thrown at a nice velocity. Casey can pass the ball much faster than this but while he wants to give Crowley as much time as possible, it's not ideal if the out-half has to overthink catching an absolute bullet of a pass.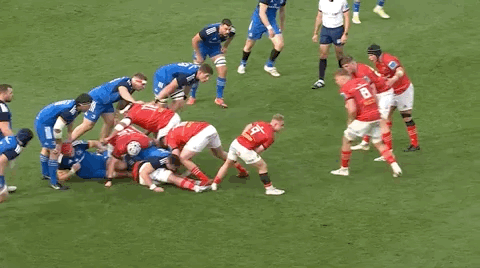 Crowley is calm and accurate with his drop goal technique, getting a firm plant of his left boot and dropping the ball straight down to bounce on its end – which might sound simple but is not easy with defenders haring towards you looking for the blockdown.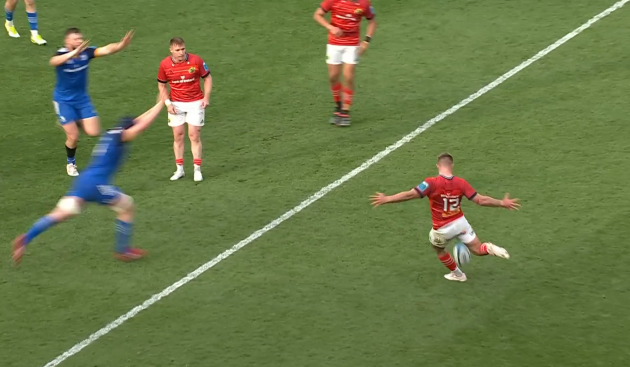 Some drop-kicks fail because of a poor drop, with the ball bouncing off the ground at an awkward angle and resulting in a skewed kick.
In the moment above, it almost looks like a place-kick for Crowley and while there are some similarities, a drop goal is clearly very different.
One key point in Crowley's success is that his good timing allows the ball to bounce up off the ground in the split second before he connects his foot with it, as we see below.
This is why he's able to get the ball up on such a high trajectory to just clear the blockdown attempt from Baird.
Again, some drop goal attempts fail because the kicker doesn't allow the ball to get back up off the ground sufficiently, which can result in a low trajectory or the kicker's foot scuffing the ground.
Crowley's strike is pure, as he keeps his head down, eyes laser-focused on the ball despite the pressure coming his way.
It really is a matter of centimetres as Baird so nearly gets a hand to the ball but it flies proudly through the centre of the posts with 77:47 on the clock.
Munster still have to see out the game but Leinster botch their restart, Kendellen powers strongly off the scrum, Coombes and O'Donoghue carry, then Casey blasts the ball into the stand to spark the celebrations.