MUNSTER THREW OPEN the doors at Thomond Park yesterday and welcomed a handful of journalists in to watch their training session. This is a real rarity in the modern game.
The province's players and coaches have been telling us all season about how fast they're training now, how each session is carried out at maximum intensity, how they're putting their skills under more pressure than ever.
They weren't exaggerating. The main chunk of yesterday's session saw the players split into three teams of 15, with those sides rotating in and out as two of them played against each other at all times. There were almost no pauses in the frenetic action. It wasn't full-contact rugby but it was hugely physically demanding. It was all akin to the 'Stuesday' sessions in Leinster. Munster have their own name – 'chaos games.'
The rain was sheeting down at Thomond Park and there were errors but there was plenty of good stuff too, illustrating why Munster's phase-play attack and defence has looked better each week. While they were sucking in the air whenever they got a brief chance, Munster's players were visibly enjoying the challenge. Not that everyone was completely happy ahead of Sunday's Champions Cup clash with Northampton in Limerick.
"I had a go at them there today," said defence coach Denis Leamy after the session.
"I was a little bit disappointed with the start of training. The conditions weren't perfect, but we got a really good session from the middle on. The speed, it was difficult. Greasy ball, but the energy they exerted and the speed they covered the ground with was very impressive."
With essentially every single player getting a chance to impress, it was clear how heavily involved Munster's assistant coaches were. Leamy, attack coach Mike Prendergast, and forwards coach Andi Kyriacou helped to run each team, while academy manager Ian Costello was very vocal. Lead performance analyst and technical coach George Murray was also coaching on-pitch.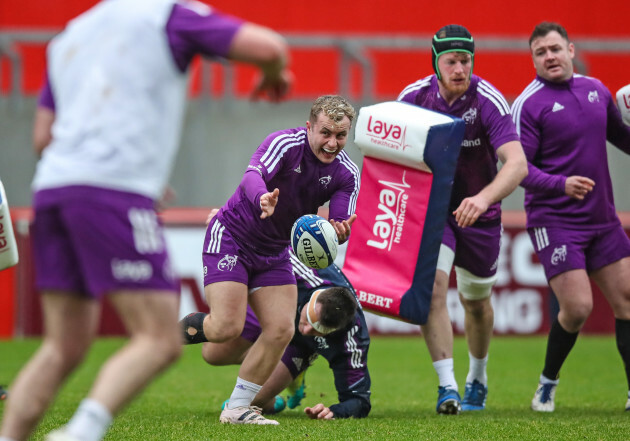 Evan Treacy / INPHO Craig Casey whips away a pass. Evan Treacy / INPHO / INPHO
Overlooking everything was head coach Graham Rowntree, although he was more hands-on when the forwards and backs split. The scrum is his expertise, so he and Kyriacou led the work there and at the lineout and maul.
Down the other end of the pitch, the backs worked with Leamy on their tackle technique and then ran through 4-on-3 drills with Prendergast and Costello, again working at high tempo rather than stopping to discuss errors. Munster's players are being encouraged to work things out on the move, as they must do in games. And for coaches, it means they must be more accurate than ever with their words to the players during training.
This was all insight into how Munster have been able to make gradual improvements this season, which started in tricky fashion but has more recently seen them stringing together better results and performances.
"From the start of the season, it's chalk and cheese," said Leamy of how Munster's players have taken to their new approach. "We're moving so much better, the data tells us that, and it's very exciting.
"It's allowing us to do things now that we probably couldn't do six months ago, so that's something we feel we can grow as well.
"Foot-speed across the ground in rugby is really important, whether it's in a lineout or within a defensive system or an attacking system, it all feeds into being a better quality player.
"We train both sides of the ball, we train defence against attack in those drills and the attack is benefitting from a fast-moving defence, we sharpen each other.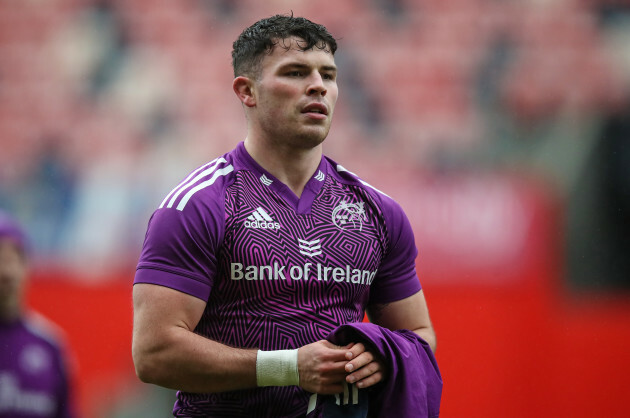 Evan Treacy / INPHO Munster wing Calvin Nash during yesterday's session. Evan Treacy / INPHO / INPHO
"That's the benefit of those chaos games, both sides of the ball are being put under pressure and being asked to execute under a lot of linespeed, a lot of good skills against you in terms of defence.
"It just asks good questions of you continuously in terms of knowing your roles, asking you to get up, work, work, work – speed into position. It's coming along nicely."
This approach to training was new for most of the Munster players when Rowntree and his coaching team took control last summer, so it makes sense that there were initial teething problems.
Munster appreciate that they are very far from the finished article. But they're confident that the ship is sailing in the right direction, with the players physically fitter, their skillsets improving, and their decision-making getting clearer.
"I think we've been very good, not blowing us up, but the boys have been very good over the last six weeks," said Leamy.
"We're starting to get consistently good at what we want. There was a lot of change and that's difficult as a player, to change a lot, and it's taken time to become comfortable and get that detail and those micro-details right, and adding the pace and execution to it."
Munster know that they will be judged by their results and their hope is that the improvements and excitement behind the scenes will translate into more wins in the Champions Cup and URC.
Get instant updates on your province on The42 app. With Laya Healthcare, official health and wellbeing partner to Leinster, Munster and Connacht Rugby.