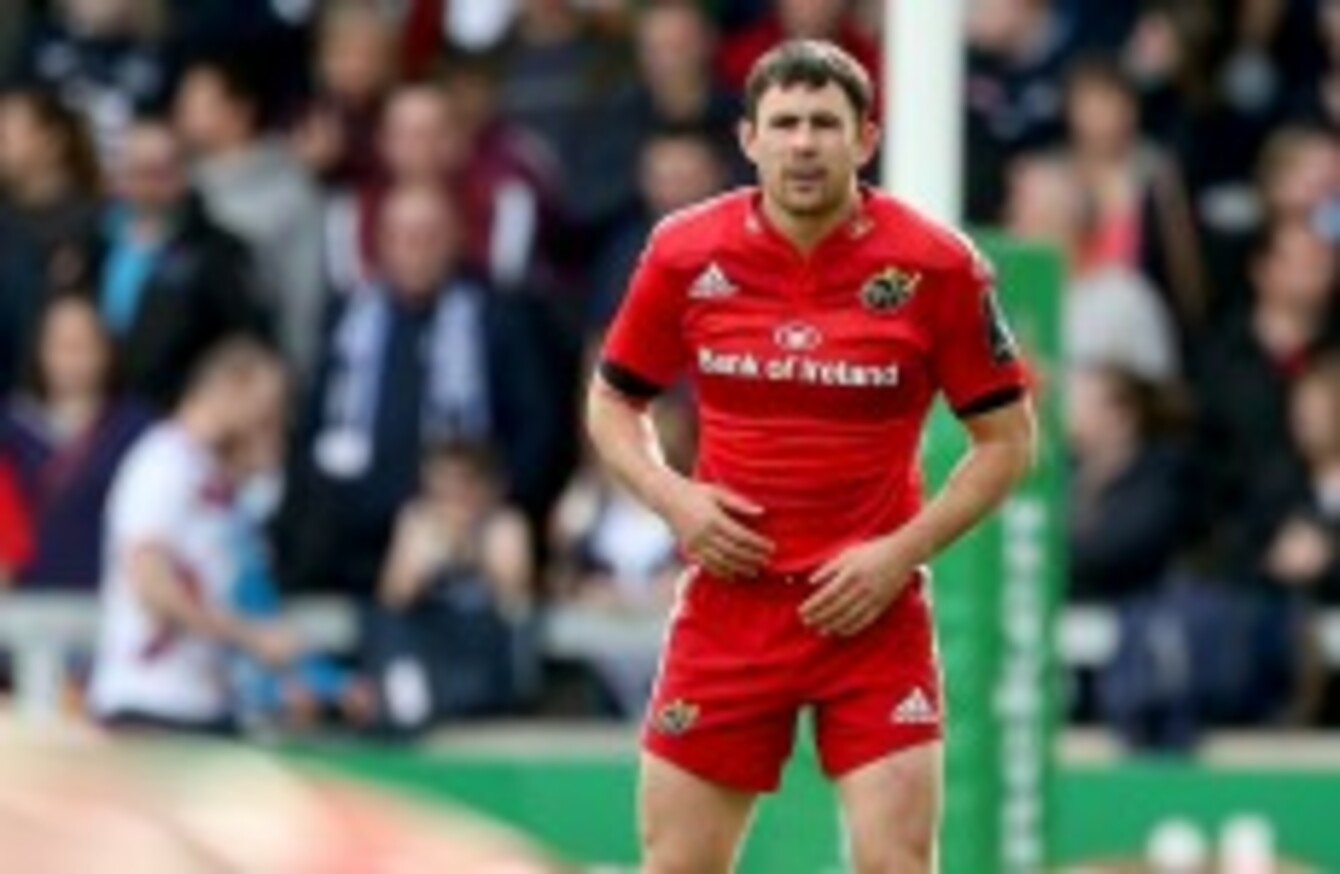 Jones is now a key leader for Anthony Foley's Munster side.
Image: James Crombie/INPHO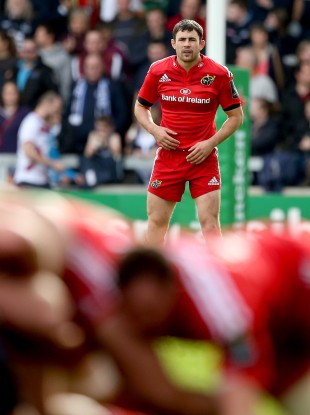 Jones is now a key leader for Anthony Foley's Munster side.
Image: James Crombie/INPHO
MUNSTER'S VIDEO ANALYSIS this week will have focused on their own recent performances, as well as the strengths and potential weaknesses of tomorrow's Champions Cup opponents, Clermont.
Almost as importantly, a third strand to their pre-match study will have centred around the referee of the Thomond Park fixture, Englishman Wayne Barnes.
Every team at the top level of the game goes through this process of identifying the elements that make up the key match official. A crucial penalty could be the difference between winning and losing, after all.
Is this referee lenient in terms of side entry at the ruck? Does he allow a physical contest for the ball in the air? How far can we push the offside line? Will he reward the jackal at the breakdown?
Earlier this season, Munster struggled to get to grips with the officiating of Laurent Cardona after he replaced the injured Mathieu Raynal in the first half of their Pool 1 clash with Sale.
Cardona heavily favoured the attacking team at the breakdown, negating Munster's defensive strength in that area until they adjusted their approach in the second half. The pre-match analysis of Raynal that week ultimately proved to be a waste.
Not that the process is not important to go through. Munster fullback Felix Jones is keen for his province to keep up with the vital refereeing trends.
"The game is moving and changing so fast," says Jones. "Week to week, things could be changing just due to the referee and what his trends or hot penalties are. Every couple of weeks there could be a new trend in the game that becomes massive.
"If you have a different ref each week, his interpretation of the breakdown could be slightly different and you might have to adhere to that. Essentially, your systems or philosophies of how your team plays the game should be able to deal with it, but I think things change. They're always moving."
Be part
of the team
Access exclusive podcasts, interviews and analysis with a monthly or annual membership.
Become a Member
Jones says analysis of referees is commonplace in the professional game, and highly "detailed." That works both ways, as referees analyse fixtures involving themselves and their colleagues.
It's fairly in depth," says Jones. "You want to know what referees are focusing on, cluing into. Obviously the referees are all meeting; they have conversations about what's the best way to keep the game flowing for positive rugby."
Speaking of trends in the game, Jones is a central figure in one of the key tactical features of the modern game. Ireland showed this month how effective a gameplan involving high amounts of contestable kicking can be, provided the chase is finely tuned.
"It's a skill that any back three player now has to be able to do," says Jones of the kick chase. "Once a couple of phases go, it's no longer about simply being a fullback or a winger. As a unit, the back three has to be able to work and do a lot of things.
"Guys have their own individual skills, but they're going to need to have a basic level of skills that are going to suit them, be it backfield cover or competing in the air."
Leinster have kicked heavily in recent times, while Munster have had a strong focus on competing for the contestable kicks of Conor Murray in their higher-profile games this season.
While Jones points out that there are major differences between Ireland and Munster's game plans – with both also fluid depending on the opposition – he does agree that kicking is a prominent shared feature.
I know what you mean in terms of how much teams are kicking. The aerial game is massive now, massive within Ireland. You look at Ulster in the last few years, and Leinster, and how good they've been at it. It is big."
Murray, Ian Keatley and Jones himself will look to come out on top of that area against Clermont, limiting the opportunities for the likes of Napolioni Nalaga, Wesley Fofana and Nick Abendanon to thrive in broken play.
All the while, Munster will be keeping a close eye on referee Barnes, with their detailed analysis fresh in mind.