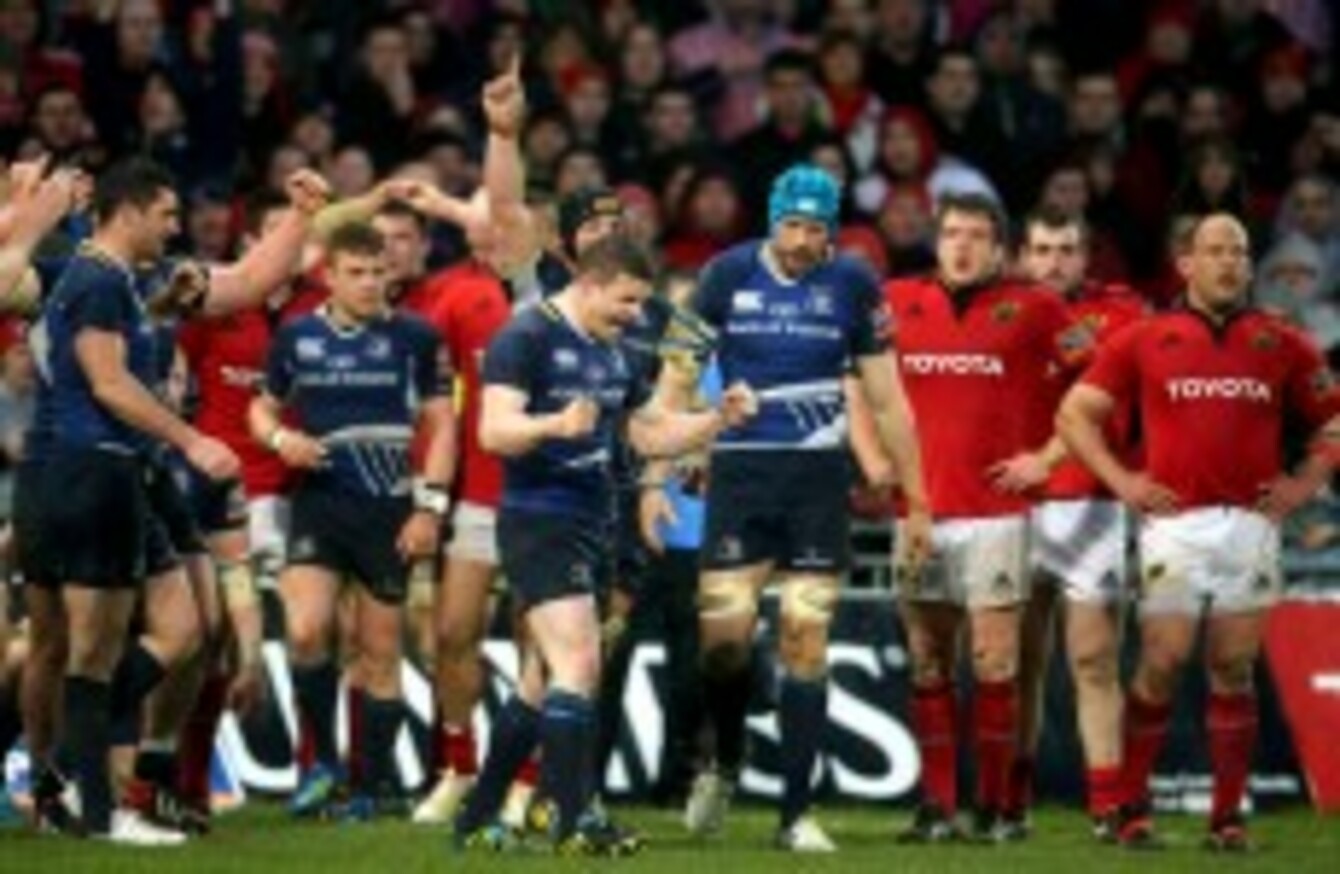 Munster haven't beaten Leinster in their last four attempts.
Image: ©INPHO/Cathal Noonan
Munster haven't beaten Leinster in their last four attempts.
Image: ©INPHO/Cathal Noonan
THE BIGGEST GAME of the season so far takes place on Saturday evening in Thomond Park as Munster face Leinster. This particular inter-provincial derby has long been among the most heated rivalries in European rugby, and this weekend's clash should truly launch the 2013/14 season.
With anticipation starting to grow ahead of the Pro12 showdown, here are nine of the best Munster v Leinster derbies from recent times.
1. Leinster 25-6 Munster, 2009
This game was all about the changing of the guard. Leinster had been building towards it all season and, drawn against the reigning champions in the Heineken Cup semi-finals, this was the perfect opportunity to make their statement. They did so in style at Croke Park.
Led by the dynamic Rocky Elsom, and with Jonny Sexton announcing himself on the biggest of stages after replacing the injured Felipe Contepomi, Leinster were superior in every aspect of play. The intercept try by Brian O'Driscoll as Munster chased the game was the final nail in the coffin after earlier scores by Luke Fitzgerald and Gordon D'Arcy.

YouTube credit: ForwardFlanker
2. Munster 30-6 Leinster, 2006
Just as Leinster dismantled Munster on the way to their first Heineken Cup title in 2008, Munster did to Leinster in 2006. Having pulled off a remarkable 41-35 win away to Toulouse in the quarter-finals, Leinster fancied their chances against Declan Kidney's more proven Munster.
However, the southern province dominated proceedings, targeting the hot-headed Contepomi and scoring three tries. Ronan O'Gara's hand-off on Malcolm O'Kelly for his five pointer summed up the manner in which Leinster failed to step up to the mark. Buoyed by this victory, Munster went on to beat Biarritz in the final.

YouTube credit: Conor Ryan
3. Leinster 0-18 Munster, 2008
This was just a Magners League encounter at the RDS, but it showed the true nature of the pecking order of the rivalry at the start of the 2008/09 season. With Contepomi firing blanks from the tee, two Ronan O'Gara penalties nudged Munster in front before Justin Melck and Doug Howlett scored tries late on.
Later in the season, Munster won 22-5 against Michael Chieka's side, underlining their status as the number one province in Ireland. However, just a month after that second victory, the teams were drawn against each other in the Heineken Cup semi-finals and we've already seen what happened there.
4. Munster 15-16 Leinster, 2010
Munster just didn't do home defeats back in these days but Leinster were the exception to the rule, coming to Limerick and showing that they didn't fear the Red Army. This Magners League clash took place on Good Friday, and set Leinster up for a home semi-final, in which they once again beat Munster.
Ronan O'Gara scored five penalties, but a try from Rob Kearney, a conversion and penalty from Jonny Sexton and a Fergus McFadden three-pointer left the game finely poised heading into the final quarter. Sexton proved the hero for Leinster as he slotted a 65th-minute penalty to reward his team's efforts.

YouTube credit: mleague2009
5. Munster 19-9 Leinster, 2011
Munster claimed the Magners League with a deserved victory over Leinster in the final at Thomond Park. Having won the Heineken Cup a week earlier, Leinster just couldn't hit the same heights again, with three Jonny Sexton penalties all they had to show at the end.
Munster scored tries through wings Doug Howlett and Keith Earls, as well as a penalty try, with Ronan O'Gara converting two of them. Leinster were understandably gutted to have missed out on an historic double, but Munster were relieved to turn the tide and come away with the silverware.

YouTube credit: jdtvideo
6. Leinster 24-20 Munster, 2001
We delve into the archives for this one, as Leinster overcame Munster in the first-ever Celtic League final. The victory came despite a 25th-minute red card for Eric Miller, who kicked John Kelly. Undeterred by the numerical disadvantage, D'Arcy and Horgan scored tries for Matt Williams' team, with Nathan Spooner kicking 14 points.
Anthony Foley, John O'Neill and Anthony Horgan all crossed the whitewash for Munster and O'Gara kicked a penalty and conversion, but Leinster held firm. It was a first win in six attempts for Leinster against their rivals, and a welcome trophy success.
Nathan Spooner was the hero for Leinster in 2001. ©INPHO/Billy Stickland
7. Leinster 17-23 Munster, 2005
The semi-final of the Celtic Cup pitted the inter-provincial rivals against each other at Lansdowne Road. Alan Gaffney had already signaled his intent to leave Munster at the end of the season, but his players ensured he would have a chance at a trophy before he did so.
David Holwell kicked four penalties for Leinster and Girvan Dempsey scored a spectacular try, but Munster had too much. Marcus Horan touched down, with Paul Burke converting and adding three penalties. It was Anthony Foley's late converted try that proved the difference though, and Munster advanced to beat Llanelli in the final.
Foley gets over for the winning try in the Celtic Cup semi-final. ©INPHO/Morgan Treacy
8. Leinster 30-0 Munster, 2009
It doesn't get much more comprehensive than this in a derby game, particularly with Munster failing to score a single point at the RDS. Tries by Shane Horgan, Brian O'Driscoll and Gordon D'Arcy rewarded Leinster's utter dominance, while Jonny Sexton converted all three and kicked three penalties.
The sheer frustration on Munster's part was evident in John Hayes' stamp on Cian Healy, sullying his squeeky clean record. The southern province were still smarting from the Heineken Cup semi-final loss the season before, and they were finding the shift in power hard to accept.

YouTube credit: mleague2009
9. Munster 16-22 Leinster, 2013
Here's our most recent reference point for this inter-provincial derby, with Leinster highlighting their current dominance of the fixture. On a wet and windy Saturday in Thomond Park, a Brian O'Driscoll try and 17 points from the boot of Ian Madigan were enough to get Leinster over the line. Felix Jones and Ian Keatley scored tries for Rob Penney's side, with the out-half adding two penalties.
This was Leinster's third consecutive win at Thomond Park, a trend that Munster will be very keen to turn on its head this weekend.

YouTube credit: LeinsterrugbyTV
What are your favourite memories of Munster v Leinster? What amazing games did we omit? And which team is likely to emerge with a victory on Saturday? Leave your views in the comments section…