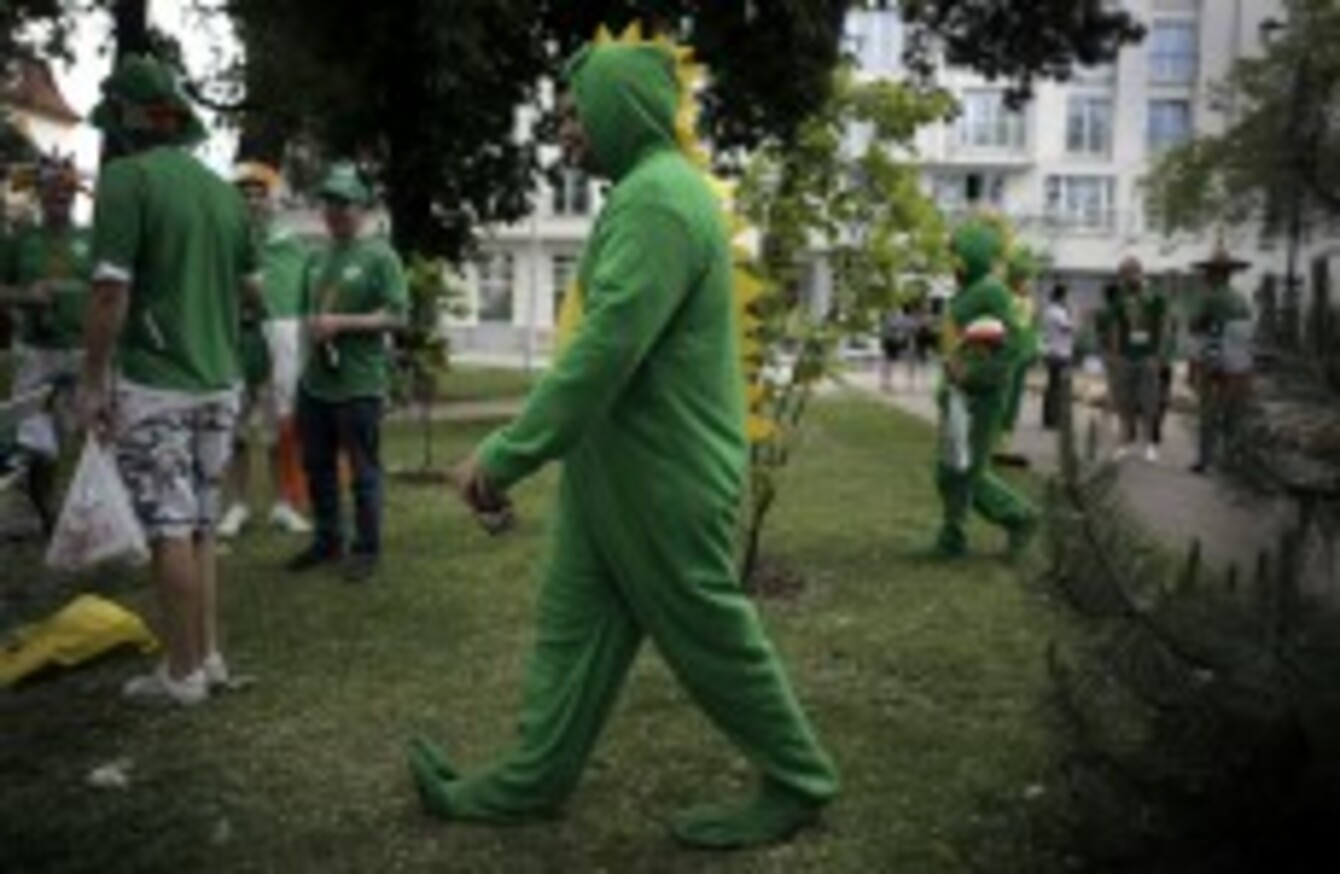 Irish fans in Sopot this week.
Image: Gero Breloer/AP/Press Association Images
Irish fans in Sopot this week.
Image: Gero Breloer/AP/Press Association Images
IF YOU'RE ON Facebook, then the word 'Sopot' has no doubt appeared on your timeline dozens of times in the last week or so.
There they are — photos of people in various states of undress, living it up, sleeping in tents, singing their songs, running into John Delaney…
But last night we watched Portugal and Holland in a quiet little café just a few hundred metres from the Off the Ball Polish Nerve Centre (the apartment we've been broadcasting from, for the uninitiated) and it dawned on us — this tournament is going to go on without us.
It already is.
We're a footnote in the story of Euro 2012, to be remembered solely perhaps for reigniting Fernando Torres' international career. And, for all the furore over Roy Keane's comments about our supporters, our fans will be forgotten soon enough too.  Because that's how it should be — football is about players and managers, and supporters are a triviality in comparison.
Roy was pretty unclear in what he was trying to say but what was really telling was how many people in Ireland were willing to blame ourselves, effectively.  It's a peculiar brand of fatalism when your team underperforms, your manager picks the wrong team… and people decide that the fans are the people who disgraced the nation.
The fans were a side-show, and while everyone over here is amazed at how well-behaved and supportive our fans have been, I'd urge them all to come watch a game at the Aviva before they start proclaiming us to be the 'best fans in the world.' That said, Sopot has never seen anything quite like it.  We were told on Saturday night that apparently there's a movement on facebook and elsewhere urging everyone in Poland to wear green today, in recognition of the fact that they have never seen people so wilfully daft in all of their lives.
Translation: On the 18th of June 2012 – our friendly Irish fans are playing last game in  Euro 2012 with Italy. Unfortunately they have no chances to advance and the  ratio in goals is 1:7. But for the great attitude, fantastic support and friendly interaction with  Poles and for the vocal show on game with Spain we have to THANK THEM :) On the day of 18th of June let's all become IRISH. Let's support them in any  possible way on the stadions in the fun zones, on facebook let's change our  status to "I am Irish Today".  Let's show them that they deserve our big solidarity. Let's thank them.
*************************************
We arrived here last Tuesday week, when the town was a quiet little beachside resort.  And last night was the first night where it seemed to be returning to that place we first encountered.  Because for the last week it's been total insanity.  The green invasion probably began in earnest last Saturday, and it has been utter chaos in the main square ever since.
We're not finished work until 11pm every night over here so joining the party at that stage would have been an exercise in futility.  So strangely we were in the same boat as the locals — looking on in bemusement at the sheer breadth and scope of our ability to drink.    I don't know if I thought the results would have some kind of impact, positive or negative, on people's enjoyment of their time here in Poland but… it hasn't.
What are they
really like?
Rare insights on sport's biggest names from the writers who know them best. Listen to Behind the Lines podcast.
Become a Member
Gdansk is a beautiful place too, and since Sunday was our first day off since we came over here, I went in to check out the shipyards where the Solidarnosc movement started, which was one of the key moments in the fall of Communism.  And on the way back to Sopot, I was able to listen to almost the entire second half of Kildare-Offaly on Newstalk, because we've been broadcasting on the FM band in Gdansk and Poznan for the last two weeks.  It's hard to take in the full importance of what Lech Walesa did in this part of the world when you can listen to Anthony Moyles talking about two-man full forward lines five minutes later.
The GAA's attitude towards this summer of sport has been that the people will have their head turned for a few weeks by the Euros and the Olympic Games, but they'll be waiting to clasp us to their sweaty bosom when our interest refocuses closer to home.
What else can they do?
They know they can't compete with an event that comes around once in a generation, so rather than fight it, they've accepted it.  We fly back to Dublin on Wednesday, and the sporting summer will get back to some kind of normality with Mayo and Leitrim on Sunday… at this stage it sounds like heaven.