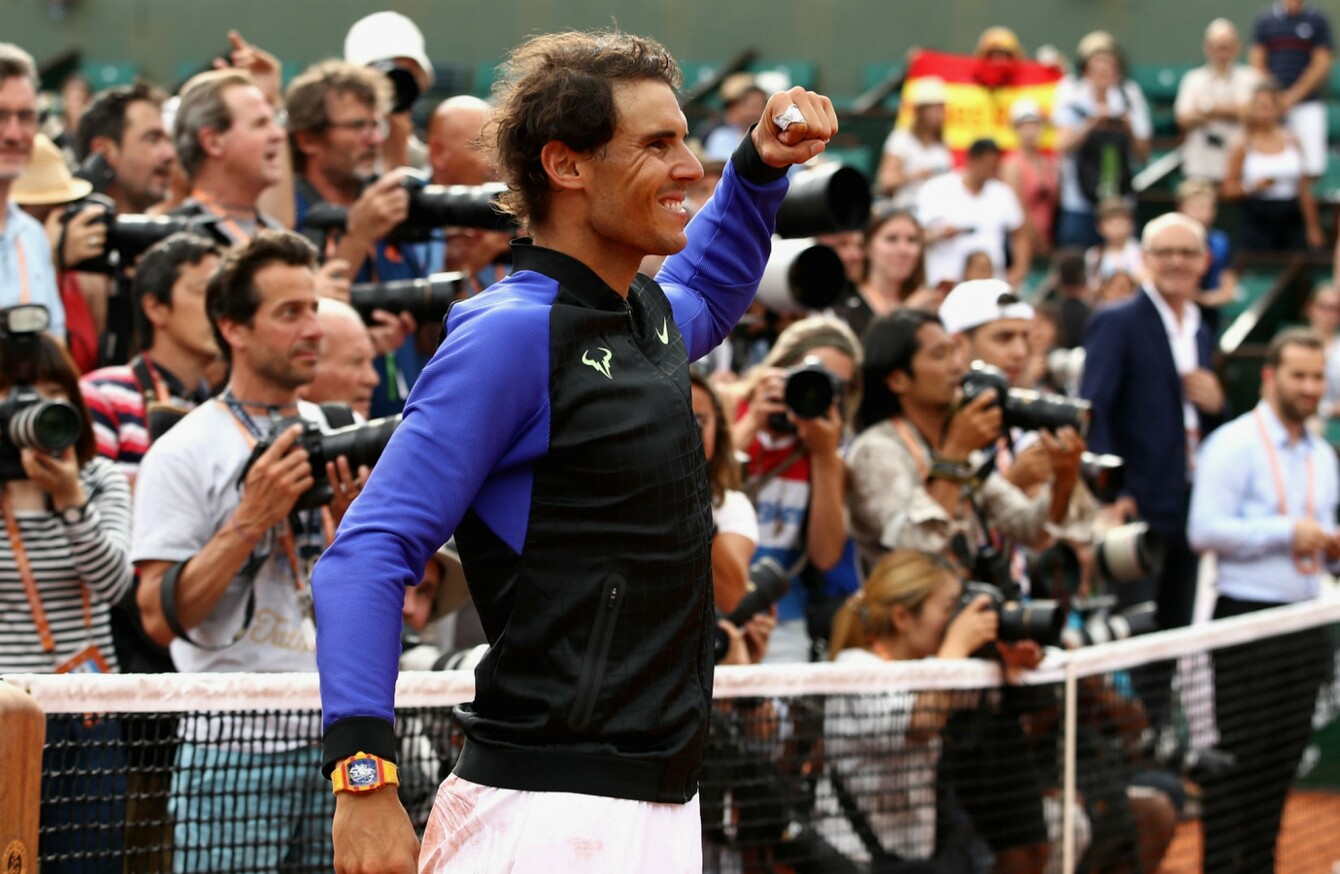 Rafael Nadal after winning the French Open for a 10th time
Rafael Nadal after winning the French Open for a 10th time
RAFAEL NADAL BELIEVES the doubts he felt during a three-year grand slam drought played an influential role in his historic French Open success.
Prior to his straight-sets victory over Stan Wawrinka in Sunday's final at Roland Garros, Nadal had not tasted glory on the biggest stage since his 2014 triumph in Paris.
After falling at the final hurdle against Roger Federer at the Australian Open this year, the Spaniard returned to his throne with a 10th French Open title, making him the first player in the Open Era to win the same major on 10 separate occasions.
Nadal, who has been beset by injury issues during those intervening years, believes it is the way that he responds to adversity that has enabled him to reach such heights.
"I have doubts every day. The doubts, I think, are good, because the doubts give you the possibility to work with more intensity, with more humility, and accepting that you need to keep working hard to improve things," he told a post-match news conference.
"So for sure I have doubts. During those three years, I had doubts. I'm going to have doubts even in a few days, because in tennis every week is a new story and that's part of the beautiful thing of our sport.
"If you have no doubts it is probably because you are too arrogant. I don't consider myself arrogant at all.
"I think the doubts or [that I] don't consider myself very, very good let me work so hard all my career. And for that reason, I am having the success that I had."
Nadal was presented with the Coupe des Mousquetaires by his uncle Toni, who has seen his coaching role reduced following the arrival of former world number one Carlos Moya in the team.
While he did not clarify Toni's role going forward, he expressed delight in the dynamic he feels among his support staff.
"It's true that the support of Carlos has been so important for me. We have been working great. The team spirit has been very positive since the beginning. It's a great combination with all the team," said Nadal.
"We have been working a really good atmosphere and that really helps. So very happy for everything, and it was great to have Toni on the court. It was something special for me and I think for him, too. Great feelings."
Nadal's triumph represented the third time he has gone all the way at Roland Garros without dropping a set, a fact he pointed to when asked if he had played his best ever tennis in this year's edition.
"These two weeks have been a great level of tennis. But I already won two Roland Garros' without losing a set before this one – 2008, 2010, I didn't lose a set. Probably I was playing good, too," he joked.
"I feel I was playing well since beginning of the season, but it's true that in my career I have had a lot of good years. This year has been very special since the beginning. The only thing that I know is I am playing well now.
"I am happy. I am enjoying every week, and I want to continue and I'm going to try to keep working hard to try to enjoy more beautiful weeks."
The42 is on Instagram! Tap the button below on your phone to follow us!