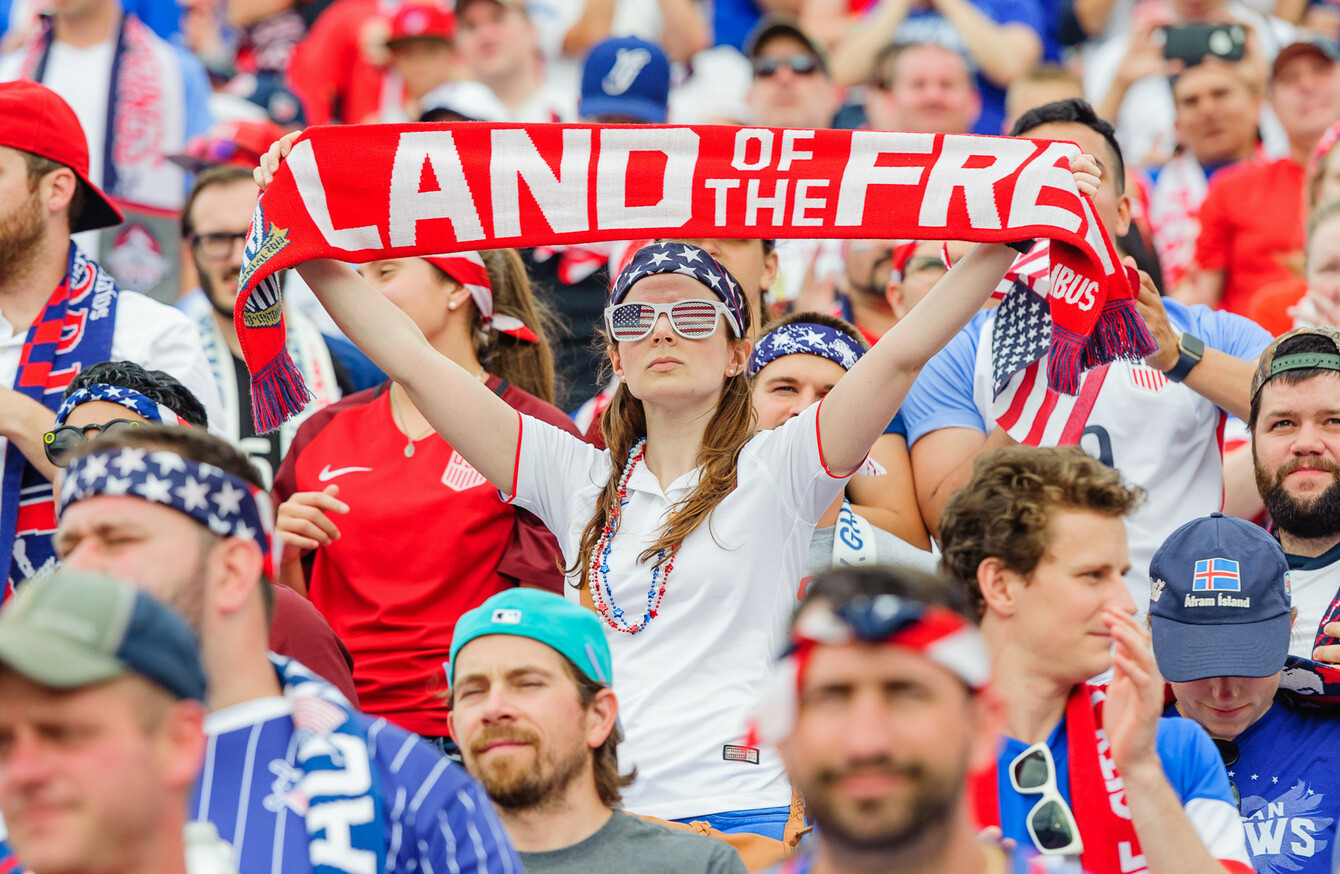 Image: Bill Shettle
Image: Bill Shettle
A CIVIL WAR is being waged within US soccer and some Irish players are caught up in the crossfire.
It's a complicated mess with many layers and the stand-off between certain parties does not seem like it's going to end anytime soon.
Major League Soccer is the glitzy, glamorous and high-profile league in North America.
But, it has its own idiosyncrasies and issues. Firstly, the league is a closed shop. It doesn't operate under promotion/relegation. For any team that wishes to become a part of MLS, they hand over $150m in a fee and fulfil a variety of other obligations like committing to a soccer-specific stadium (though that's murky territory which we'll come back to later) and the proposal is mulled over by the top-brass. MLS is also single-entity, which means the league owns player registrations. The league operates a salary cap. There are collective bargaining agreements. Players are traded in convoluted, confusing ways. This isn't an environment where a chairman phones another chairman and says, 'I want your centre-forward. How does $5m sound?'
For many, they feel MLS is a rich boys' network with franchise owners merely expanding their brand by pushing a soccer team as an extension of their empire.
The Colorado Rapids are owned by Kroenke Sports and Entertainment, which also owns the LA Rams (NFL), Denver Nuggets (NBA) and Colorado Avalanche (NHL). Atlanta United are owned by AB Sports and Entertainment Group, which also owns the Atlanta Falcons (NFL). The LA Galaxy are owned by business behemoth AEG. The New England Revolution are owned by Robert Kraft who also owns the New England Patriots (NFL) and Gillette Stadium. Reigning champions Toronto FC are part of the Maple Leaf Sports and Entertainment (MLSE) group which also includes the Toronto Maple Leafs (NHL) and Toronto Raptors (NBA).
The list goes on. There's a pretty prolific pattern.
MLS has a strong relationship with the United Soccer League. Up until quite recently, the USL was, effectively, the third level of football in North America owing to governing body US Soccer sanctioning MLS with 'Division I status' and the USL with 'Division III status'.
The USL featured a number of MLS reserve sides, which meant those teams had access to a certain calibre of resources, like training facilities, front office staff and overall promotional opportunities.
But sitting between MLS and the USL for a number of years – ever since its inception in 2011 – was the North American Soccer League.
It seemed a happy medium.
The NASL still boasted an iconic brand in the New York Cosmos, it had teams with strong historical ties to the game in the US like the Tampa Bay Rowdies and a substantial foothold in strong, interested football communities like Minnesota and Indianapolis.
For a while, there was plenty of goodwill. The Cosmos signed the likes of Raul and Marcos Senna. There was a sprinkling of stardust.
There was a sense of independence to what the NASL was doing too. There were much smaller stadiums and attendances but there were private owners and no salary cap.
And then, the landscape started to shift.
In late-2015, many outlets reported that US Soccer had substantially changed the criteria for a league to qualify for Division 1 status.
The changes included an increase in the amount of teams competing in the league, a specification that three-quarters of the teams needed to be based in a city of at least 2m people and that all stadia would need to have a 15,000 capacity at least.
The NASL was furious and saw it as a violation of antitrust laws. Essentially, they felt US Soccer was making a move to merely protect MLS and shrink a possible rival back to size.
And that's when the bad blood really started.
The NASL teams that were well-supported and existed in easily-marketable locations quickly became part of MLS (Montreal, Minnesota) and it was a struggle to replace them. The league started to wobble and in December 2016, with falling gate receipts, it seemed set to fall through the trapdoor.
But, it was thrown a lifeline. By US Soccer.
Because of the confusion and uncertainty regarding the league's future, some NASL teams began to drop to the USL. With 30 clubs, there was strength in numbers. Costs were substantially lower. It was a much safer haven.
So, as the USL gained momentum and the NASL treaded water, US Soccer offered both leagues Division II status for the 2017 season.
It was a way of surviving – with certain conditions – for the NASL and a pat on the back for the USL.
Pure joy.

The @sfdeltas are #NASL Champions! pic.twitter.com/DBAfn1pl4E

— NASL (@naslofficial) November 13, 2017
Only eight teams competed in the NASL last term and, perhaps most damningly, the champions – San Francisco Deltas – ceased operating, in spite of their success, after just one season. Canadian side FC Edmonton also folded while Indy Eleven and North Carolina FC both joined the rapidly-expanding USL.
US Soccer refused to hand the NASL the same status for 2018 and the league immediately filed a lawsuit. They lost the case but are now in the middle of an appeal process. While that's ongoing, they've announced that – pending how the appeal goes – they're changing to the international football calendar, which means that instead of kicking off the new season in the spring, the season will start in August – the first US pro league to do so.
Added to the mix are other off-field details.
See Sport
Differently
Get closer to the stories that matter with exclusive analysis, insight and debate in The42 Membership
Become a Member
Last June an offer was made to MLS for the league's global media rights. It totalled four billion dollars across ten years: four times higher than the league's current deal.
A no-brainer?
Well, MLS turned down that offer.
Why? Well, it came with stipulations. The rights weren't just for MLS but for the NASL and USL too. And there needed to be a commitment from MLS to align with a system of promotion and relegation across the three leagues.
The company that made the offer was MP & Silva, an international media rights company. It's co-founder is Riccardo Silva, who co-owns NASL side Miami FC along with Paolo Maldini.
In August, Miami FC and semi-pro side Kingston Stockade of the fourth-tier National Premier Soccer League (NPSL) filed a claim to the Court of Arbitration for Sport alleging that by not operating a promotion and relegation system, MLS is is violation of Fifa rules.
The owner of Kingston Stockade is tech-wizard and hugely-successful entrepreneur Dennis Crowley, co-founder and Executive Chairman of Foursquare.
Their legal counsel is Jean-Louis Dupont, the man who represented a Belgian footballer named Jean-Marc Bosman in his revolutionary victory at the European Court of Justice in December, 1995.
And there is one final detail: a US Soccer presidential election that takes place next month.
One of the frontrunners is former US international Eric Wynalda, a believer in private ownership, promotion/relegation and an August-May calendar.
One of his benefactors and mentors is Riccardo Silva. Unsurprisingly, Wynalda has also received the backing of the embattled NASL.
While all of this is going on, the players have been largely forgotten about. While the individual battles are being waged and the strategic moves plotted in various ivory towers, the employees at various NASL and USL clubs remain stunned by just how much of a mess it all is.
From an Irish perspective, there was no reason for Eamon Zayed to think Indy Eleven would terminate his contract ahead of the new USL season.
He was the club's top scorer for the last two seasons. He's given the fanbase some incredibly memorable moments in the team's short history. Yet, he was seemingly undone by a clause in his contract which allowed Indy terminate the deal if the club dropped to the USL, something that was confirmed earlier this month.
Would like to personally thank @EamonZayed for his service to Indy XI. Have lots of thoughts on the way this was handled, but save it for another time.

More importantly, hope Zayed can find a new home quickly. Sure USL clubs chomping at the bit to sign a proven goalscorer.

— Nipun Chopra, PhD (@NipunChopra7) January 17, 2018
Corkman Colin Falvey is also at Indy. He took to Twitter shortly after the USL news was confirmed and voiced his displeasure at the top brass and their role in the confusion.
I've stayed very quiet throughout the whole process, sad to see what's happening with the NASL. Hope it can bounce back. US Soccer has a lot to answer for. Leaving a lot of players and fans without football in their area. Finally, I'm very happy to see Indy Eleven secure its future for the sake of the players, staff and the fans as a city should never be without football."
Former Sligo Rovers midfielder Richie Ryan is a crucial part of Miami FC's side but it remains to be seen what his future is if the NASL doesn't get sanctioned for a 2018 season.
Ciaran Kilduff is with another NASL side in the Jacksonville Armada. He and his team-mates received a boost on Thursday with the news that the club would honour every player's 2018 contract, regardless of whether there will be a Division II league for them to play in this year.
Currently, the USL is in good shape. So, the likes of James Chambers (Bethlehem Steel) and Niall McCabe (Louisville City) should be fine.
A source close to the situation has told The42 that some players are 'pissed off, insecure and disillusioned'.  
"It's a shambles," one player told The42.
"Nobody has even thought about us."
With so much point-scoring and game-playing between the most influential figures in US soccer, it's hard to argue.
The42 has just published its first book, Behind The Lines, a collection of some of the year's best sports stories. Pick up your copy in Eason's, or order it here today (€10):