THE NBA FINALS are back in Miami, the same place they ended each of the last three years.
Miami can put itself on the brink of a third straight championship with victories over San Antonio in Games 3 and 4, starting tonight. The Heat are unbeaten at home in this year's playoffs and haven't lost a postseason game in their own building since the Spurs beat them in Game 1 of last year's NBA Finals.
Here are five things to watch in Game 3: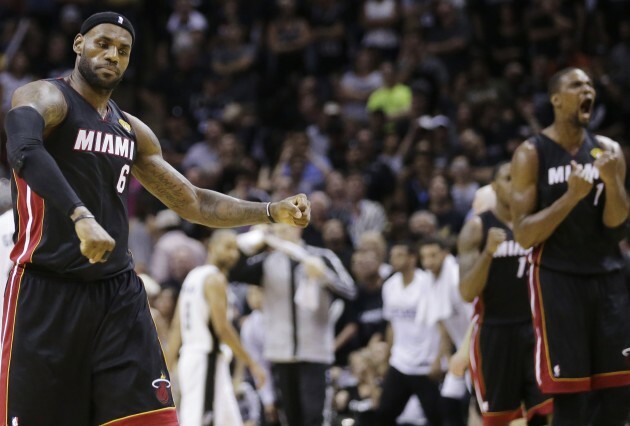 Eric Gay LeBron and Chris Bosh celebrate the Gaem 2 win. Eric Gay
LOOKING FOR LEONARD: Kawhi Leonard is not only struggling to defend LeBron James, but hasn't been able to get his own game untracked. After averaging 14.6 points and shooting better than 50 percent in the 2013 NBA Finals, Leonard has managed only 18 total points through two games. He was in foul trouble in Game 2 and was ineffective, scoring nine points on 3-of-9 shooting, and the Spurs are letting him know they need more.
"I don't think Kawhi got into the game," Tim Duncan said. "He was in foul trouble up and down and he was so worried about that, I think that kind of took him out of the game. We talked to him, got in his ear, and have him refocus no matter what happens on the defensive end of the floor. He's got to continue to be aggressive on the other end and make LeBron and those other guys work."
BOSH BLOSSOMING: Outside of the offensive rebound that set up Ray Allen's tying 3-pointer in Game 6, Chris Bosh was pretty disappointing in last year's finals.
He was scoreless in Game 7 and managed just 11.9 points per game while shooting less than 50 per cent, getting badly outplayed by Duncan. He scored 18 in both games in San Antonio, nailing the go-ahead 3-pointer with 1:18 left in Game 2 but not settling for the 3 as he sometimes does. He also had a pair of driving dunks while getting fouled and made 59 percent of his shots in the two games.
"With us, look, he's arguably our most important player. We've said that now for four years," Heat coach Erik Spoelstra said.
"And it's not just because of that shot. That's what everybody notices, and if he's not getting the normal opportunities, and he's not scoring, or doesn't have big rebound numbers, it seems from the outside everybody is so critical about his game. But for us, he has a lot on his plate."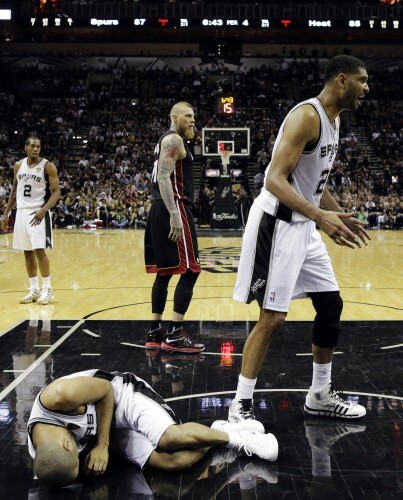 Eric Gay Tony Parker, left, goes down after being fouled; he missed the two free throws. Eric Gay
THEY'RE FOR FREE: Free throws keep costing the Spurs against the Heat.
Tony Parker and Duncan combined to miss four straight in Game 2, preventing San Antonio from extending a two-point lead in the fourth quarter. The Spurs finished with eight misses in a game they lost by two.
The Spurs, who missed a chance to finish off the Heat when Leonard and Manu Ginobili each missed a free throw late in regulation in Game 6 last year, are shooting 69 percent in the series. The Heat have made 78 percent, with James, Bosh and Dwyane Wade combining to go 21 of 24.
"We were 12 for 20," Parker said after Game 2, "so we will try to do better next game."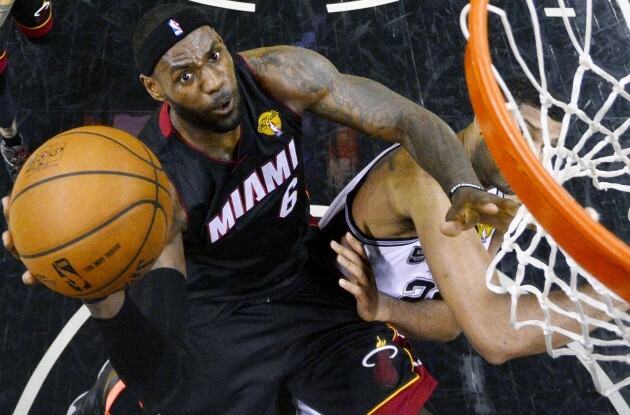 Larry W. Smith Larry W. Smith
HEAT AT HOME: The Heat are 8-0 at home in this year's playoffs and have won a franchise-record 11 straight here in the postseason since the Spurs beat them in Game 1 of the 2013 finals.
"It's a quick turnaround in Miami, not many days off," Wade said. "We've got to use our home crowd, our energy to our advantage."
GETTING THE POINT: The Heat are still waiting for a meaningful contribution from their point guards.
Starter Mario Chalmers has taken only seven shots and scored eight points thus far and was bothered by foul trouble in Game 1. Backup Norris Cole was scoreless in 11 minutes off the bench Sunday and is just 1 for 6 in the series. And neither one has had much successful guarding Parker, who is averaging 20 points.
But the Heat remain confident in all their players, never hesitating to give someone the ball even if he's struggling.
"When we do that, we just stick together and continue to motivate each other, good things happen," Bosh said.
 Tony Parker, left, goes down after being fouled