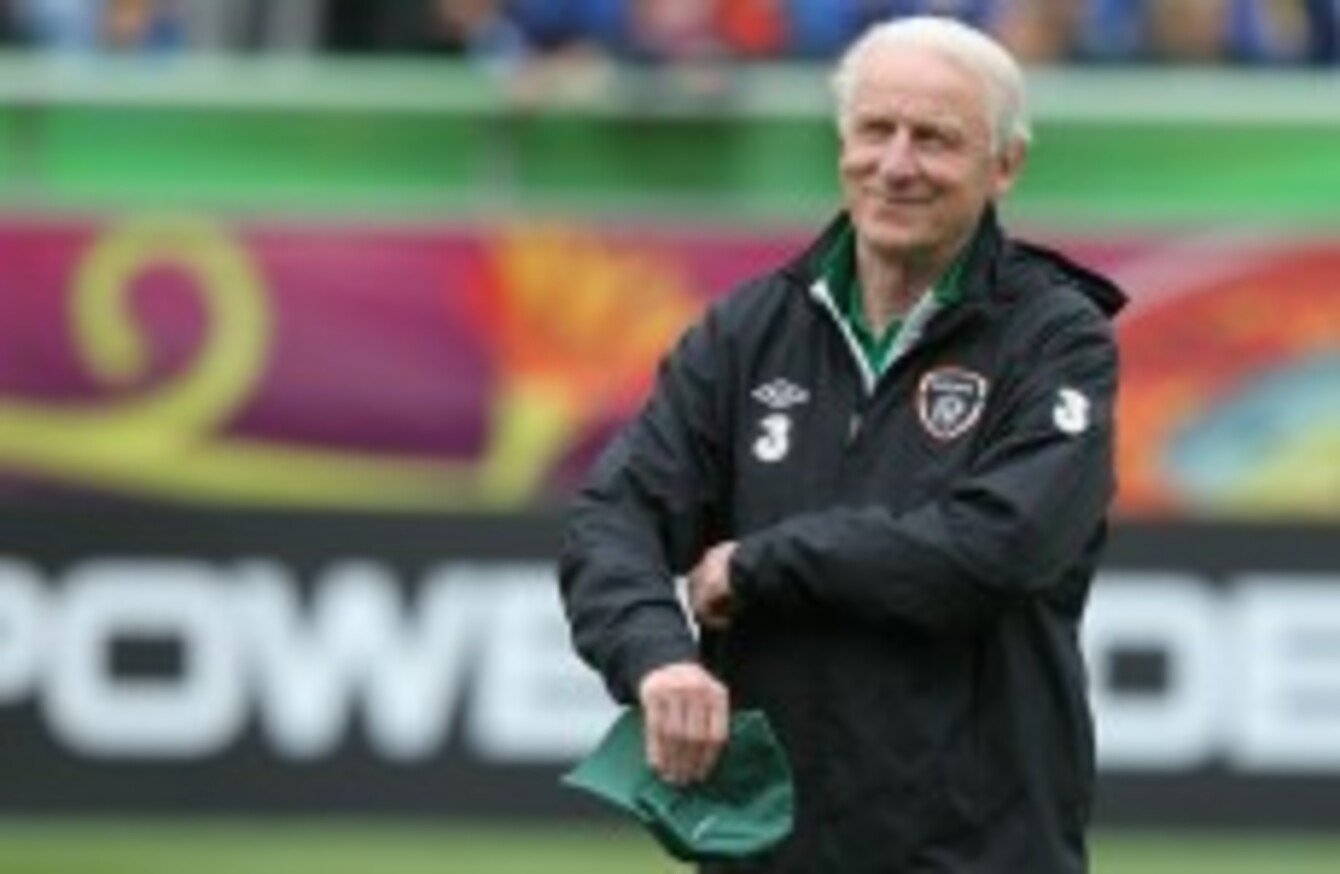 Republic of Ireland manager Giovanni Trapattoni during team training at Municipal Stadium, Gdynia today.
Image: Niall Carson/PA Wire/Press Association Images
Republic of Ireland manager Giovanni Trapattoni during team training at Municipal Stadium, Gdynia today.
Image: Niall Carson/PA Wire/Press Association Images
ON HIS FIRST day in Poland, a more content Giovanni Trapattoni had one assured claim and one interesting compromise.
Firstly, he insisted Shay Given will be fit for the opening game against Croatia on Sunday and will even train tomorrow.
Secondly, the team will not switch to 4-5-1… yet.
The manager explained that the improvised formation remains on his mind but that he felt there were other reasons for the manner in which the team were exposed in the centre against Hungary last night rather than just pure numbers: namely the pre-match situation and a natural and solvable drop-off as the tournament apoproaches.
Trapattoni's more conciliatory mood was in clear contrast to his evident sense of agitation last night, but that was in-keeping with the general tone of an easy-going day. The manager admitted he was delightedly shocked by the huge numbers that turned out in Gdynia. He was also more relaxed having had the chance to review the Hungary match again this morning.
"I watched the match and made a few more observations.
"On the positive side, the defence was very balanced and solid. The only danger were the shots on 21 and 90 minutes. They had opportunities to score and didn't thanks to Shay Given. But in the second half we also had opportunities to score.
"I consider the draw not a bad result. Also, [the performance was down to] the particular situation, waiting in the dressing room for 20 minutes before the beginning of the game. I think this is why we didn't start the game like the last match against Bosnia.
"I saw that the movements were a bit slower [than usual].
On that note, Trapattoni dismissed Aiden McGeady's claim that the team was tired from having trained too hard.
"I think there was another reason. Two reasons. Number one, I think it was psychological.
"The players have had long seasons. We have actually only been doing light training sessions. The second reason is that there is a lot of stress. It's a psychological commitment as much as a physical one."
Another psychological commitment, however, is adapting to a new formation. Here, some confusion reigned. Is the manager really considering changing such a rigid, four-year-old formation so close to a tournament? Is that feasible? Have the players even worked on it?
When it was put to Jonathan Walters, he said they hadn't. At all.
Trapattoni, however, insisted that there may be work to do over the next few days.
"All the players must work because if we have another situation like this [being outnumbered in midfield], we need to have another attitude. That is important."
Perfect 10
Trapattoni also beat an even older drum: Robbie Keane in a Totti role
"In the second half last night, I asked him to play this position. I think he can play this position."
On the day itself, though, the numbers that seemed to matter most to Trapattoni were the 15,000 locals who turned out for Ireland's first day in Gdynia. There was a carnival atmosphere around the compact, modern stadium with even funfairs for children outside… and many of them clearly enthused by watching the Irish players.
"You can see this country has accepted us very kindly," Trapattoni said. "It was a great surprise for me. A fantastic day. I think we have to somehow return the favour to them for this kindness."