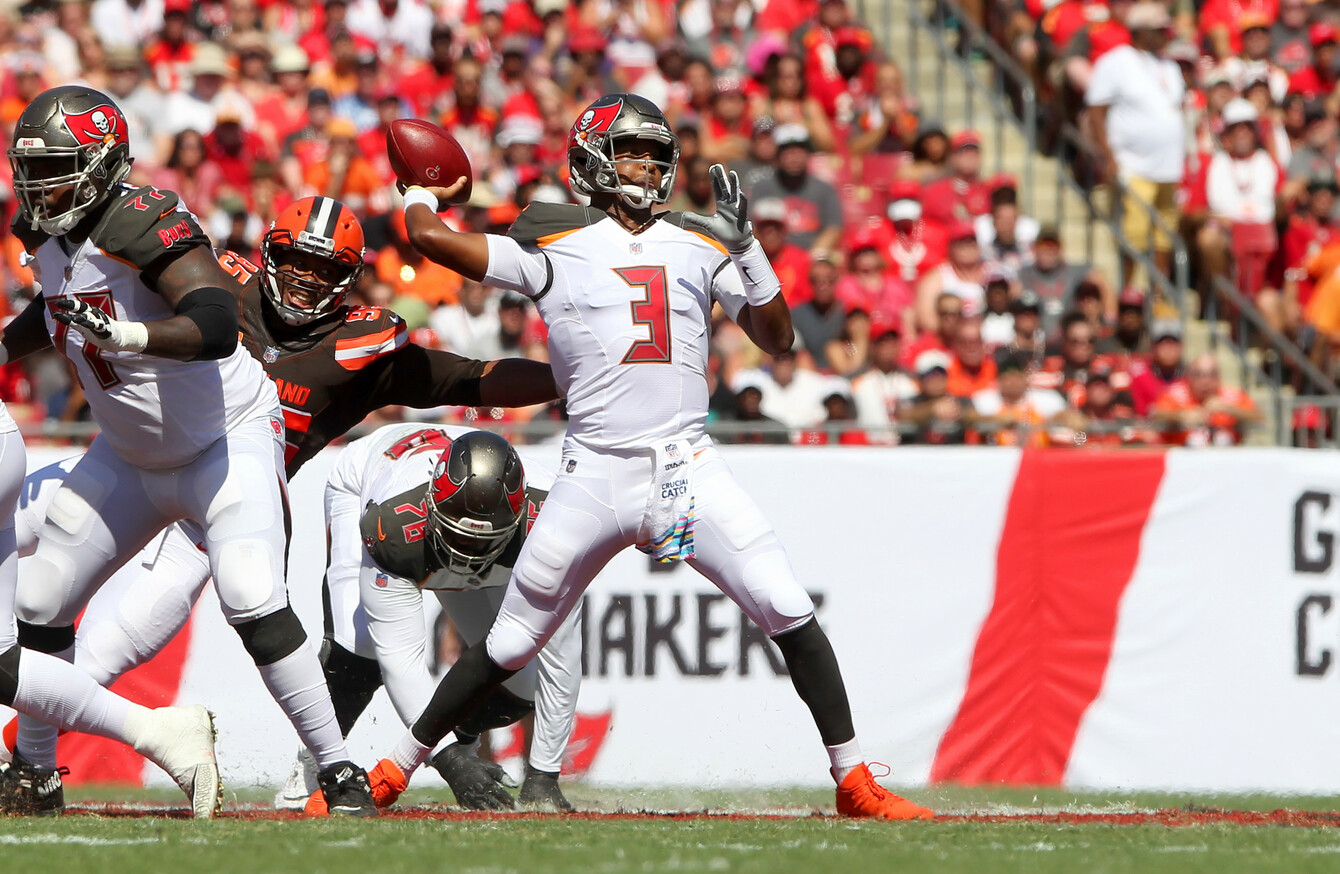 Tampa Bay Buccaneers quarterback Jameis Winston.
Image: Cliff Welch
Tampa Bay Buccaneers quarterback Jameis Winston.
Image: Cliff Welch
LIKE THE BLACK and Tans, leaving the immersion on, or another Neil Francis column which sees the former Irish international so far out of his depth he may as well be snorkeling in the Mariana Trench, few things terrify Irish people like An Modh Coinníollach.
Though An Modh Coinníollach has become the avatar for terrible school memories, we use the conditional tenses of should've, would've, could've in English all the time.
For example, I would have written a response to Francis's Colin Kaepernick column, in which I could have pointed out the dozens of inaccuracies, but I should have known better than reading it in the first place.
And while Kaepernick is likely the ghost of quarterbacks past at this stage, Jameis Winston could well be the ghost of quarterbacks future.
Winston, who missed the start of the season after he was suspended for groping a female Uber driver, was benched again on Sunday night after throwing four interceptions against the Cincinnati Bengals.
This was not a one-off for Winston. Since he entered the league in 2015 as the number one overall pick, Winston is second to only Blake Bortles in interceptions and ranks just 13th in passing yards and 15th in passing touchdowns.
Like another recent Bucs' first round pick, Winston's best season remains his second, when his team won nine games and Winston threw 28 touchdowns to 18 picks. It is Tampa's only winning season in his time in Florida.
Even without his off-the-field issues — Winston came into the league with a number of red flags — a touchdown rate of 4.5% with an interception rate of 3%, made Winston an unlikely candidate for a long-term second contract with a team surely moving on from its coaching staff this offseason.
The team owes him nearly $21 million next year after exercising his fifth-year option but, as none of that money is guaranteed, it seems much more likely the Bucs will release him this offseason regardless of whether or not they see a viable replacement in the draft or free agency.
Having quarterback concerns is nothing new in Tampa. While much is made of the volume of Cleveland Browns' quarterbacks over the years, the Bucs have not exactly been stable at that position themselves.
In the 16 seasons since winning Super Bowl XXXVII with Brad Johnson, Tampa has had 15 different quarterbacks start a game, including both McCown brothers.
Perhaps the most disappointing was Josh Freeman, a player who promised so much, particularly, like Winston, in his sophomore season.
After being drafted 17th overall by the Bucs in 2009, Freeman watched Byron Leftwich (3) and Josh Johnson (4) falter in the opening seven games of his rookie season.
Having also lost their final four games of the 2008 campaign, the Bucs were on an 11-game skid when, during Tampa's bye week, Freeman was named as starter for the visit of the Green Bay Packers to Raymond James Stadium.
He completed just 14 of 31 pass attempts for 205 yards, but scored three passing touchdowns, and had just one pick. The game will be remembered for his fourth down touchdown pass to fellow rookie Sammie Stroughter to take the lead, 31–28 in the fourth quarter. The Bucs would eventually win by 10 points.
Tampa lost their next six games with Freeman at the helm but closed out the season with two wins in their final three games.
Freeman built on that performance in 2010 when he fired in 25 touchdown passes to just six interceptions, recording the best quarterback rating (70.3) of his career as Tampa Bay won 10 games but just missed out on the postseason.
His play that year was unprecedented in Tampa. He set Buccaneers' records for the highest QBR, most fourth quarter comebacks, most game winning drives, and fewest interceptions in a season.
The Bucs looked like they found their quarterback of the future, but have failed to win double digit games since.
Many expected both Freeman and the Bucs to continue to improve but, though he had more yards per game in 2011, he also recorded 22 picks to just 16 touchdowns as Tampa won only four games.
Freeman's numbers and play improved slightly in 2012 but it wasn't enough to see his team reach .500 and, in 2013, following three picks and just two touchdowns in his opening three games, Freeman was benched for Mike Glennon.
In October that same season, after failing to find a trade partner, the former first round pick was unceremoniously dumped by the Bucs.
Freeman was picked up by the Minnesota Vikings but played only one game, against the New York Giants, where he completed 37.7% of his passes in a 23-7 loss.
He would go on to play one more game in the NFL — a relatively competent performance with a TD and an interception for the Colts in a 30-24 win over the Titans — before a short stint in the Canadian Football League and retirement in May this year.
The moral of the story? Quarterback evaluation is hard.
It's so hard that even when you think you have your franchise QB, when your first round draft pick looks to have learned the offence and shown development after his rookie season, it can still all go pear-shaped.
And for the second time in five years, Bucs' fans find themselves wondering what could have, would have, and should have been for their team.
Subscribe to our new podcast, Heineken Rugby Weekly on The42, here: