THE ROAD FROM St Patrick's College to the Walsh household was just over a kilometre long.
After school Nicholas always walked it. That is why he still remembers the surprise at the sight of his father waiting by the gate that fateful day.
It was 2000 and his life was about to change forever.
"Come on, we need to get home. The Aussies are waiting."
Walsh was an exciting Gaelic football prospect, a 15-year-old star for Cavan Gaels minors as they beat Slaughtneil in the Ulster final. He was subsequently invited to represent the Ireland U17s in their International Rules tie against Australia.
A year later, he travelled Down Under and captained the same team. A six-week scholarship at Xavier College was offered and gratefully accepted. That September, several AFL clubs visited DCU to host a camp. Attendees included Cork's Bernie Collins and Dublin's Kevin Devine. They, along with Walsh, impressed.
"Neale Daniher was there sitting in my front room," he recalls. "My mother had made the sandwiches and pulled out the good cutlery. He just said it there, offered an opportunity with Melbourne. I had just started my Leaving Cert year.
"The International Rules senior was on that weekend and Neale said they were staying for it. It was basically, 'you can meet us before or after and give us an answer. Six days to decide.'
"I was 17 and 100% going. We had to sort some things first because I hadn't done my Leaving. Mom and dad were keen for me to do that at least.
"They spoke to the club and agreed that I'd do it over here. So, I ended up going to St. Kevin's College on a scholarship. I coach there now. I was a scholarship player. They really didn't do them, but I played school football there as well. I ended up winning their best and fairest too."
He has revisited that memory often in recent times. Nicholas's father, Tom, was a significant ambassador for the GAA in Cavan and heavily involved in the county's hurling scene. He passed away last year. The end of a life but not their relationship.
Sport was at the heart of it. Trips together to the All-Ireland final from the age of three onwards. Hurling or football, the interest was the same.
Ryan Byrne / INPHO Ryan Byrne / INPHO / INPHO
When Tom was sick, they took time to reflect over FaceTime. Relive and reminiscence. Nicholas smiles as he recounts his dad's version of how it all started. How it should not have, technically. The Ulster Council were totally unaware that he was just 15 when he arrived for the first trial. He looked around and wondered why everyone seem at least 12 months older. Said nothing, kept going.
His debut year in Melbourne was a mix of school and Aussie Rules. Monday, Wednesday, Friday for the books. Tuesday, Thursday and the weekend for sport. A teenager's fantasy.
Mayo are not the only outfit looking to end a historic drought this month. Walsh's former club, Melbourne Demons, are 57-years without a Premiership. It is the longest dry spell in the AFL. They play in the Grand Final in two weeks' time.
"My best friend is the former captain, James McDonald. I am still involved in numerous WhatsApp groups, ours is called 'the old, dilapidated Dees.'
"Even though I never played, I still regard them as friends. It stood out to me here. Football brings footballers together, but you get friendships out of it.
"This week is a lot of fun. The banter and excitement. These guys have been starved of success. Most of them played in a Grand Final in 2000 when they were beaten. They thought they would bridge the gap then. Hopefully they can do it now."
His AFL dream died quickly. Within three years he was back home. The training load and demands proved too much, too soon. After packing on 10kg, his body started to break down.
"It became two injury-plagued years with Melbourne. Sports science back then isn't reflective of what it is now. It was 'get as big and strong as possible. Kick as much as possible.' I just broke down. My body wasn't made for it.
"My groins were really bad. Gerry McEntee from Meath was brilliant. He identified the issue. I had to go back to the club and tell them this. That is where medical was at the time."
© INPHO / Billy Stickland © INPHO / Billy Stickland / Billy Stickland
A chance encounter with the Meath doctor in an elevator proved invaluable. Walsh was in South Australia for the International Rules tour but couldn't play due to a hip injury. McEntee recognised the Cavan youngster and assessed him then and there.
"He just said you need Gilmores Groin repair. He could feel it when I coughed. I got assessed and I ended up having the Gilmores Groin surgery done."
That surgery took place in November. In January he made his senior Cavan debut, much to the delight and pride of his father.
The end of his AFL career came suddenly. Unexpectedly. He returned home post-season with the promise of a new contract. Then the tables turned, the salary cap was stretched and the offer vanished. His stint was over.
A $17,000 annual wage meant he had little reserves to soften the fall. Once again, he sought valuable advice, issued few complaints and instead got to work. Brick by brick, forming a path.
Cavan needed players, and he became one of them, but they also needed organisation. The former AFL player came on board restructuring the coaching and games system. He earned degrees in Queens and Setanta College. Later he moved on to Croke Park as national games manager.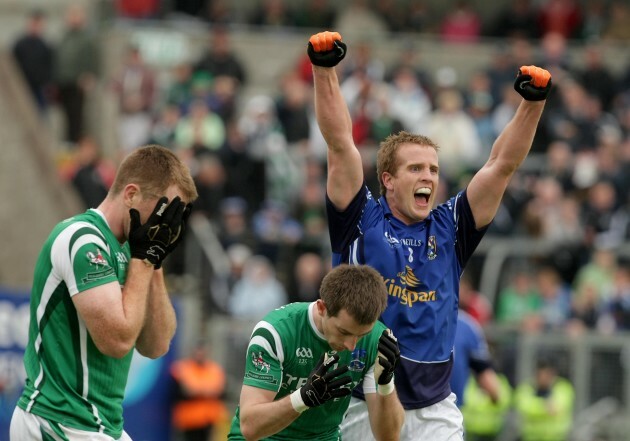 Morgan Treacy / INPHO Walsh celebrates an Ulster championship victory over Fermanagh. Morgan Treacy / INPHO / INPHO
All the while, he kept in touch with Australia. Self-funding trips to various clubs to study their facilities and programmes. Learning and yearning.
During a trip stateside touring the New York Giants training facility, he got a call from long-time friend Graeme 'Gubby' Allan. It just so happened that the former Collingwood man was in Florida. Would he like to catch up? They did and it led to a job offer. A new club had just been established in Sydney. They needed a strength and conditioning coach.
In 2012, Walsh set sail for Breakfast Point, home of Great Western Sydney Giants.
"It is not that big. It was a complex with a couple hundred units. All the Giants lived there. Part of the reason they went to Florida State Uni was to see how we could create that university vibe for the players.
"We were going to get 20 or 30 young kids up from Melbourne. Living together, coming together. They modelled it on that campus feeling. We choose to put all the staff into Breakfast Point for three years. Everyone. Compulsory. A new club where everyone had to buy in."
Hall of famer Kevin Sheedy was over the team. Their relationship proved invaluable in terms of curating ambition and a vision. Every little nugget was noted. Gradually and methodically, Walsh was building his coaching arsenal.
"Sheedy would ring me at 8pm in the evening. 'Walsh what are you doing?'
"'Come over to my place.' You'd go in and he would have a big whiteboard in his room. Above that he had a big picture of the Giants stadium in Homebush.
"He would point to it and say, 'we are going to get this stadium and I want to fill that crowd with Irish jerseys. How do I do it? There is three and and a half million of you in Australia, how do we tap into this market?'
"Before that, there were conversations that the Giants were going to be called the Celtics. Green and white. Irish link. Instead, they went with the Giants. A neutral brand that they grew beautifully."
Sheedy was charged with selling the game in Sydney. They recruited big names like Israel Folau in a bid to break into a rugby league market. When he eventually stood down, Leon Cameron took control.
At the same time, Walsh was ready for more responsibility. A deep desire to keep progressing. He told Cameron about his work with Cavan. How he married gym sessions with on field training. What they did to strengthen development pathways and have younger players ready for senior football. He saw an integrated future. A role across various aspects. Cameron wasn't sold.
Exclusive Six
Nations Analysis
Get Murray Kinsella's exclusive analysis of Ireland's Six Nations campaign this spring
Become a Member
"He joked that I wouldn't understand the game fully because I didn't grow up with it. I went off and did my level 3 coaching. Ended up being runner during games and all that stuff. He educated me and we talked it out.
"He went off and had a bit of a think about it. Eventually he said to me, 'if Tadgh Kennelly plays and understands the game at the highest level, why can't we have a coach do it?' He gave me that opportunity. I coached in development, the backline and reserves. To this day we are good friends. He was involved in my programme."
From there he moved to the AFL Coaches Association and spent the last three years working as manager of the Tackle Your Feelings program. Based in Melbourne, the Cavan native became a confidant and important aid for the Irish AFL cohort.
He is reluctant to discuss specific individuals, but current players hail his assistance with a wide range of matters including home sickness, education and contract issues.
"I think throughout my career, what gave me a real kickstart, people were good to me. Liam McCabe back in Cavan. My dad, JJ Reilly and all in Cavan Gaels. Jim Keogh here in Melbourne and Gubby Allen. throughout my career people have been so good to me.
"When I see Irish players come over here, it is not that I wrap my arm around them and take them under my wing, I just want to see them enjoy it and succeed. I ultimately failed. For different reasons, but if I can give them one piece of advice or be a friendly face that helps, that would be great."
Walsh was recently appointed high performance manager with Melbourne-based outfit St Kilda. The pivotal role sees him charged with coordinating the entire team's training programme. It is a diverse brief; assign a split to the strength and conditioning coaches, coordinate with a dietician, a rehab coordinator and a sleep specialist while overseeing the football training. Ultimately, get the list fit and ready for a tilt at the finals.
He could already be in Ireland had his application for the director of coaching role with the GAA been successful. Not that he has no influence back home. In 2017, he worked with Rory Gallagher from Sydney during Fermanagh's run to an Ulster final. The pair knew each other from their playing days in Cavan. When Gallagher reached out, Walsh saw it as a new test. Could he run an entire programme remotely?
"I said I am happy to help but if we are going to do something, we will do it right. We had a two-hour call. I said, 'you'll only have Fermanagh for a short time.' I developed this training programme, a lot of running with very little weights. We stripped five or six stone off some players.
"I went home that October to set up the programme. Then we set up a GPS thing with STATSports, and a guy who was working for Fermanagh sending me all the data. I didn't know the players, but I knew the numbers. So, I just ran that team based on pure data. Designed their entire training programme that way.
"We built different phases right up until the Ulster final. I had a dietician from Monaghan working with them.
"I brought the GWS player Heath Shaw over at one stage, he came with me for my brother's wedding. He trained with Fermanagh and said it was one of the hardest sessions he ever did. Rory did a great job obviously; he is very tactical and he has great game sense.
"Ricey (Ryan McMenamin) was involved as well. I was going off pure data. It was a cool challenge."
Cathal Noonan / INPHO Walsh issues instructions to the International Rules squad in 2014. Cathal Noonan / INPHO / INPHO
On to the next one. Already plans are underway for the Saints 2022 campaign. His new role represents another step up the ladder. The next chapter in a notable story.
"I wanted either a head of performance position or head of development because I am passionate about developing players and bringing them to the next level. This role gives me the chance to combine my learnings and education and take that next step in terms of managing a programme.
"It is the evolution of all that study and experience I suppose, it's all coming 360. Mashing together everything I have gained so far on this journey."