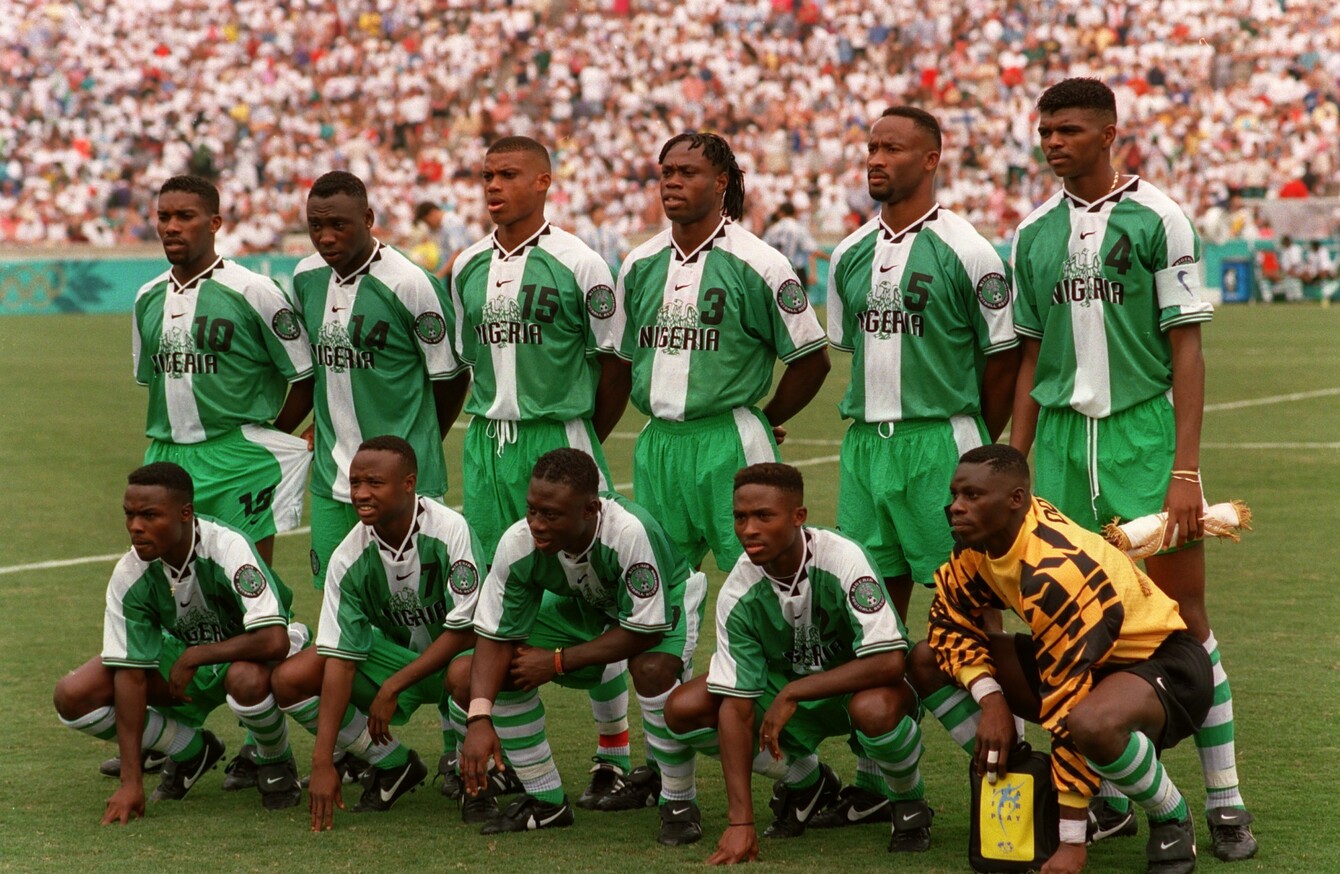 Image: EMPICS Sports Photo Agency
Image: EMPICS Sports Photo Agency
IT WAS A lack of discipline that cost them two years previously.
In Foxboro Stadium, they were just minutes from emulating the Cameroon team of 1990 before Roberto Baggio intervened.
He scored an 88th-minute equaliser and then tucked home a winning penalty in extra-time.
Nigeria had been fancied to cause an upset or two. In April, they had won the Africa Cup of Nations for the second time in their history.
Some of the team were already signed to some relatively high-profile European sides. Finidi George moved to Ajax in 1993. Daniel Amokachi was with Club Brugge. Jay-Jay Okocha was in Frankfurt.
But a good opportunity had been squandered against the Italians. And it stayed with the group.
"We had it in our hands. It's something I'm going to remember the rest of my life", said George afterwards.
Inevitably, there were recriminations to deal with too.
"This is a lesson to Africa", said striker Rashidi Yekini.
"Before you choose a coach, you must think twice. It's all politics. We played the game the way the coach wanted, and you see the result."
Before the tournament, manager Clemens Westerhof had told the players he would step down after the World Cup. Later, he admitted that had been a mistake.
He was replaced by another Dutchman – Jo Bonfrere – but the national team was stuck in a rut, the hangover still lingering from what happened in the US.
In an Olympics qualifier, the Under-23 side were held to a 0-0 draw by Kenya. They faced into the possibility of a humiliating exit so Bonfrere included his glittering array of European-based players for the return fixture. They won 3-0 and progressed.
But they needed to sweat through another hard-fought, two-legged tie against Egypt before finally confirming their place in Atlanta.
The build-up was strange.
Nigeria didn't go to South Africa to defend their continental title because of a stand-off between Sani Abacha – Nigeria's then-president – and Nelson Mandela.
"What acted as a catalyst and pushed the Nigeria team to such heights was that we had two years without a national championship", said midfielder Sunday Oliseh years later.
We had a period where we didn't play games. The nation was hungry and the team was blessed with so many players who were hungry for success."
Those players, coincidentally, were at simultaneous crossroads in their careers.
"The major players from the team had come off disappointing seasons with their clubs and had a point to prove", said Oliseh.
"Guys like Taribo West wanted to step up higher from Auxerre, where he was at. Jay-Jay Okacha's team, Frankfurt, had just been relegated so he wanted to get himself a transfer. Daniel Amokachi was trying to leave England and he wasn't very happy at Everton at the time. I wasn't too happy with my season at Cologne in Germany – we narrowly escaped relegation. And you had other guys like Nwankwo Kanu – he had just signed a deal with Inter and was going to have to fight with some great players."
But memorably, they were thumped 5-1 in a warm-up game against Togo. Frustrated with payment issues, Bonfrere resigned in April but relented to players' requests and returned in May. Understandably, no one really gave them a chance.
Poorly prepared, the group headed for Tallahassee well in advance of their Olympics group-stage opener against Hungary on 21 July.
But there are conflicting reports about what the mood in the camp was like.
"We were well prepared in the USA. We were not distracted by the usual things we encounter back home in Nigeria, where family and friends can come and visit us in camp", West told the BBC recently.
"We were in a very remote place and we were very focused on the task at hand. Bonfrere's preparation of the team was excellent."
But according to striker Victor Ikpeba, things were a lot more strained.
Three years ago, he spoke to The Daily Post about the 1996 experience.
They said there was no money. At a point, the players used their credit cards to hire some buses in Tallahassee to take us to training and back to the hotel. I was a driver of one of the buses. It got so bad that the hotel staff refused to launder our jerseys because of stories of AIDS."
The team's goalkeeper, Joseph Dosu, also later admitted that there had been issues.
"We had quarrels in camp – the bonus issue and so on but then, we were not looking at the bonus at that time", he said.
"Some of our players were coming and going – like Nwankwo Kanu who was trying to get his contract sorted at Inter Milan and Tijani Babangida flying back and forth to make sure he got his contract with Ajax sealed."
Nigeria were drawn in Group D along with the Japanese, Hungary and heavyweights Brazil.
But, despite boasting the likes of Ronaldo, Bebeto, Rivaldo, Roberto Carlos, Juninho and Dida, the reigning World champions were stunned by Japan in their opener.
The Nigerians faced Hungary in their first game. They knew a good start was crucial. They were staying at the same hotel so Nigeria relied on some pre-game mind games to gain an advantage.
"If they were eating, we would also do the same and divided ourselves", admitted Dosu.
"If two of them were sitting in one place, we also joined them and once we kept doing that, they will just carry their food and leave. Through that, we tried to intimidate them and we got it. We needed the first game."
They needed a superbly-worked 77th-minute winner from Kanu to secure victory before there was another unconvincing performance against the Japanese.
Source: sp1873/YouTube
In their final group game, they were beaten by Brazil in Miami – Ronaldo bending in a left-footed strike after half an hour.
By keeping the score down, Nigeria managed to qualify for the knockout stages on goal difference.
It was Mexico in the quarter-finals and mercurial 22-year-old Okocha opened the scoring after 20 minutes.
A wizard with the ball, the attacking midfielder was a gifted dribbler and set-piece specialist.
Source: Bundesliga/YouTube
He cut his teeth in Germany and joined Frankfurt in 1992 when still a teenager. The following year, he conjured a remarkable, impudent moment against Karlsruhe – taking on their entire defence inside the penalty area and humiliating their goalkeeper Oliver Kahn before scoring.
Afterwards, his manager Klaus Toppmoller said:
"I shouted eight or nine times – 'Shoot, shoot now!' The fans did the same. But I've always said Jay-Jay is the type of guy you've just got to let play."
He wouldn't reach his peak until signing for Paris Saint-Germain in 1998 but he was still a crucial element in the 1996 side.
"Technically, he was one of the most gifted players I ever played with", said Oliseh.
"He helped us a lot to hold onto the ball when we needed to."
Oliseh was sent-off against Mexico but it mattered little. Celestine Babayaro scored with six minutes left to put the game out of reach and Nigeria were through to the final four.
The full-back was only 17 but already first-choice with Belgian side Anderlecht and had played Champions League football.
He dovetailed neatly with some other outstanding personnel.
"We had a world-class goalkeeper in Joseph Dosu who, unfortunately for us, had an accident the year afterwards", said Oliseh.
"We were blessed to have – in my opinion, the best left-back to ever grace the pitch for Nigeria – Celestine Babayaro. He took the fight to the opponents and was an offensive option for us. Not by chance, he gave us the first goal in the final against Argentina. Up front we had Papilo – Kanu – who, when we needed it most, played his best football. That was the case in the semi-final and final especially."
In the semis, there was a familiar opposition.
Brazil had got past another African side – Ghana – and stood between Nigeria and a place in an Olympic decider.
Ronaldo seemed unstoppable and they'd just hit four goals in their previous game. And within a minute, they were in front as Flavio Conceicao's free-kick went straight through the defensive wall.
But, it was 1-1 after 20 minutes when Babayaro's low cross was put through his own net by Roberto Carlos.
Source: sp1873/YouTube
But Bebeto put Brazil back in front shortly after while Conceicao made it 3-1 before the break after Juninho's perfectly-weighted lay-off.
The game was out of sight. Okacha missed a penalty. Nigeria made changes.
One of them saw Ikpeba introduced and he popped up 12 minutes from time to cut the deficit.
In the last-minute, Okacha launched a long throw from the right and it caused panic in the Brazilian area. The ball fell to Kanu four yards from goal and he instinctively flicked it up before forced it past Dida to equalise.
Brazil were broken and the game went to extra time.
After four minutes, a long ball broke fortuitously for Kanu, who settled himself before driving it to the far corner. It was a golden goal and Nigeria were through. The following day, Kanu turned 20.
There remained a sense of disbelief. Things like this weren't supposed to happen to teams from Africa.
"This means everything to Nigeria," Okocha said afterwards.
"Football is the one thing in Nigeria that brings us together. For the people back in my country, this is maybe the happiest day of their lives."
It was Argentina in the final.
Juan Sebastian Veron, Hernan Crespo, Ariel Ortega, Claudio Lopez, Roberto Ayala, Javier Zanetti, Diego Simeone, Roberto Sensini.
But Nigeria had no fear. Not anymore. They had bought into the Olympics narrative.
"It's the most important sporting event in the world", Oliseh said.
"The playing field is level. You all go into Olympic villages and the spirit of the Olympics is there. It really is something exceptional.
The Nigerian team off 1996 just had to win something – the team was just too good not to."
Source: futbolretrocba/YouTube
But after three minutes, discipline cost them once again.
Ortega released Crespo on the right side, he whipped in a superb cross and Lopez had acres of space and plenty of time before sending the header to the net.
Nigeria hit back before the break, though.
Babayaro showed incredible prowess to hang in the air before powering his header home via the inside of the near post.
They were incredibly unfortunate to go behind again five minutes after the restart when Ortega blatantly dived to win a penalty.
Crespo tucked it away.
But just as he did in the semi-final, Bonfrere looked to his bench. He brought in Wilson Oruma, then with Lens in France. He brought in Emmanuel Amunike too.
"Each time he came in, Oruma brought something", said Oliseh.
"He wasn't on the best terms with our coach because he had to sit on the bench for Okacha, who was the more established player at the time. And he didn't like it. That was good for us because that made him hungry to play. When he came on against Brazil, we were 3-1 down and he just produced passes, work-rate and it made us win. And it was his free-kick that gave us the Olympic gold, that he sent in to Amunike."
First, they grabbed an equaliser through Amokachi who showed quick-thinking to lob Pablo Cavallero as the ball fell into his path in the penalty area.
Then, in the 90th-minute, Amunike forced a free-kick on the left side after Zanetti brought him down.
And, incredibly, Argentina – having seen a lead disintegrate and with just moments left – attempted to play offside from the subsequent set-piece.
Sensini was too slow getting out and Amunike neatly side-footed the winner to the far corner.
"We never give up", said Okacha after the full-time whistle.
"We're Africans."
Nigeria, a quarter of a century after civil war resulted in an estimated one million deaths, were crowned Olympic football champions.
Finally, after being tipped for greatness, they had stepped up and achieved it.
"It was the highest point in Nigeria's success as a soccer nation", Oliseh said.
We were no longer the best in Africa. Now we were the best at a world football championship. We all know – the Olympic gold, silver or bronze – these are the only titles you can win for life and keep for life. You're a gold medalist for life – it's not something you need to put on the line in four years time and defend. Once you've won it, you've won it."
It would be unfair to say we won because we had a good team or good players. It didn't always go right. We had problems – like you always have when you have 22 men living under the same roof for a period of eight weeks. It's difficult for there to be peace. But one thing I really respected about this team was the moment we got onto the pitch to train or when we had to play a match, that unity was so present. All through the campaign, we won games at the end – the last quarter, the last 15/20 minutes because the team spirit was there."
Ever since, many African teams have been tipped to go on and bring further success to Africa: Ghana, the Ivory Coast and other Nigerian groups – like the 2008 version who reached another Olympic final only to lose to another magnificent Argentina side that featured Lionel Messi, Sergio Aguero, Angel di Maria, Juan Riquelme, Javier Mascherano and Ezequiel Lavezzi.
But the 1996 side are immortal.
"I have it (the medal) in the bank and it's an achievement which every one of us will never forget", says Dosu, the ex-goalkeeper.
It's an achievement that has kept Nigeria going, likewise Africa. It is also an achievement that has kept our children and even the unborn ones going.
So, if we have left a legacy for Nigeria and Africa, we the actors should be happy. Twenty years, wow! That's a long time. I would have wished other dream teams had achieved the same feat like the first Olympic team, but then, we've kept on struggling."
The final words go to Kanu – a teenager in Atlanta and who, between 1994 and 1996 won three Dutch titles with Ajax, a Champions League and stood at the top of an Olympic podium.
"Argentina is good", he said.
"Nigeria is gold."
The42 is on Snapchat! Tap the button below on your phone to add!