IT'S QUITE THE battle to be the fans' favourite up in the Sportsground these days, particularly with Bundee Aki winning more hearts with each the thumping carry, but Niyi Adeolokun is making a fair fist of it.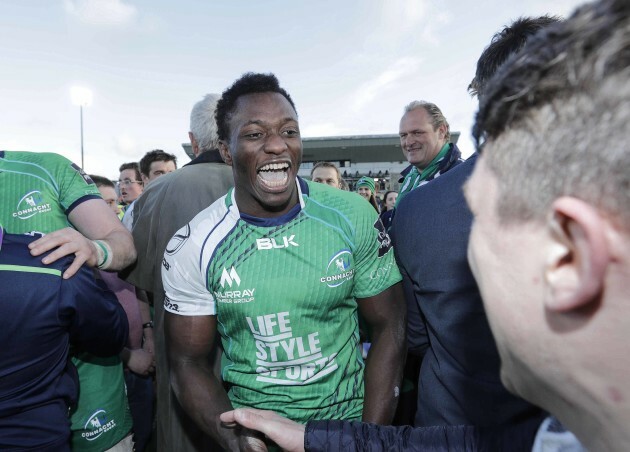 Billy Stickland / INPHO Adeolokun was brilliant for Connacht yesterday. Billy Stickland / INPHO / INPHO
A native of Ibadan in Nigeria, Adeolokun is in only his second season as a professional rugby player since Nigel Carolan spotted him playing for Tony Smeeth's Trinity in 2014.
Pat Lam was convinced immediately upon seeing him play a trial match for the Connacht Eagles that the former De La Salle College Churchtown student was capable of the step up.
The 25-year-old has grown with every game for Connacht, maybe even every minute on the pitch for the western province.
Yesterday's thrilling Guinness Pro12 semi-final win over Glasgow was the latest illustration of exactly how far Adeolokun has come. His clearout work was superb, his tackling firm and effective, his defensive reads always on point, and his work rate huge.
Add in the excellent try he scored on the end of Aki's grubber, showing his power, balance and pace, and it was a brilliant performance from Adeolokun.
Citing the physical gains Adeolokun has made over the past two seasons with Connacht, Pat Lam underlined his belief that there is more to come from his flying wing.
"Without a doubt," said Lam after Connacht's 16-11 victory. "For someone to go from 78 kilos to 90 kilos of quality and to drop skins [skin folds], that's dedication. That's commitment and those are the things I look for.
"It all comes back to the sacrifices and the effort you put in, watching what you drink, watching what you eat and the work you put in. That's Niyi's attitude.
"He's learning the game fast and he's so open to learning. He does the work and it's all about attitude. That's what all the guys know. There are so many talented people not playing rugby because the talent doesn't make the difference, it's the work ethic.
"Since day one that's all I've been looking for."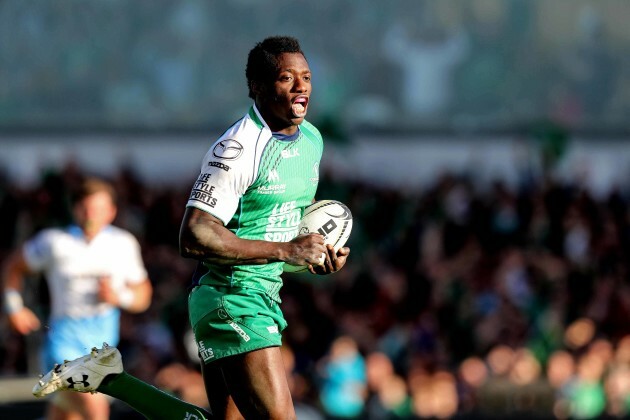 Billy Stickland / INPHO Adeolokun races clear for his first-half try. Billy Stickland / INPHO / INPHO
Speaking back in April, when he recounted his journey from Ibadan into pro rugby, Adeolokun said he had been taking some light-hearted slagging from team-mate Aly Muldowney over his try-scoring record.
With two tries in his first season and then three this season in all competitions before April, Adeolokun hadn't been the most prolific as the scoring chances all seemed to flow the way of Matt Healy on the other wing.
The former Templeogue Synge Street footballer stated his belief that he would take those opportunities when they came and, all of a sudden, that began to happen. Adeolokun has scored five tries in his last five matches for Connacht.
Captain John Muldoon has seen the exciting wing grow and grow since moving to Galway in 2014.
It's a prime example of confidence," said Muldoon last night. "He came in very raw, very light, a very shy young man. Things have changed! He's dancing in the dressing room, scores a couple of tries and confidence beams through.
"He's a lovely, humble young fella and it's amazing what getting over the whitewash can do. One of the things is that he's not the biggest lad but he's very, very brave. In defence, especially, for a lad that's only in a professional environment for just over two years, he's doing phenomenally well.
"You can't beat speed. He's electric and a couple of times up the wing when he got the ball, I was thinking, 'Jeez, he's tackled' and then he gets another 10 metres. Matty [Healy] the same; when you've got wingers who are able to do that you've always got a chance of opening up a game.
"Niyi's confidence is getting better and better. Aly slagged him and said he was a non-scoring winger but since he said that to him, he's been on fire."
The42 is on Snapchat! Tap the button below on your phone to add!