LEINSTER FINAL DAY is always a special one for Noelle Healy.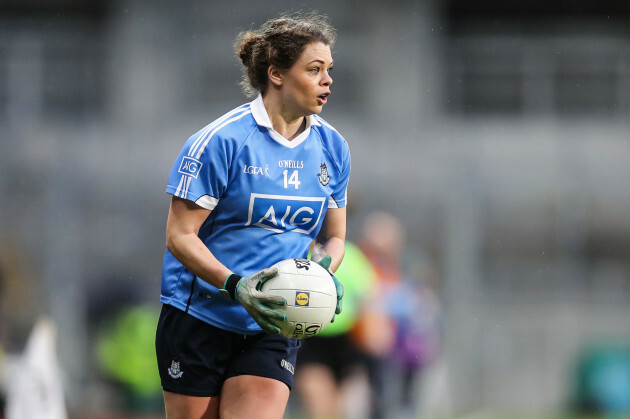 Laszlo Geczo / INPHO Noelle Healy. Laszlo Geczo / INPHO / INPHO
Probably one of her favourite of the year, she enthuses as she casts her mind back through those she has played her part in in the Dublin jersey. The time of year, the good weather, the atmosphere; she can't quite put her finger on what it is that makes it so special.
A combination of all more than likely, but she absolutely loves it. The fact that the current All-Ireland champions have won the last six-in-a-row surely helps, but the 2017 Player of the Year hasn't always been as caught up in the thick of action as she is now.
She remembers her days of sitting on the sideline, watching on and wanting to be on the field so bad. Waiting and waiting for her chance to finally come.
"The Leinster final is the first showcase day of the year," Healy explains.
"I remember watching the girls parade around and just absolutely dying to get out there and be part of it. Every time that I get out there, I absolutely love it."
And it's clear as day that Healy is most definitely absolutely loving her football at the minute. She's an utter joy to watch, her powerful running and athleticism causing problems for opposition all over the field. Her direct involvement in play and unerring accuracy before the posts is fascinating to witness, separating her from the crowd.
In September, she competed in her sixth All-Ireland final in nine years and finally added to her 2010 medal after three heartbreaking September defeats on the trot to Cork.
Her performance in the Sky Blue jersey on the day was devastating, earning her the award for Player of the Match hands down, and her remarkable impact through the year saw her crowned Player of the Year at the All-Star awards.
The night of the banquet, her parents were out of the country. Having recently retired, they were somewhere in the middle of the Australian Outback, sharing their heartfelt 'Well dones' and 'Congratulations' down a dodgy phoneline to their daughter.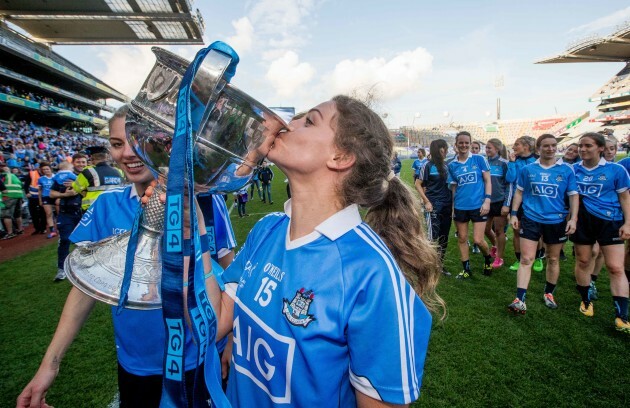 Morgan Treacy / INPHO After last year's All-Ireland final. Morgan Treacy / INPHO / INPHO
The individual accolades, they're nice to get. It's great to be rewarded for the time invested and to see that you're at the standard you wish to be at.
But it's about much more than that, she assures.
"The nicest thing is that you can share them with your family. It's kind of a different team that you have to share them with.
"You don't win any of that stuff if it's not for your team. That could have been any of us on any day as well. We have such brilliant players and to be able to play with them is what gets the performances out of you and training against them.
"That's what we say all the time. There's a lot of individual awards that go around and we always say that you're not going to get any of that if it isn't for the team and for the people around you, that's the most important thing."
Of course, the last 12 months or so have brought nothing but good times for Mick Bohan's Dublin — Leinster and All-Ireland silverware, a first-ever Division 1 Lidl Ladies National Football League title and just one loss to Galway in March along the way.
Plenty of ups. But the downs, the heartbreak and the disappointment don't stray too far from Healy's memory. Maybe this was best seen in Croke Park last September as she went around to each and every Mayo player to console them.
Gracious and humble in victory. It wasn't something she had planned to do, rather a natural occurrence in the moment.
"I just remember being in that position when players like Briege Corkery or Brid Stack (did the same)," she continues.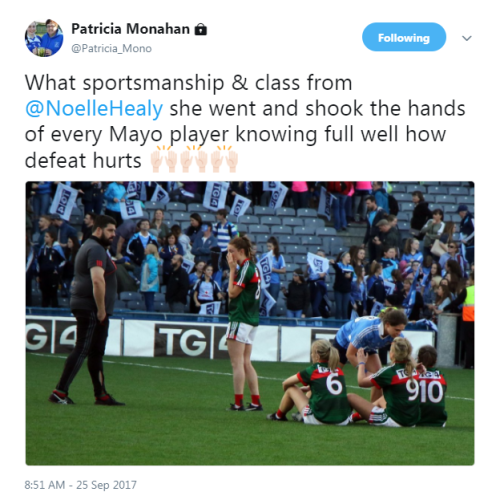 Patricia Monaghan Twitter. Patricia Monaghan Twitter.
"I remember thinking that they were able to take stock of the occasion, and come over and realise that while they're feeling brilliantly, there's people who had probably had the worst day of their life and are feeling pretty down about it.
"For them to come over and just to say, 'Well done' and check in, it's a very small gesture but it did mean a lot. To be able to pass that on — I don't know if they (Mayo players) felt the same way about it — but it's just something that you want to do."
Perhaps that comforting nature also comes from her line of work. Healy's occupation is a demanding one, and she grins when it's brought up in conversation at the media day for the FitrWoman app. It always is.
Fresh off nights, she's an anaesthetist in Holles Street, heading for Connolly Hospital in July. It always makes for interesting conversation and she's more than happy to discuss it at length. She's evidently passionate about what she does.
Why anaesthetist? "I don't know. I really liked surgery and I like medicine, I felt like it was a nice mix of the two of them.
"I like doing practical things, there's a lot of procedural stuff in anaesthetics. It has a good life-work balance for the most part. There's a lot of call but it's kind of structured. From that point of view, I fit in well. It's a nice career, there's a nice structure there.
"It's really interesting as well, there's a lot of physiology and anatomy which I've always been interested in. When I was a student, I noticed that there was a lot more female consultants in it than there would have been in surgery.
"From that, it looked like it was a career that women could do. Be it for good or for bad, it influenced my choice a bit because it seemed that it was more manageable, that you could have that balance, be it with a family or whatever."
She's that calming voice, the last one a patient hears before they're knocked out.
"It's nice. You meet people and they say, 'Oh, you mustn't be very good with people' or 'You mustn't like your patients if they're asleep most of the time'. You've very, very short interactions with patients but they're very nervous and anxious by the time they come up.
"You need to be able to reassure them and talk and communicate with them and with families as well — working on the intensive care unit, there's a lot of difficult conversations which you need to be able to have as well.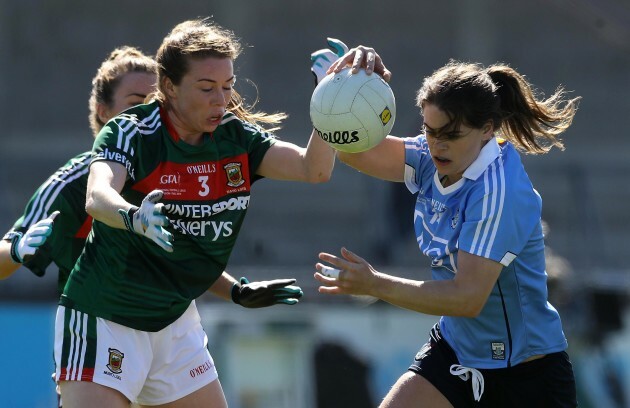 Lorraine O'Sullivan / INPHO Dublin beat Mayo in the league final. Lorraine O'Sullivan / INPHO / INPHO
"I'm still junior enough so haven't had too many of them, but that's coming down the line."
The hectic lifestyle is tough to balance, she concedes, but she enjoys every minute of it. The commitments involved with inter-county football and a full-time job are high enough without the long hours of call, overnight work and high-pressure environment.
People have told her countless times in the past that she wouldn't be able to keep it all going, particularly through her six years of studying Medicine in UCD and internships after, but that all changed when she started work.
"People were more like, 'You have to keep it going, it's brilliant that you can,'" she says of the change of attitude.
"A lot of people say that they regret giving up the sport as early as they did. You can understand, there is a lot of study. But everybody is saying that it's great that you have  a hobby and something to keep your mind of it. A bit of balance as well.
"I've been encouraged more than anything to keep it up, particularly by consultants. They've seen the benefit of having that balance. While you're on a trainee programme it can be all encompassing — you've a lot of call, you have exams, you do have very little time to make (football) training.
"Sometimes you might not feel like you want to go out for a run or go to the gym. It's nice to have that group of friends out there, be it a support network or a distraction to kind of get out."
And Ladies football, the Doctor firmly believes it's in a really healthy state.
It's come on leaps and bounds over the past few years, both standards-wise and outside influences from media to sponsorship. The likes of TG4 and Lidl are highly praised, while double-headers have been a huge success.
"It just shows that there's a communication that has started there and that there's a willingness to talk and to work with the men's county board which is brilliant," she notes, upon reflection of their Croke and MacHale Park outings through the league.
"It just makes sense. Now you find that there's not just fans of women's football and fans of men's football, there's fans of the sport and fans of the teams. People want to be able to watch both of their teams play which is brilliant now that they're getting the opportunity.
She adds: "I think at the moment people are aware of ladies' sports more and more. They're giving it the respect they deserve, and I think that's only going to encourage more brands to come in and help promote it as well.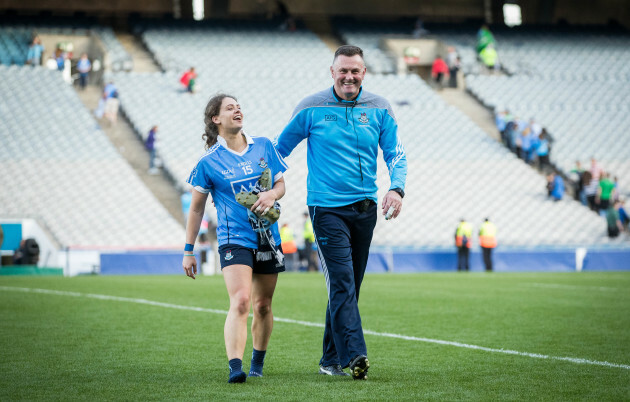 Ryan Byrne / INPHO With manager Mick Bohan. Ryan Byrne / INPHO / INPHO
"I think as players you have a responsibility to make sure that you're showcasing a good enough standard. I've always said you can't just expect people to give you attention or plaudits just because you're playing sport, you have to make sure that it's worth watching and worth the platform that it's given."
Hunted rather than hunter in this year's new-look TG4 All-Ireland senior championship, Healy feels that there's no real difference.
The past is in the past, this is a new team, a new year.
"We always just try to improve ourselves as players," she stresses.
"Mick is brilliant for that, for kind of making sure that we're reaching our own standards. He's set the bar a little bit higher again.
"We're just trying to play the best and nicest football that we can and get the most out of ourselves and each other, and just really enjoy doing it while we can. We've had a lot of new players that have come in this year. The dynamic of the team and the way the team plays is going to change when players come and leave so you just have to go with it.
"You'd be conscious that you don't want to be talking about, 'Well, last year we did it this way…' It's a new experience for them, it's a new journey and you have to appreciate that as well."
Today's Leinster final against Westmeath (throw-in 4pm) comes as their first competitive fixture since the league final win over Mayo.
That one, to many might have felt like a monkey off the back as they won it for the first time, but not so much for Healy.
"The league is the league. For us, it was just something that we'd identified that Dublin had never won the Division 1 league and it was something we kind of wanted to rectify.
"And as a group, it was a really nice thing to have done together. It was great and we set out for it to be one of our targets and it's always nice to be hitting that and achieving that."
They had a break through the month of May for club championship and it was good to spend time back with St Brigids, she adds: "Mentally, that was really nice and we came back really hungry."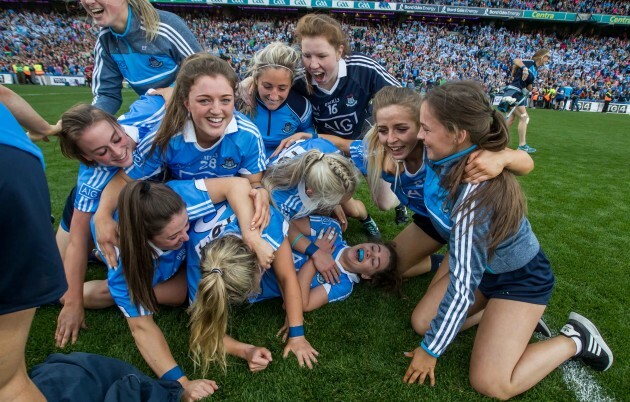 Morgan Treacy / INPHO The All-Ireland champions celebrate. Morgan Treacy / INPHO / INPHO
Admittedly, they would have preferred a longer run-up of games to the provincial decider but it is what it is. It's 15 on 15, against Westmeath — 'a brilliant team, threatening and hungry' — with more silverware up for grabs.
"When you just arrive at a Leinster final, you don't know if you've really earned it. But there's nothing we can do about that.
"We just have to be happy that we're in it, in a senior Leinster final again with a chance to hopefully win seven in-a-row. That would be a really special thing to achieve."
The42 is on Instagram! Tap the button below on your phone to follow us!