Brian O'Driscoll and Jamie Heaslip celebrate a Leinster try.
Image: ©INPHO/Ryan Byrne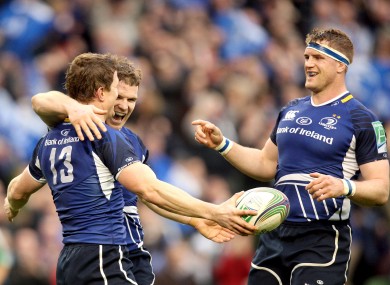 Brian O'Driscoll and Jamie Heaslip celebrate a Leinster try.
Image: ©INPHO/Ryan Byrne
THE BRIAN O'DRISCOLL 'One More Year' campaign team have the summer to regroup at HQ and work on a strategy to get the inspirational talisman to stick around for the 2015 World Cup.
The temptation, following an initial period of glee, when O'Driscoll announced his contract extension, was to consult a 2014 calendar. The World Cup takes place in Britain from September 2015. What's another 15 months between a legend and his fans?
Jamie Heaslip, who will captain Leinster against Stade Francais in Friday's Challenge Cup Final, declared O'Driscoll, for club and country, was a great guy to have around.
Heaslip expanded, "He's fantastic for bringing younger players through, giving them his time and setting a tremendous example in training and how he approaches the game. It's fantastic to have him around for another year. He just adds another dimension to our game  and has a wealth of experience as well."
"You never know," Heaslip said, "he might go another year after this."
Joe Schmidt and Jamie Heaslip at today's press briefing. (©INPHO/Lorraine O'Sullivan)
O'Driscoll commented, last week, that he would dearly wish to leave the sport 'on my own terms' and, while a Six Nations championship title or Grand Slam win would be memorable, a fifth World Cup campaign would be within touching distance. Should O'Driscoll, who would be 36 at the World Cup, signed a two-year deal to halt further speculation?
"You can just go ahead and suggest that to him," Schmidt told TheScore.ie, "that would be just fine. That would see him, just about, through to the next World Cup; that might be handy.
I've no doubt that this time next year, we may be saying the same thing. I guess he'll have to try and convince [wife] Amy and little Sadie [daughter] of that because I think, inevitably, that always puts a slightly different equilibrium into people's lives."
Schmidt added, "In the short term, I'm delighted he's here for one. I'll take that at this stage. Hopefully that one goes really well for him."