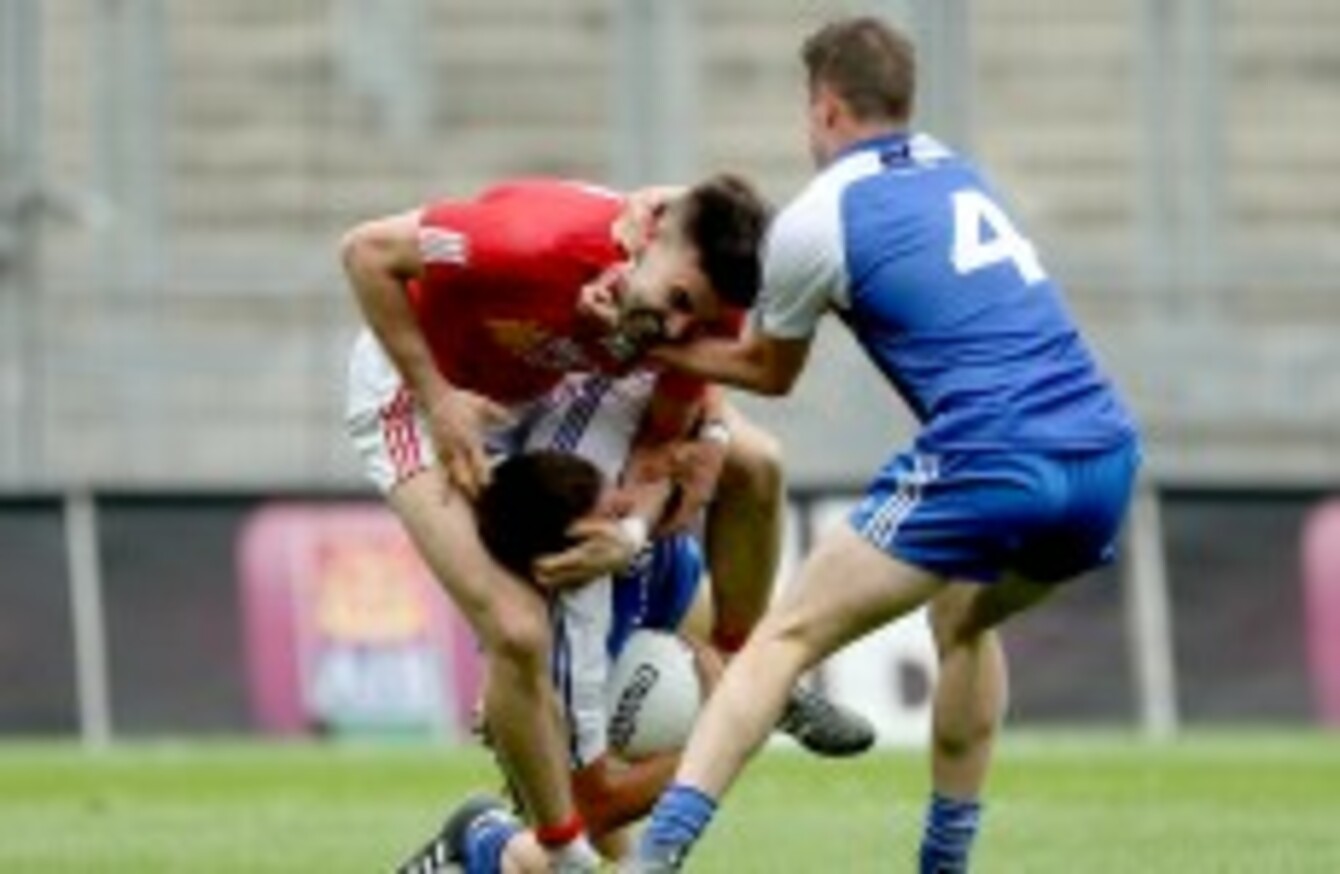 Monaghan's Drew Wylie and Ryan Wylie clash with Tiernan McCann of Tyrone
Image: James Crombie/INPHO
Monaghan's Drew Wylie and Ryan Wylie clash with Tiernan McCann of Tyrone
Image: James Crombie/INPHO
ARMAGH ALL-IRELAND winner Oisin McConville has delivered a hard-hitting critique of Tyrone's Tiernan McCann following his controversial dive on Saturday in Croke Park.
The Tyrone player came under fire for his dive after Monaghan's Darren Hughes ruffled his hair in the All-Ireland quarter-final tie.
McConville was highly critical of McCann's actions when speaking on today's Second Captains podcast.
"There are two things that are not acceptable in Gaelic football, spitting on somebody and taking a dive like that.
"To throw yourself on the ground like that, oh my God, I don't know how you'd wake up in the morning and how embarrassed you'd be.
"I think actually having thought about it, that I'd rather be on the losing side than wake up and be Tiernan McCann.
"That's just above and beyond. It's ridiculous. It's not as bad as spitting but it's up there.
"I didn't say it's a Tyrone problem, it's an epidemic in the game. It's spreading like wildfire. That incident for me stood out more than any other incident I've ever seen as far as diving goes in Gaelic football."
You can listen in full to the interview with McConville here and the entire episode of today's Second Captains.
Do you agree with McConville's views? Let us know in the comments section below.