FORMER IRISH RACE walker Olive Loughnane professed herself to be "delighted" following Rob Heffernan's gold medal triumph at the World Championships earlier today, pointing to the athlete's professionalism and dedication to the sport as being the primary reasons behind his success.
Loughnane, who herself won silver at the 2009 World Championships in Berlin, said that it had been a long and arduous journey for Heffernan to get to this point.
"There were a number of setbacks," she said. "But he always wanted to do better and that's what happened today."
While Loughnane said Heffernan's success was good for Irish sport, she emphasised that the performances of other Irish athletes should not be overshadowed by it as a result
"One medal is fantastic. Rob was always the big hope of the team and there was never a possibility of a second medal, but the important thing is that everybody gets the best out of themselves on the day.
"Whether that be a new personal best, whether it be making a final, a semi-final or getting out of your round. It's important that everybody does that. His first major senior championship was 2000, so it's taken Rob 13 years to get to this point."
Loughnane pointed out that Heffernan hasn't always been as acclaimed as he is now, and explained that his victory highlights the need for people to refrain from dismissing Irish athletes prematurely.
"It's important people realise that these things have to happen gradually," she said. "From a media point of view, until recently, Rob would have been one of those people, in previous years, who was considered an also-ran."

"He himself always had a plan and was always interested in making progress, and that's why he is where he is today.
"People who dip in and out of the sport should appreciate the need to be patient.
"There were times when his performance wouldn't have been shone up in lights. The plan isn't always visible to people who aren't close followers of athletics."
Many Irish fans were undoubtedly somewhat tense watching today's race, and perhaps some would have been concerned that Heffernan may ultimately suffer a similar fate to that which he endured at the London Olympics in 2012 – whereby he came agonisingly close to securing a bronze medal, only to narrowly miss out.
So, was Loughnane on the edge of her seat while watching proceedings this morning?
"Not really – there was just a little bit of confusion about how many cards he was on [and that he risked potential disqualification].
"It's just like having your name taken in the black book in GAA – it's not actually a yellow card."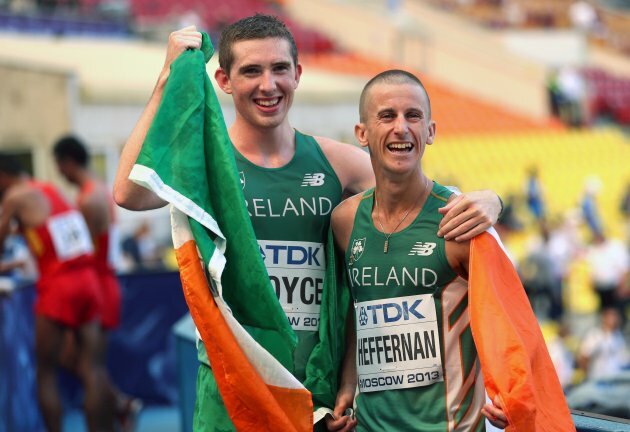 (Robert Heffernan alongside Brendan Boyce, who finished in 25th position- INPHO/Ian MacNicol)
And was she ever concerned that he'd end up an example of a highly talented athlete who is destined to endure a career characterised by near misses?
"No, but at the same time, you never know – it's the World Championships, it's the best in the world.
"So you don't know who's going to come out and spring a surprise. Rob sprung a big surprise last year, so someone else might come along and do it this year."
Sonia O'Sullivan spoke recently, in an interview with the Irish Independent, about Irish athletes' status in recent years, and suggested some were happy just to reach prestigious events such as the Olympics, however Heffernan's success paints a less gl0omy picture of the current state of athletics in this country.
"I understand Sonia's point about needing to aspire to excellence and I agree with that, and we need to create a culture of excellence," she explained.

"I didn't go to an Olympics in 2000 just to be happy with where I finished. I proved that by improving [Loughnane's best placing was 7th at the 2008 Games in Beijing, having previously competed in the 2000 and 2004 Games].

"And Rob would have been the same. Rob finished in 28th at the Olympics in 2000 and wasn't happy – it's that type of attitude that brought him where he is today."
Loughnane also said that Heffernan's achievement was likely to inspire younger Irish athletes looking to emulate his feat.
"It does [give them hope and inspiration]. It can be done. And it will be done again. I've trained with Rob and Gillian O'Sullivan, and Gillian won a silver [at the World Championships] in 2003
"I could see it was possible. It wasn't a big deal to qualify for the Olympics, as far as we were concerned – we all qualified for the Olympics. And Gillian finished 10th in the world [at the Sydney Games in 2000].
"You see it's possible and then you expect it for yourself, and something like that is something the team will take note of."