THIS IS MORE like it.
A guaranteed bronze medal for John Joe Nevin after his win on Sunday night and more success, this time for Katie Taylor, at the ExCel Arena today.
The medals are not hanging around necks yet and Ireland are not placed on the medal table yet but we have tasted success. Now we want more.
Michael Phelps will have to come back at Rio 2016 if he wants to boast that he is better than the nation of Ireland*.
Headline of the day
Girl Power! The ladies led the way for Team Ireland today. Derval O'Rourke kicked things off with a season's best time in the Women's 100m Hurdles to qualify for the semi-finals on Tuesday. Annalise Murphy had us all tuning in to action off the English coast at Weymouth as she briefly led her Laser Radial medal race before falling back and finishing one place away from a bronze medal. Katie Taylor then made up for the disappointment when she showed her class in a 26-15 boxing win over Natasha Jonas of Great Britain. She is now guaranteed a bronze medal.
What we learned today?
Chris Hoy has a pretty decent successor
There was more than a kerfuffle when it was announced that Chris Hoy, the man who won three track cycling golds for Team GB at Beijing 2008, would be replaced in the Men's Sprint by Jason Kenny. Each country were only allowed to select one rider and Great Britain plumped for the younger model (Kenny is 24, while Hoy is 36). We will never know if Hoy would have claimed another gold but Kenny was superb in taking home the sprint title after defeating Gregory Bauge of France 2-0 in the best of three final.
Annalise Murphy will be a genuine medal contender at Rio 2016
It will take Annalise Murphy more than a few days to get over the disappointment of narrowly missing out on an Olympic medal but there are reasons to be positive. She won her first four races against the best in the world and it was only a failed gamble in the medal race, going far left in the hopes of catching downwind gusts, that cost her. She is only 22-years-old and will be in the prime of her sailing life when the games reach Brazil in four years time.
Usain is enjoying his couple of days off but there is plenty of pace left on the track
19-year-old Kirani James announced himself to the world on Sunday evening with a blistering run in the Men's 400m. His winning time of 43.94 left fellow teen, Luguelin Santos, and his older foes in his wake. Felix Sanchez is 15 years older than James but he showed that there is speed in those ageing, hurdling legs yet. His sheer will power and self-confidence was enough to see him home in the 400m Hurdles Final.
Drugs are back on Black Monday
Depressingly, after the joy of Usain Bolt's stunning 100m win on Sunday night, a sour couple of doping stories threatened to ruin the buzz. American judoka Nicholas Delpopolo was disqualified from the games after failing a drugs test and he was joined in infamy bu Italian 50km walker Alex Schwazer. "My career is over. I made a mistake," Schwazer, the Beijing 2008 gold medallist, told ANSA news agency. "I wanted to be stronger for this Olympics, I was wrong.
Highlights from Team Ireland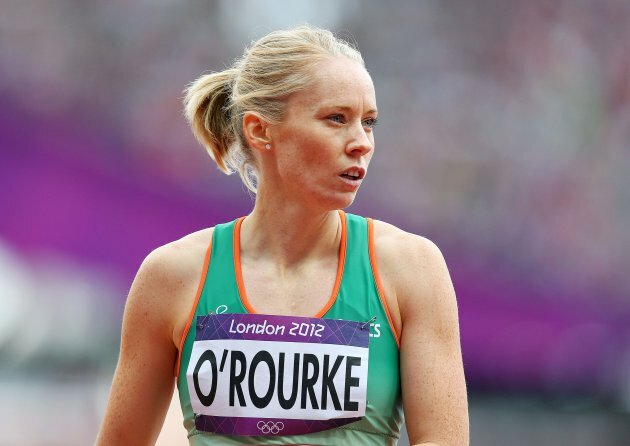 Derval O'Rourke ran her quickest 100m of the year. (©INPHO/Dan Sheridan)
Lost In Translation
FOX News cops a lot of flak for what many perceive to be right-wing views and biased reporting but they went below and beyond with this headline: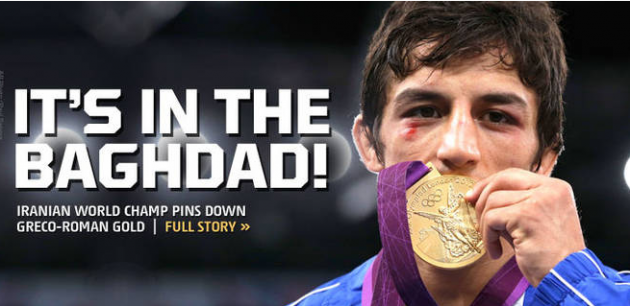 FOX have since rectified the error and here is what the site now shows: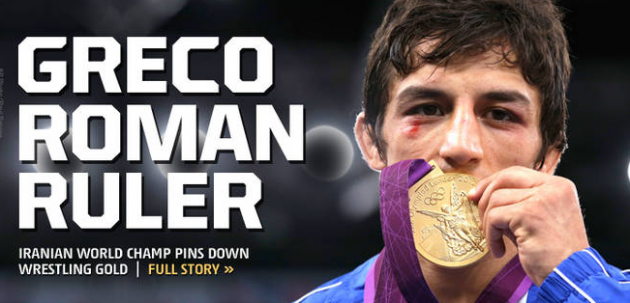 Tweet of the day

Wise words from the former, undisputed world heavyweight champion.
Best thing we've read today
It has to be the classic case of auto-correction on the Christian website for the American Family Association. The group's automated system for changing forbidden words altered the name of American sprinter Tyson Gay to 'Tyson Homosexual'.
The software changed an Associated Press piece about Gay qualifying for the Olympic team and made for some strange reading:
Tyson Homosexual was a blur in blue, sprinting 100 meters faster than anyone ever has.

"It means a lot to me," the 25-year-old Homosexual said. "I'm glad my body could do it, because now I know I have it in me."
A new friend we made today
Elena Isinbaeva failed to defend her Women's Pole Vault title at Olympic Stadium, losing out to Jennifer Suhr of the USA, but faced her fate with dignity and grace. That being said, here (below) is the person that stole our heart today. Well met sir!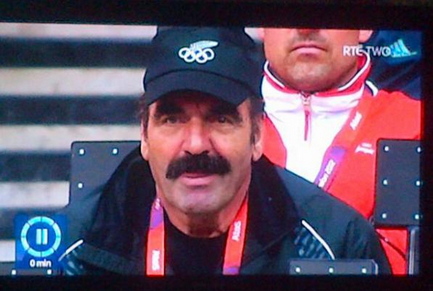 New Zealand's shot-put coach: Burt Reynolds or Tom Selleck?
(Credit: @RichieMcCormack)
Olympic dictionary
"Tacking" or 'coming about', is the act of turning a sailboat across the eye of the wind.
How can you use it in a sentence? "They were tacking like mad yokes at Weymouth today."
You said what?
I'm satisfied; I'm not thrilled. I takes a lot more than that to thrill me.
- Derval O'Rourke gives TheScore.ie her reaction following her fourth place finish in the 100m Hurdle heats.
It's amazing, but it's just a number really. I still don't think that anybody can better Steve's record in terms of what he's really achieved.
- Chris Hoy talks about his changes of surpassing Steve Redgrave's five gold medal haul (Quote credit: AFP, 2012)
Hats off to her, there is nothing else I could have done, maybe thrown the kitchen sink or driven a bus into her.
- Natasha Jonas of Great Britain reacts to her defeat by Katie Taylor.
Medal table
(Table correct as of 10.25pm on Monday, 6 August)
* Including Michelle Smith and her four medals.