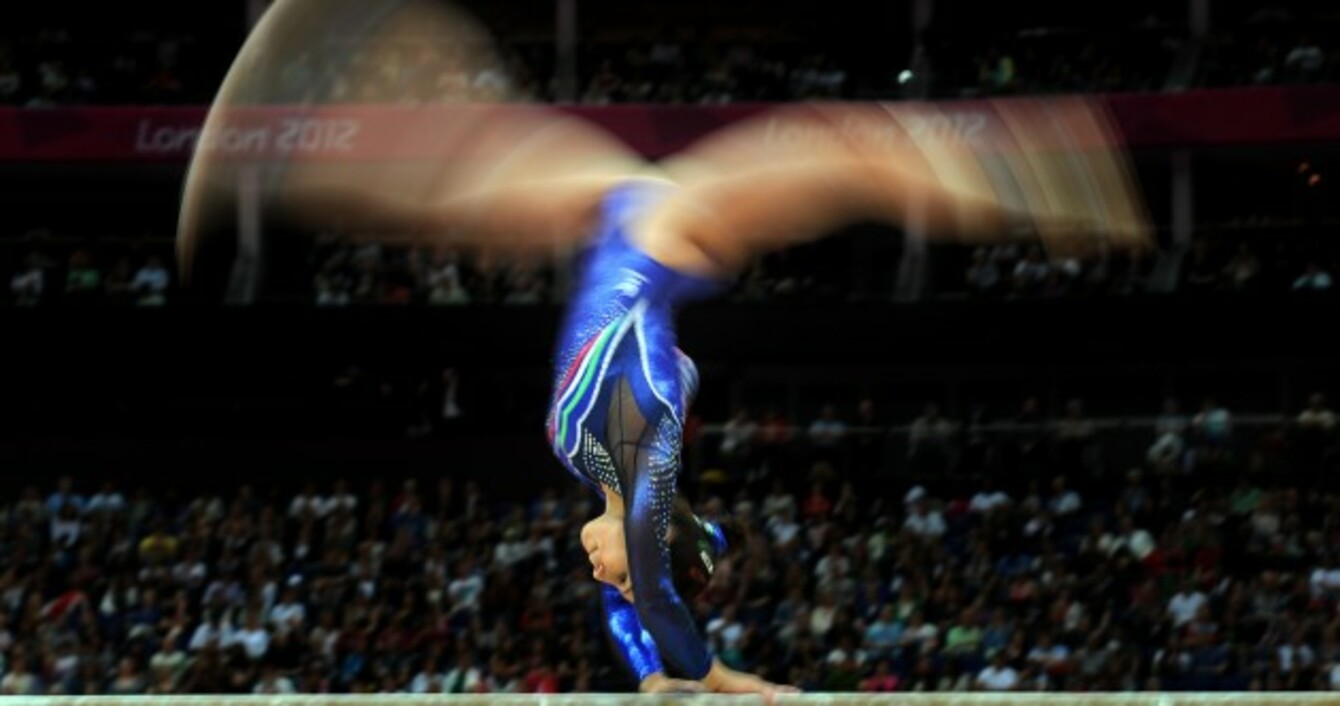 Italy's Vanessa Ferrari competes on the beam during the Artistic Gymnastics team qualification.
Image: Anthony Devlin/PA Wire
Italy's Vanessa Ferrari competes on the beam during the Artistic Gymnastics team qualification.
Image: Anthony Devlin/PA Wire
TWO DAYS DOWN and there is a lot more bling on show around the Olympic Village.
This was the day that Team Ireland arrived to the party and proved they are not just there for the free McDonalds and taking pictures with celebrity sportsstars.
There was good news in the sailing and in the K1 kayaking, while Ireland remain in Equestrian contention and Melanie Nocher, while failing to advance, showed encouraging signs ahead of the bigger swimming challenges that await.
Headline of the day
Dread in the Water! The United States coasted into the Men's 4×100 Freestyle Final but the coaches then replaced all four swimmers, including the lightning quick Matt Grevers, for the joust against France and Australia. Michael Phelps fulfilled his end of the bargain but Day One goldenboy Ryan Lochte got overtaken in the last 25m and France gained revenge for Beijing 2008.
What we learned today?
Team Ireland may not walk on water but they know how to scythe through it.
Peter O'Leary and David Burows got off to a great start in the sailing and currently lie in second place overall after two outings. Eoin Rheinisch was excellent in the kayak today too as he set the pace for a large portion of today's white-water action. He is in the top 15 and qualified for the semi-finals.
The footballers of Spain are not like their European Championship winning elders.
The simple matter of lining out in Spanish jerseys seemed enough to convince some bookies that the young Spaniards should be favourite for the Men's Football title. It has not proved the case as defeats against Japan and Honduras mean they are eliminated. Team GB look in altogether better shape after Ryan Giggs and Daniel Sturridge inspired them to a 3-1 over United Arab Emirates.
Once a talented skeet shooter, always a talented skeet shooter.
Kim Rhode became the new Skeet Women Olympic Champion on Sunday afternoon, making her the first American competitor to win consecutive medals at five games. Make some room on the mantlepiece, that's some fine skeet shooting.
Highlights from Team Ireland
Chloe Magee recorded an emphatic win. (©INPHO/Presseye/William Cherry)
A new friend we made today
Ruta Meilutyte of Lithuania is only 15 years of age. She was the youngest competitor in her semi-final of the 100m Breaststroke but it did not faze her one bit as she blitzed an experienced field to set a new European Record and give notice that she is a genuine medal prospect.
Lost in translation
"Once I had one movement, I was done." – New Zealand road race cyclist Greg Henderson was unfortunately referring to 'bad, bad, bad diarrhoea' that scuppered his Olympic dreams.
You said what?
I have never had so much in my life and I am so thankful for that. Thanks to the journalists who wrote not such nice things about me because you have never made me feel so loved in my life.
- Leisel Jones of Australia, who qualified for the 100m Breaststroke Final, thanks the public and hits back at a newspaper back home that suggested the triple Olympic breaststroke gold medallist was out of shape.
Leisel Jones was close to tears as she hit back at weight critics. (AP Photo/Matt Dunham)
Let's hope we can make it 'Camilla Speirs, Olympic Medallist'.
Irish eventer Camilla Spiers responds when asked how the title 'Olympian' sounds alongside her name. The 23-year-old from Athy was placed 27 after her first outing at Hyde Park. Ireland are in 10th in the team rankings.
The best thing we read today
Amber Neben of the United States road race cycling team has been through one of those heartbreaking and inspiring journeys that the Olympics thrives on. She came close to death as a child after a meningitis scare and had to give up a promising track and field career after discovering she had skin cancer.
You can read more about the 37-year-old from Nebraska here and here.
Neben finished 36th overall in a race that was won by Dutch sprint expert Marianne Vos.
Olympic dictionary
"Wake": Ireland has so far had three swimmers in Lane 8 in the qualifying heats and it has proved to the last place they would want to be. Being in the outer lanes is a distinct disadvantage as the outward wake from the swimmers in the central lanes makes for a less than comfortable swim.
Gold medals have rarely been won from Lane 8 swimmers and it certainly does not help in qualifying for semis and finals.
Drugs watch
A couple of drug tales to go with the depressing news yesterday that Albanian weightlifter Hysen Pulaku was thrown out of the games for failing a drugs test.
Uzbak gymnast Galiulina Luiza has also been suspended for failing a drug test. She is awaiting news of her 'B' sample. St Kitts and Nevis sprinter Tameka Williams is not waiting around, though, after admitting to officials that she was using a banned substance.
Meatloaf bellowed once that two out of three ain't bad. Three doping tales in two days, well, that is bad.
Medal table
(Medal count correct as of 10.30pm on Sunday, 29 July)
#Open journalism
No news is bad news
Support The Journal
Your contributions will help us continue to deliver the stories that are important to you
Support us now