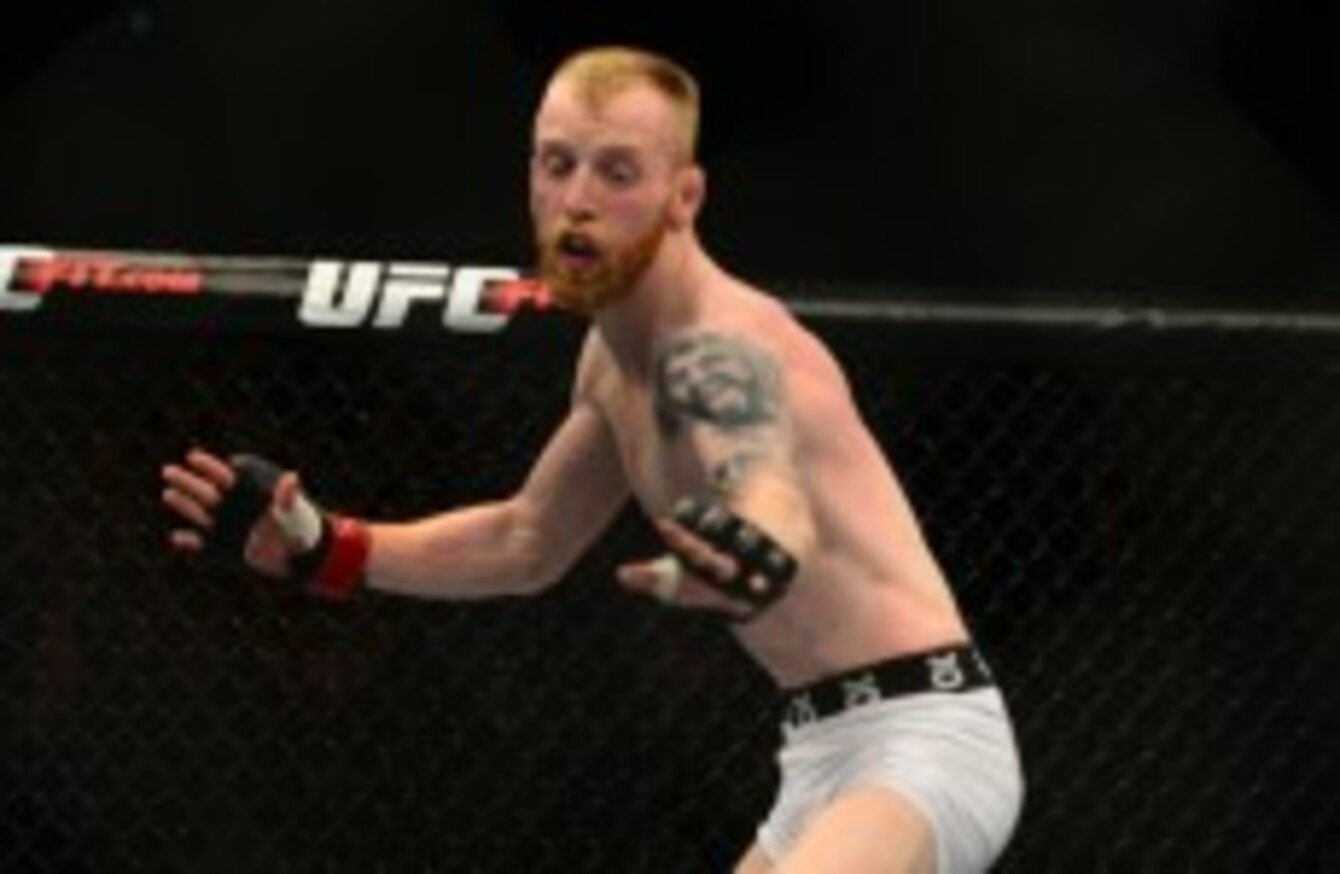 Irish UFC flyweight Paddy Holohan.
Image: ©INPHO/Rodrigo Romos
Irish UFC flyweight Paddy Holohan.
Image: ©INPHO/Rodrigo Romos
– Paul Dollery reports from Glasgow
PADDY HOLOHAN SECURED back-to-back wins this afternoon in the UFC.
The Irish flyweight won all three rounds on the prelims at UFC Glasgow to earn a unanimous-decision win over Vaughan Lee on scores of 30-27 across the board.
Holohan, who received massive support from the Glasgow crowd, had the better of an intriguing first round, most of which Lee spent defending against a triangle attempt. But the Englishman broke free with 20 seconds remaining and Holohan suddenly found himself in danger.
Lee took Holohan's back and locked in a rear-naked choke that had the SBG flyweight in trouble, but he too managed to escape just before the bell.
Round two was another one for the grappling enthusiasts to appreciate. Holohan chased an armbar as the clock winded down but again the bell came before a submission.
In the third and final round, Holohan put his reach advantage to good use and had the better of the exchanges on the feet, although the action was briefly held up as Lee recovered from an accidental groin strike.
Holohan then scored a takedown late on to seal the deal, as the judges awarded the Tallaght native all three judges.
Afterwards, Holohan called out Louis Smolka — who defeated fellow Dubliner Neil Seery last weekend at UFC 189 — for a bout when the UFC returns to Dublin on 24 October.
"You can go anywhere in the world and you'll find Irish people, and they were here tonight," said Holohan, acknowledging the incredible support he received. "I'm coming over here like, 'It's my island'.
"Vaughan is a tough guy though, he takes kicks. But the only way I'm losing… well, I wouldn't even know about it because I'd have to be dead. They say it's the luck of the Irish but I don't really believe in luck. I believe in John Kavanagh and in SBG and in all of my team."