HALF-TONNE FIGHTING bulls trampled and knocked over daredevils on a break-neck run through the rain-moistened streets of Spain's northern city of Pamplona on Friday that sent seven people to hospital.
No one was gored but three people suffered head injuries, including a 19-year-old woman from Valencia in Spain — a rare incident since most of the runners are men.
The other injured runners included a 48-year-old man from New York and a 46-year-old man from Paisley in Scotland, the regional government of Navarra said.
A 33-year-old Spanish man dislocated his right shoulder and another three Spaniards suffered bruises and cuts to the face or knee.
The seven injured were taken to hospital by ambulance after receiving first aid at the scene. None of their injuries were deemed serious.
Emergency services workers loaded a man whose head was wrapped in a bandage on a stretcher and into an ambulance.
The six bulls from the Jandilla ranch in the eastern province of Badajoz charged in a pack over most of the 850-metre (930-yard) course from a holding pen to Pamplona's bull ring in two minutes and 56 seconds.
The bulls, which weighed between 510 and 595 kilos (1,125 to 1,310 pounds), will face matadors and death in the afternoon in the arena.
- Selfie, with charging bull -
Hundreds of runners collided with each other or pushed one another out of the way in panic as the galloping animals neared.
"It was intense. You barely have time to think about what is going on, you are just focused on avoiding crashing into people," said Jonathan Sweeney, a 27-year-old bartender and law student from Los Angeles who was taking part in the bull run for the first time.
Spanish public television TVE captured images of one young man dressed in white pants and a red sweatshirt slowing down as he raced ahead of a bull to take a picture of himself with the animal in the background.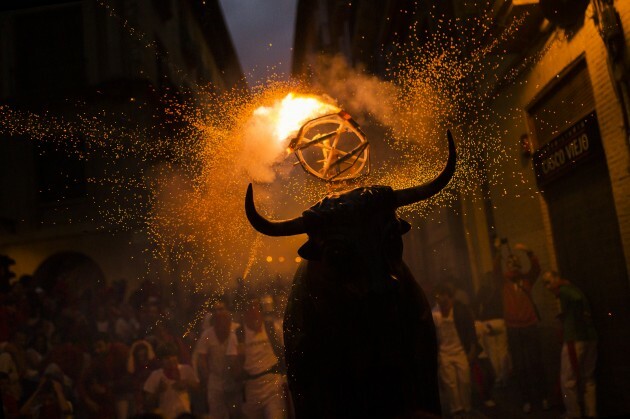 AP / Press Association Images AP / Press Association Images / Press Association Images
(A flaming fake bull "Toro de fuego" runs after revelers during the 2014 San Fermin fiestas in Pamplona)
Using a camera during a bull run is banned. Police routinely stop people from taking part in a run who have cameras on them.
Those caught using a recording device during a bull run can receive a fine ranging from 600 euros to 60,000 euros ($800 to $80,000) depending on how dangerous their action was considered to be.
"It was great, it set off the adrenaline. I will do it again," said Javier Esparza, a 22-year-old from Madrid who wore a red and white Atletico Madrid football top. He was also taking part in a bull run for the first time.
Friday's run was the fifth in the nine-day San Fermin festival which was immortalised in Ernest Hemingway's 1926 novel "The Sun Also Rises".
San Fermin has become a global tourist attraction, with tens of thousands of Spaniards and foreigners pouring into the Navarran capital.
Many bull run participants take part after drinking and dancing almost all night.
Fifteen people have been killed in the bull runs since records began in 1911. The most recent death occurred five years ago when a Spanish man was gored.
Four Spaniards and one American have been gored so far this year in the festival which wraps up on Monday.
A 2011 study by Pamplona city hall found that of the 20,500 people who took part in the festival's eight bull runs that year, only six percent were women.
Nearly half of the people who took part in the bull runs that year came from outside Spain, mostly from Australia, Britain and the United States.