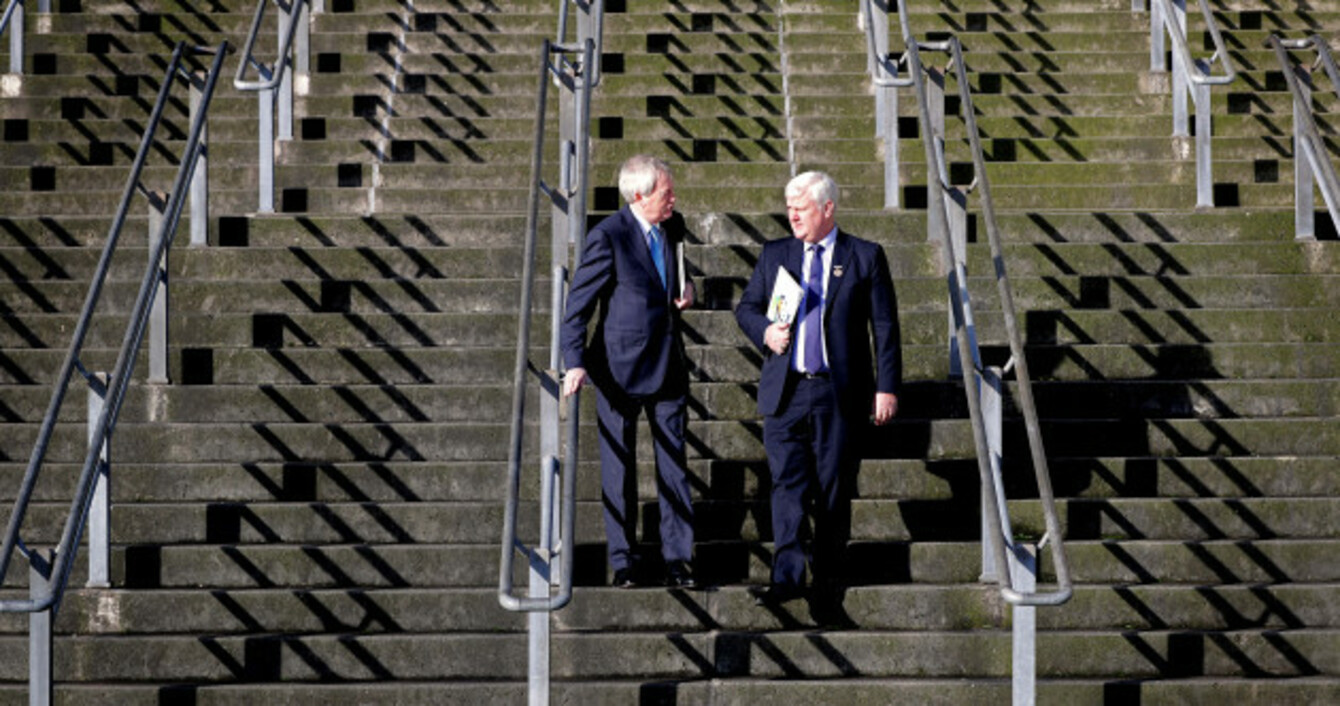 Duffy, left, with GAA President Aogán Ó Fearghail: search for the next DG continues.
Image: Morgan Treacy/INPHO
Duffy, left, with GAA President Aogán Ó Fearghail: search for the next DG continues.
Image: Morgan Treacy/INPHO
PEOPLE WHO WORK in Croke Park say you know Paraic Duffy by his walk.
It's the full pelt shuffle of a man who has things to do and wants to get them done. They talk about his integrity and work ethic. First into the office every morning and last to leave. See a light on high in the Hogan Stand at night? Probably him. They say he'll be badly missed, and joke about his next big gig: managing the Scotstown reserves.
So is this really the fat cat who has turned the GAA into a corporate lapdog, a latter-day JP Morgan figure, responsible for crushing the poor club player under a sponsored jackboot?
Hmmm.
Duffy put out his annual report this week, with his impending departure from the association's top job leading to plenty of soul-searching, at a time of year which is high season for GAA soul-searching (otherwise known as 'the bit before the matches start').
For example, many took the requirement for a business degree in the original ad for Duffy's successor as a sign of Croke Park's intention to go even harder in pursuit of lovely lucre.
"I was surprised to see a degree in business management mentioned in the advert," former GAA PRO Danny Lynch told the Irish Examiner earlier this month.
"What I would worry about is how geared the GAA are towards maximising revenue. That is not a wholly bad idea but I wouldn't subscribe to it if it was at the detriment to somebody totally understanding the GAA and I mean totally, in particular its ethos."
Even if Michael O'Leary himself were to apply for the job, pledging to charge Croke Park punters for using the jacks, it is unlikely the GAA would go for someone who didn't get that ethos. It just wouldn't work. You wouldn't get too many motions through Congress talking about brand synergies and leveraging stakeholder engagement.
But the perception is there that the GAA has already sold its soul to Mammon, and that there is more to come.
Etihad Airways Croke Park – Welcome Aboard!
The Artane Band brought to you by Brasso ('Gets Your Trumpet Nice and Clean').
Marty Morrissey pitchside in a Duracell bunny costume.
Granted this view is fuelled by a few high-profile former players who have chanced upon the idea of writing the same newspaper column every week. Nonetheless, tied with issues like club fixtures and inter-county elitism, it perpetuates the notion of a disconnect between the association's high-born and the peasants far below.
Not that Duffy was having any of it in his annual report. Having already chastised the Dublin-splitters and called out the shamateurism of payments to managers, complaints of excessive commercialism also got the sharp end of the director general's pen.
"We can never escape the constant pressure in the area of finances," he wrote. "The purists like to ignore such vulgar considerations (convinced, for example, that the GAA has piles of money to throw around, or that, for example, it should not try to get a fair price for its broadcast rights)".
Roughly translated, that means: You ungrateful lot! All these sponsorship deals, TV rights auctions, rock bands plonking their stages on the Croke Park pitch: it's all for you! Without all this you'd be stuck playing bloody rugby!
Such snarkiness might seem unusual in the normally measured paragraphs of an official GAA publication, but shows Duffy's frustration at charges of money-grubbing. He likes to point out how every euro the GAA earns is accounted for, every cent finding its way towards pitches, dressing rooms, floodlights, coaches, development officers and all manner of boring stuff like insurance, injury funds and IT security systems.
Duffy is suggesting there's an element of 'what have the Romans ever done for us?' about the criticism. But that doesn't mean unease at the GAA's direction isn't real. Why, at a time when the association is bigger, better, richer, more popular and cooler than ever, are many people moaning about how it does its business?
Hang on… disenfranchised masses feeling alienated by the way their lives are governed by, and seemingly for the benefit of, untouchable elites?
Pop sociology alert!
Doesn't that sound familiar? Are organisations like the Club Player Association and the firebrand newspaper columnists tapping into broader populist frustration about a lack of access to power and an idealistic harking back to simpler times?
Is the frustrated club player akin to the unemployed Pennsylvanian steelworker? Are calls for an end to the all-consuming intensity of the inter-county game like Brexit's appeal to an imagined, sepia-toned past?
And what about Joe Brolly, does that make him Steve Bannon or Nigel Farage?
Maybe not. But it could be that GAA management aren't steering the association towards the clutches of big business, merely being carried inexorably along on the same capitalist tide as society in general. Yes, the GAA has a particular ethos, but running inter-county teams, renovating stadiums, and putting development officers in every corner of the country costs money – money that Corporate Ireland is only too happy to hand over, in return for pushing their brands into the very communities only the GAA can reach.
It's a Faustian pact, and one the GAA can't really back out of. To take one example, Duffy has said that the GAA will rebalance the disproportionate funding that went Dublin's way in the last decade to improve the lot of weaker counties – but don't expect them to turn off the tap in the capital given the battle for hearts and minds with other sports.
With €100 million in annual revenues reported in its most recent accounts and still under "constant pressure" financially, no matter who is in the director general's office, calls for the GAA to revert to some kind of bucolic amateur idyll are akin to suggesting an Amish barn-raising on Wall Street.
No wonder Paraic Duffy is in a hurry.
The42 has just published its first book, Behind The Lines, a collection of some of the year's best sports stories. Pick up your copy in Eason's, or order it here today (€10):