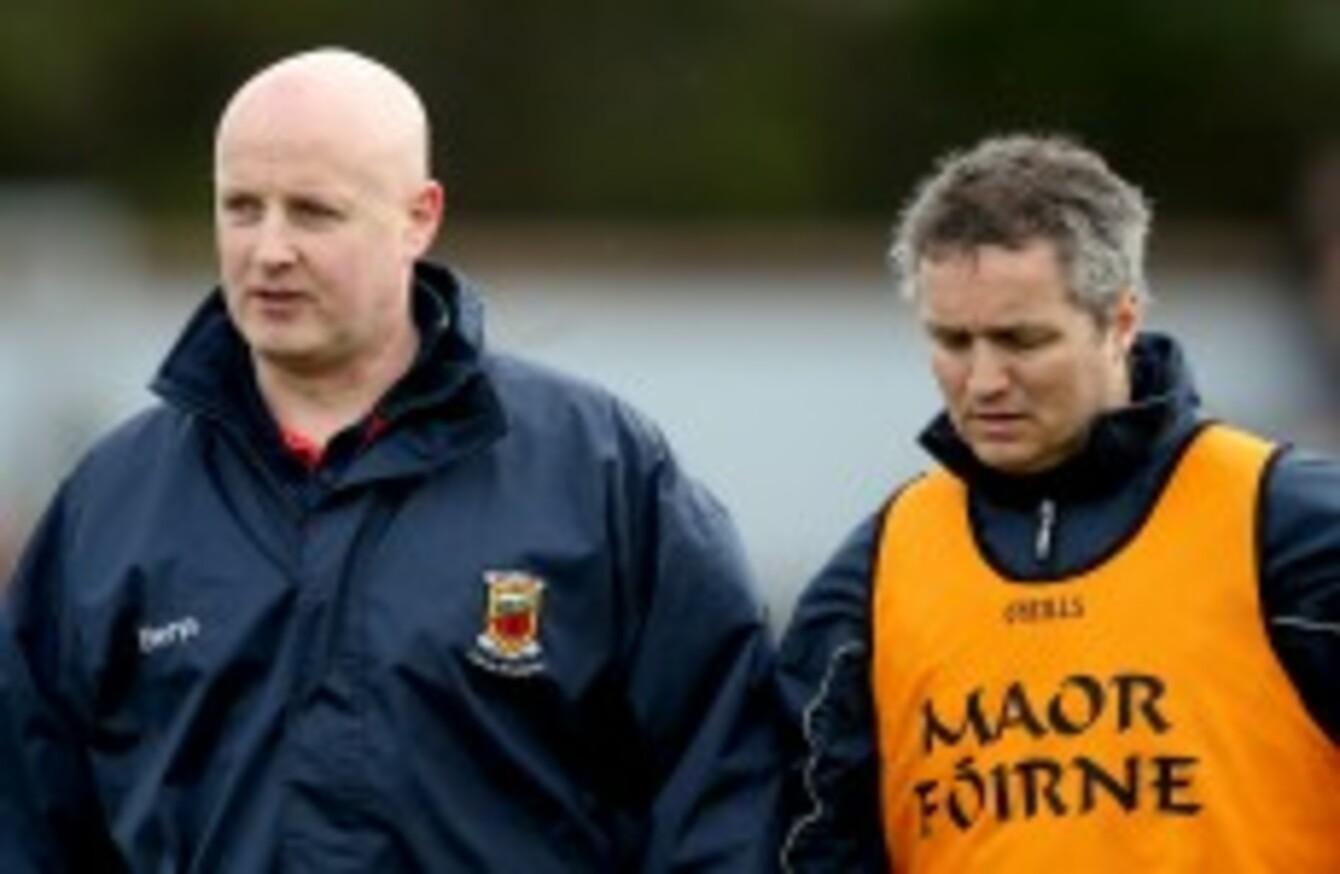 Image: James Crombie/INPHO
Image: James Crombie/INPHO
SECRETARY OF THE Mayo County Board Vincent Neary has admitted that news of the senior footballers tabling a vote of no confidence in managers Noel Connelly and Pat Holmes is 'a bombshell'.
Speaking on Newstalk's Off The Ball, Neary said he didn't know why the current situation has arisen, insisting no player had brought any issue to their attention.
The first I heard of this was when I was travelling to work this morning. This is a bombshell to the board and obviously to Mayo management and to their families. They would've put their whole lives on hold for the past year."
"We have regular meetings with two players reps to discuss any issues arising in camp and even the management themselves have a group – to discuss tactics and to raise any issues players may have within the setup."
Neary revealed that a meeting with the player representatives had been scheduled when Mayo suffered defeat to Dublin in the All-Ireland semi-final replay earlier this month and will take place next Thursday.
"We were due to meet the two players reps after the championship concluded for us – and that meeting will still go ahead – it's scheduled for next Thursday. We're waiting on confirmation from the reps."
The meeting becomes more urgent than ever. There has been no reason given for why this has happened. Management hasn't been told why there's a vote of no confidence in them and that's disappointing. We're due to meet the player reps & hopefully it'll happen on Thursday.
When pressed on whether he had heard the somewhat widespread rumours of player discontent before now, Neary seemed to hint at certain players possibly having an issue with non-selection but reiterated that those issues weren't brought to the attention of management.
We have an excellent group of talented players. We can only play fifteen – obviously any lad that's part of the panel will want to get a grip of the jersey – it's not unlike any other panel or any workplace where there's a large group. Everyone can't be promoted and can't fill the jersey. But we have the mechanism in place to bring issues to our attention and they hadn't been.
We have a great relationship with players & management. If there was anything starting, they'd have brought it to our attention. There are always rumours but nothing came from any particular player. Normally, after the end of any campaign – there will always be rumours but we would be very conscious that there's a mechanism there to bring anything to our attention."
With such a forceful message from the Mayo players, Connelly and Holmes' positions would appear untenable but Neary said such matters would be discussed in private.
We will not be discussing that on airwaves – we'll discuss it among ourselves. It's a bombshell to the management, county board and to our huge, huge loyal support. We haven't discussed this with management or player reps but we will work on that as soon as the players give us their confirmation they're available on Thursday and we'll talk to them.
We have sympathy for the management team. We have a mightily talented bunch of players and we do our utmost to get them across the line. This is not something any of us want to be talking about. Hopefully we will meet with players on Thursday – we have a good relationship with the players & that won't change."