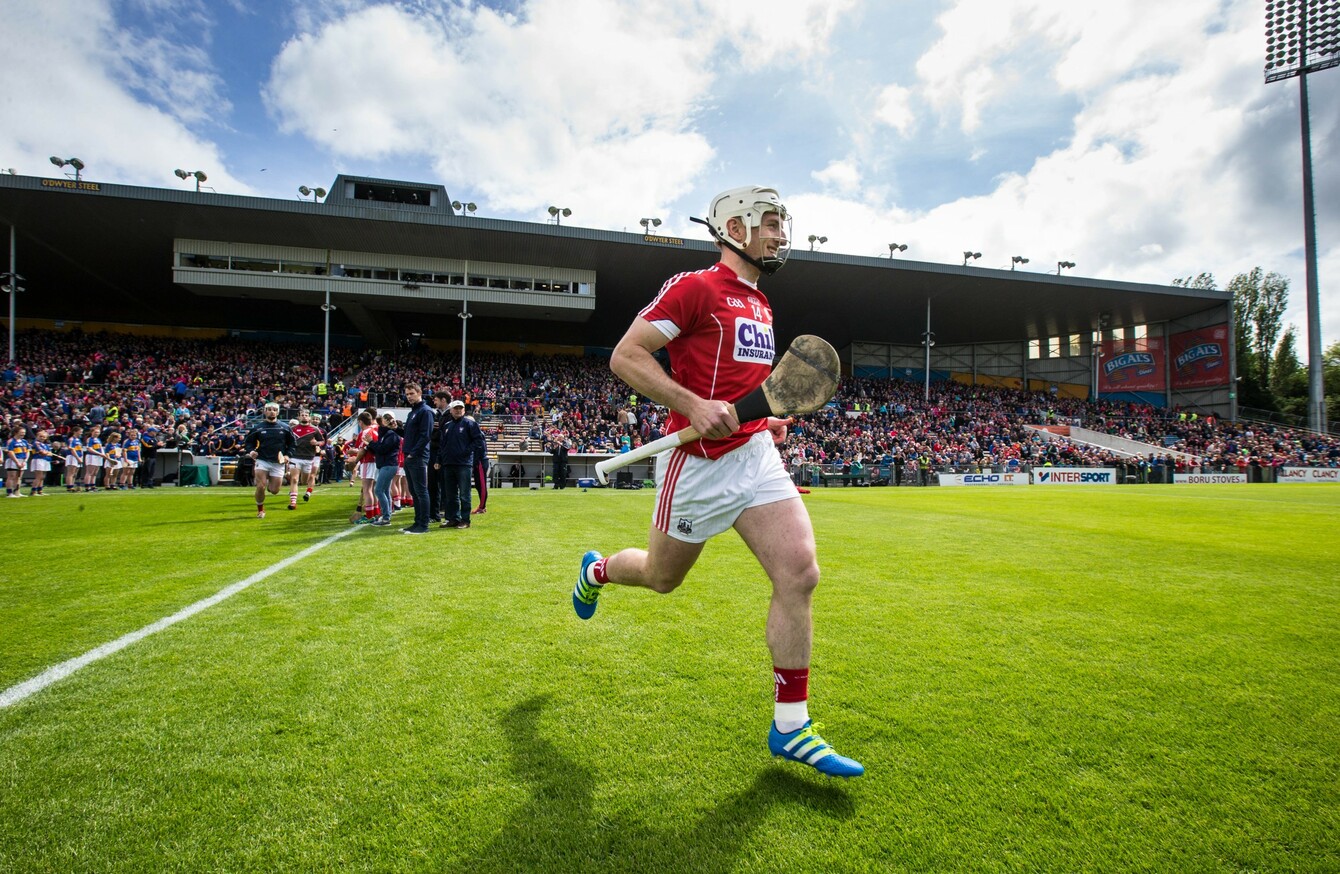 Image: Cathal Noonan/INPHO
Image: Cathal Noonan/INPHO
THE SCORING RUN started back on 12 July 2008.
It was the last white flag raised that evening in a game where Cork looked sluggish before overcoming Dublin by five points in a qualifier Páirc Uí Chaoimh.
20-year-old Patrick Horgan supplied the final point of the match, notching the first of his senior championship career after being sprung from the bench.
Now in the midst of his 10th summer fulfilling Cork hurling duties, Horgan has made his mark on plenty scoreboards since.
In last month's Munster semi-final win over Waterford, the 29-year-old amassed 0-10 with his last point on a sweltering afternoon from a 68th minute free, seeing him reach the milestone mark of 300 points in senior championship fare.
He's sixth on the all-time scoring list and while there's major ground to be made up to haul back Joe Canning, who reached the 400 point mark in Croke Park last Sunday, a place in the top five is very much in Horgan's sights.
If he hits five points or more in next Sunday's Munster decider, it is Christy Ring that Horgan will overtake, a neat link between a pair of Glen Rovers forwards.
Top 10 Hurling Championship Scoring List
(Compiled by hurling statistician Leo McGough)
Henry Shefflin (Kilkenny) – 27-484 (565) – (71 games)
Eddie Keher (Kilkenny) – 35-334 (439) – (50 games)
Eoin Kelly (Tipperary) – 21-368 (431) – (63 games)
Joe Canning (Galway) – 25-325 (400) – (45 games)
Christy Ring (Cork) – 33-205 (304) – (65 games)
Patrick Horgan (Cork) – 12-264 (300) – (43 games)
DJ Carey (Kilkenny) – 34-186 (288) – (57 games)
Joe Deane (Cork) – 10-244 (274) – (50 games)
Nickey Rackard (Wexford) – 60-91 (271) – (35 games)
Niall Gilligan (Clare) – 20-197 (257) – (56 games)
Source: PJ's Classic GAA Channel/YouTube
Seanie McGrath produced his share of scoring exploits for Cork. He grew up in Glen Rovers aware of the exalted place Ring occupied in the pantheon of hurling greats and has watched Horgan develop from a youngster with promise to a senior of substance.
"We've won the last two county finals in '15 and '16 and every celebration since, you don't get through a night without a song being sung about Ring. He's revered across the county and country, particularly in our club.
"He's a huge iconic figure. I think in his own light, Patrick has shown himself for club and county to be an incredible talent. He's got exceptional scores for Cork down through the years in big games, in '13 in the two All-Ireland finals, in the Munster final in 2014.
"He'll be parking this but definitely on Sunday night if Cork win and he's had a good game and if he does get five or six points and gets above Christy Ring, I'm sure he'll drink to that because it's a wonderful achievement."
Source: MarcasOCallanain/YouTube
McGrath remembers Horgan starting out as a teenager on the senior club scene.
"He was only 17 in 2005, he came on as a sub, I think his first game was against St Catherine's. I was playing the same night and he got a couple of really good scores.
"We played Bride Rovers in a backdoor game and I remember he got 1-3 from play. We were well beaten the same night but it was amazing from a 17-year-old to do that.
"From there on he's just been brilliant. He came onto the Cork scene shortly out of minor. He's always been earmarked for brilliance from a very young age in the Glen."
Horgan began slowly in the scoring stakes but there were a few reminders of the weapons he had in his arsenal.
He came off the bench in a 2009 qualifier against Offaly to strike 1-5, raided the Tipperary rearguard for two goals in a memorable win Cork in their Munster opener in May 2010 before swinging over 0-6 in that August's All-Ireland semi-final against Kilkenny – a telling riposte after being held scoreless in the two-game Munster final saga with Waterford.
In 2011 he elevated his game to a different level with eye-watering tallies of 0-13 v Tipperary, 0-10 v Offaly and 3-11 v Laois. He was restricted to 0-4 when Cork bowed out against Galway in July yet it was a season where he became the chief marksman in a team that was undergoing an overhaul from the All-Ireland winning class of 04-05.
After that the scoring sprees have continued. There were standout showings like 0-11 against Tipperary in 2012, 0-11 v Kilkenny in 2013 and 2-11 against Clare in 2014.
"He's no backswing, is very wristy and can do that left and right, his technique is the same" says McGrath.
"It just goes to show the quality that he has. Great players have a mix. He's strong, he's powerful, he's courageous. He can get goals, he can get points.
"The one aspect that does stand out is his ball control is just so good, the way he can kill the ball dead. He ticks the box what you want out of a top player.
"It is just total effort. I can't think of a day down the Glen when he isn't there. Championship game is on a Sunday, he's back down again on a Monday night with the lads.
"That's why he's a great player, he's at it continually. He's still as obsessed now as he was as a kid."
For his club, Horgan has delivered over the past two years when they needed him most. He chipped in with 0-9 when they ended a 26-year barren spell in 2015 and followed that up with a return of 0-12 last October when the Cork senior hurling crown was retained.
That final last autumn crystalised in McGrath's eyes what damage Horgan can cause from placed balls and open play.
"That's the hallmark of a great player, not maybe having a huge game and then with a quarter of an hour to go, taking the game by the scruff of the neck.
"I think he got four points towards the end, the last one he ran down the line and Richie Kelleher the manager was egging him on alongside him, then Patrick puts it over off his left.
"He's absolutely adored with the club. His scoring rate is just as good with the Glen, he scored 0-5 the last day against the Barr's.
"I remember years ago myself as a young fella reading an article by Charlie McCarthy in the Examiner on about corner-forward play and how difficult it can be.
"You don't get that many touches and it's about maximizing your chances. Against Tipperary, Patrick wasn't on the ball on a huge number of occasions but still was so economical, getting four points and won frees.
"That's another indicator of the quality he has, being so economical with possession."
Cork will look to him again for scoring inspiration as a Munster final beckons. In his last five championship outings against Clare, Horgan has weighed in with a combined return of 2-36 – 0-10 from play.
It's almost nine years since he set off on the championship scoring road. Next Sunday is a chance to make a historic statement.
The42 is on Instagram! Tap the button below on your phone to follow us!