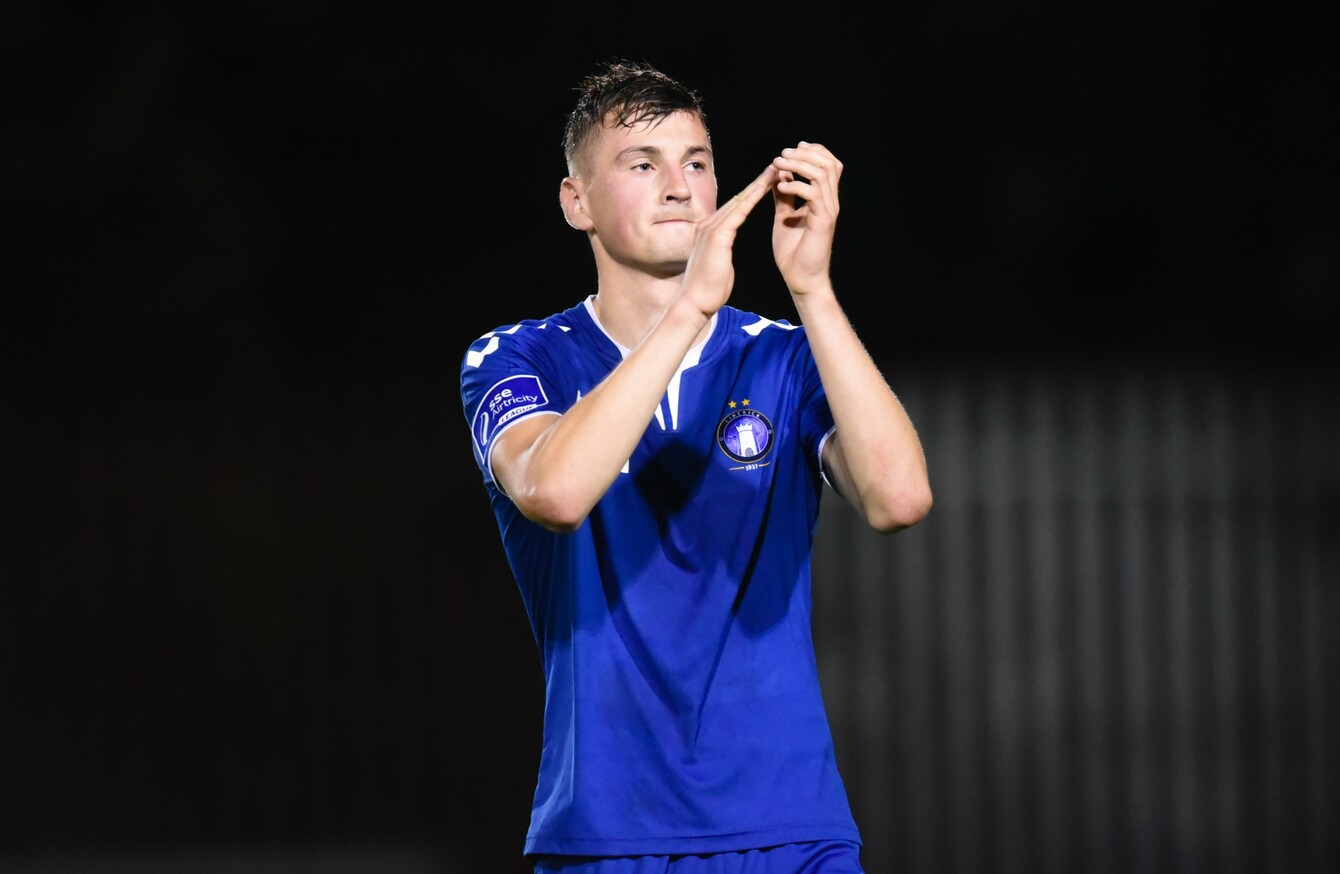 Paudie O'Connor
Image: Tom Beary/INPHO
Paudie O'Connor
Image: Tom Beary/INPHO
PAUDIE O'CONNOR IS looking forward to continuing the rich tradition of Irish players at Leeds United, although he admits committing to soccer in the first place wasn't the easiest decision.
O'Connor (19) has joined the Yorkshire side on a two-and-a-half-year deal, after undergoing sessions with Crystal Palace and Leicester City beforehand. He's now landed at Leeds and is excited to get started.
"It feels unbelievable," O'Connor said. "I've had so many well wishes and messages over the last few days and it's not until now that it's really sunk in.
"I get to have a chance at every young lad's dream of growing up to play professionally in England and I just can't thank everyone enough who's helped along the way.
"I'd like to personally thank Declan Farmer and my dad who together have worked extremely hard over the last couple of months and have made this opportunity possible for me. I'm just buzzing to get going now.
It will take a lot of hard work and dedication [to make the first team], which I'm very excited about. I'll need to get fit and playing U23 games until the end of this season and try and show Garry Monk [Leeds manager] that I'm good enough to be a part of his pre-season come July."
Moving over at such a young age can be difficult for a player. Former Arsenal and Birmingham City defender Sam Oji witnessed O'Connor's progression first-hand back in 2014 and believes he has what it takes — but knows it's a different world across the Irish Sea.
"The first thing I noticed was his height," said Oji. "At 16, he was a tall boy yet still developing, so naturally he had the frame to be your archetypal centre-back. He didn't seem overwhelmed or fazed. He put himself about, he was good in the air and at first glance, you could identify traits you could develop.
"With all due respect to the League of Ireland, everything [in England] is on a much bigger scale — the competition, the levels demanded, the intensity, the speed of the game and the physical element. As hard as it is physically, it's twice as hard mentally.
"In relation to Paudie, he's going to a big club, but at the helm is a manager with a philosophy similar to Martin's. Stylistically, it will help. Leeds are notorious for scouting the Irish market, so no doubt there'll be one or two Irish lads to help him settle."
O'Connor's former manager at Limerick, Martin Russell, went to Manchester United as a 15-year-old, and is very much aware of the factors that can hamper someone at that age, but believes O'Connor's made a lot of right decisions.
"It's always difficult with the timing for an Irish lad," said Russell. "Ideally, around 19 or 20 is a better time to make that kind of move. I still think some of them go too young. It's a lot of hard work and sometimes a bit of luck that gets you to sustain it. Paudie has shown he has the attributes here to work hard.
"From the time I came in, Paudie had attributes of being a very commited defender that liked defending. He carried a threat in set-plays too. He stood out — played a number of first team games to help him progress. He always played for the shirt. The key word is attitude. He has to have that going forward and give it his all to progress."
A native of Ballybrown, Co Limerick, the 19-year-old was a dual star growing up and soccer wasn't always the obvious path for him.
"Yeah, I grew up playing both codes of GAA, as does any kid growing up in Ballybrown, and think it has stood to me massively during my football career to date, with discipline and attitude. I chose to concentrate fully on football when I moved to Limerick at 16, which was a hard choice so I'm just really glad the decision has paid off in the end.
"It's going to be my first time living away from home and I'll be leaving behind my family, friends and girlfriend so it will take a small bit of time to get used to it but I think once I get into a routine and throw myself into getting fully fit and playing I'll manage the transition okay.
"I'm also lucky in that my older sister's boyfriend George is the strength and conditioning coach for the U18s here since Christmas so he's already helped in settling in."
From Johnny Giles to Robbie Keane, Leeds United has possessed plenty of Irish talent over the years. O'Connor acknowledges this and understands its importance.
"The generation just above me would have got to see Leeds in the glory days with a lot of Irish boys here so I'm well aware of the tradition that's here and look forward to continuing that going forward."
O'Connor cites his father as his biggest influence, and while the attraction of professional football is dazzling, he understands how important his education is because of his dad.
I think I've made a good decision in waiting," he added. "My dad made it clear that I must sit my Leaving Cert and after it, he would back me in whatever I wanted to do so I've him to thank for that.
"It means I'm now going over a lot more mature, have a close-knit support system back home which I know I can count on, having played a lot of senior football at a good standard while also having a decent Leaving Cert behind me in the long run. It's worked out well."
The League of Ireland has played a huge part in the youngster's development and he's quite bullish about the standard.
"I think a lot of people who don't feel the league here is a good standard have never been to a game or given it a chance. Obviously some of the facilities in certain places aren't up to standard but at the end of the day it's about the football on the pitch and there's some very, very good players here who just need to be given a chance.
"It's a brilliant place to play football when you're young as you're learning on the job very quickly each week and you grow up much quicker, I feel."
The42 is on Instagram! Tap the button below on your phone to follow us!