AND SO, WITH Olympic silver and World Championship gold now in their possession, life goes on for Paul and Gary O'Donovan. Not a lot changes, not a lot fazes them. As you were.
Just two weeks after they made history in Plovdiv with victory in the men's lightweight double sculls, the Cork brothers are nearing the end of their brief rest period and will return to the waters with one intention; to continue to do what they do well, but do it better.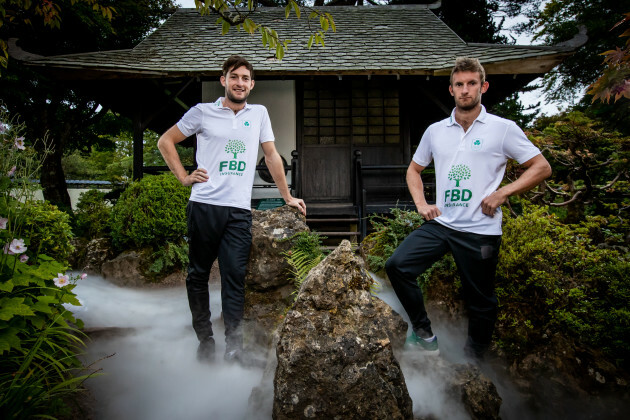 Morgan Treacy / INPHO The O'Donovan brothers in Dublin today. Morgan Treacy / INPHO / INPHO
As is their wont, they play down the significance of the achievement of becoming world champions, rather concentrating on what is to come, and not what has gone before. 
"Always looking forward to what's next, what's the next challenge," Paul says, in conversation with The42 this afternoon. 
"Now it's all done, last year is over, we've got to try and qualify for the Olympics next and that starts at the World Championships next year," Gary continues. "We've to finish in the top seven there to qualify for the Games. That's the priority."
The O'Donovans will return to training with their coach, Dominic Casey, at Skibbereen Rowing Club in the coming weeks and the focus will be to build on their incredible success moving into 2019, and a crucial period in this Olympic cycle.
If Rio was their true breakthrough moment on the world stage, the Irish pair have continued to scale rarefied heights in the two years since, achieving medal-winning form both on an individual and collective basis.
Claiming world gold in Bulgaria earlier this month was, in their words, just another job but it clearly meant something far more, as they produced another outstanding performance when it mattered most to send out a real statement to their rival boats.
The O'Donovans had focused in on the World Championships, spending months in New Zealand and Australia during the Irish winter to give them the best chance of success, while Gary has been training full-time recently.
"It was a huge opportunity for us to spend a long duration of time away, and experience a new part of the world," the older brother says. "We spent all the time in the water and that definitely stood to us. It was a learning experience as well."
Having graduated with a degree in marketing, Gary is now looking to gain experience in the workplace and has identified that industry as one he'd like to pursue a career in, starting now as the build-up to Tokyo intensifies.
Through school and college, the O'Donovans have always juggled rowing and academic studies so time management is essential in making their unrelenting schedule work, with Paul now back in University College Cork studying medicine.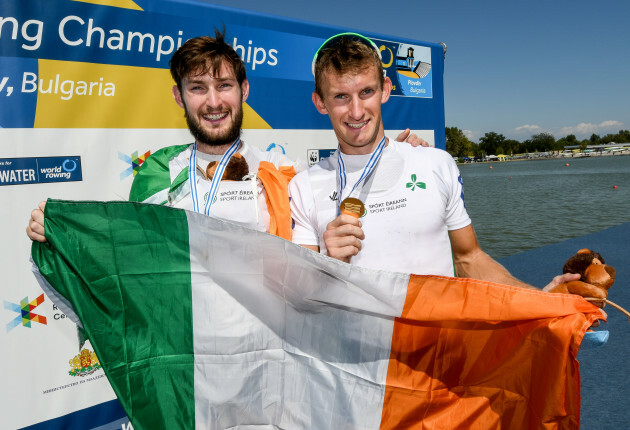 Detlev Seyb / INPHO Celebrating World Championship gold in Bulgaria. Detlev Seyb / INPHO / INPHO
"That's the thing, it's all about time management," he says. "We were kind of a bit lost there straight after Rio, we kind of didn't know what was going on, there was so much and we weren't really managing it."
Gary continues: "It was the time and the place to get stuff done, you know. It was four years out from the next Olympics and there was opportunity there to create awareness for rowing and do good for it.
"We tried to capitalise on that but we also realised very fast that if we kept doing what we were doing we wouldn't be able to do the training we needed to do.
"We were both doing exams up to Rio, finished them in May before Rio, and we've been in school all our lives rowing. If you want to do something badly enough, I always say 'you'll do it.'"
On pursuing a career outside rowing, Gary said: "Training full-time, it's very different, I've got a bit more time so I can afford to lie in in the morning a bit more or spend more time drinking cups of coffee, but I think I'll try and get a job or something. 
"Rowing won't last forever, time will get the better of us eventually. Hopefully it won't be it probably will. The time will come when I've to get a job and when I'm young and in a position with time on my hands, I'm just going to try and seek some work."
But the priority remains rowing and as their second Olympic Games comes into sharp focus, success brings expectation — yet the Cork pair don't tend to take too much notice of the outside noise.
"We don't get hugely nervous," Paul explains. "The expectations now of the public, but we've never done it for the public. It doesn't even enter our minds, we're just there for ourselves.
"Of course we want to win it [Olympic gold], and we'd be disappointed not to, but you just have to accept that and move on. What helps us is that we know our lives won't be completely determined by it, we have things that we can get on with after rowing so I'll keep going with the college and studies and Gary is going to take a job in marketing or something, so it's not like our lives are over at the Olympics. 
"Obviously we'd really love to win it and that's why we're doing it. We're definitely throwing everything at it but dealing with pressure, we don't think about it so much."
Gary adds: "If we go as fast as we can, and the last time we came first, but if we went the same speed as we did and three crews beat us and we came fourth, what can you do? That's sport, that's life." 
You can watch the full interview below:  
The42.ie / YouTube
Gary and Paul O'Donovan were speaking to The42 at the announcement of FBD Insurance's sponsorship of Team Ireland through to the 2020 Olympic Games.
The42 is on Instagram! Tap the button below on your phone to follow us!