RISING IRISH GOLF star Paul Dunne was calmness personified on the penultimate day of the Qualifying School Final Stage at PGA Catalunya Resort in Girona this afternoon.
The 22-year-old Greystones man carded a superb 69 which leaves him tied for 12th going into tomorrow's final round after which the top 25 and ties will receive full playing rights for next year's European Tour.
Dunne sank two birdies on the way out, miraculously saved par on a number of occasions and recorded a third birdie on 12 to leave him within touching distance of a card he's been striving to get all year.
"My short game was good and I drove the ball well, I just need to be more consistent," he said after handing in his card.
"I'm delighted with the 69, considering how I played.
"I'd a lot of ropy shots so to keep bogeys off the card was a goal of mine and I was happy to do that.
"I hit a lot of great iron shots and then some horrendous ones as well so it was kind of a mixed bag and I was happy with how I scrambled," he added.
His par on nine was one of the shots of today's fifth round on the unforgiving Stadium course.
After landing his drive in a fairway bunker and 165 years to the pin, Dunne lofted his approach beautifully to save par, just one of 15 he carded.
Asked what securing a Tour card next year would mean to him he said;
"It'd be a great end to what's been quite a memorable year so far. If you don't get your card it's a big difference for next year in terms of planning a schedule and knowing where you're going.
"It'd be great, it's what I've been striving for the last while."
Of the other Irish here, only Damien McGrane has a realistic chance of making it inside the top 25 and ties.
He's currently seven under par in a tie for 18th after a level par round of 72.
The Kells man has really had to tough it out this week and today was no different.
He had birdies either side of a double bogey on the par three fifth but two bogeys on nine and 11 saw him slide, momentarily.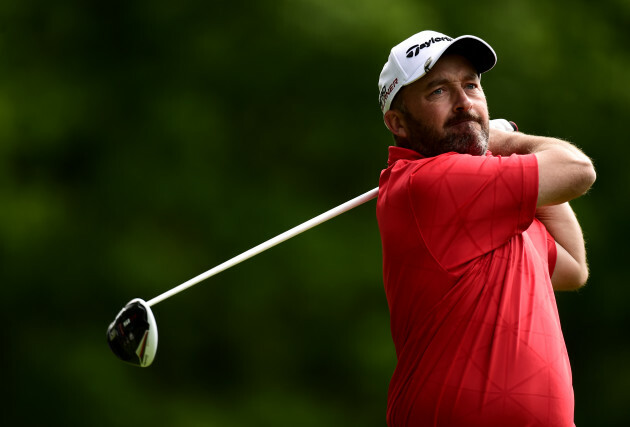 Adam Davy Damien McGrane is in a good position heading into tomorrow's final round. Adam Davy
As he's done so often in the past he scrambled well and birdied the par five 12th and 15th.
For the remaining Irish in the field, a miracle is probably required to see either squeeze through.
Kevin Phelan, who advanced from here two years ago, had his worst round of the week with a 75 that saw him slip to tied 68th on level par.
He was three over for the day and is currently on level par, seven shots outside where he needs to be to secure a Tour card.
Similarly placed is Simon Thornton, though he was one shot better than Phelan on two over for the day and 74.
The double bogey on 14 came at the worst possible time and looked to have ended his chances but two birdies in the final four holes will give him a glimmer of hope.
England's Ross McGowan and Daniel Im (USA) lead the field on 17 under, with Spaniard Adrian Otaegui and South African pair Jean Hugo and Ulrich Van Den Berg two shots further back.