ON THEIR WAY to claiming Ireland's first-ever Olympic medals in rowing, the O'Donovan brothers also won the hearts of the nation back in August.
Skibbereen siblings Paul and Gary took silver in the men's lightweight double sculls and almost instantly became household names — helped by their refreshing confidence, affable nature and catchphrases such as "pull like a dog" during the television interviews which followed.
It's been a whirlwind couple of months but, despite their new-found fame, the incredibly-driven pair haven't allowed themselves to lose sight of the next pieces of silverware on offer.
"We've been having a great time," explains Gary, at a media event promoting Bord Bia Quality Assured Eggs yesterday. "Since Rio, we've been having a blast.
"We also have to be realistic and understand that the World Championships are on in just under 12 months' time.
"In order for us to do any way well there, we're going to have to get back to our training and make that our priority."
So it's full steam ahead to the worlds in Florida next September, and ultimately, the 2020 Olympics. But in truth, they haven't really stopped since the Games.
Just weeks after Rio, Paul was standing on the podium with gold around his neck at the World Championships in Rotterdam after finishing first in the single sculls.
And earlier this month, the 22-year-old pipped his older brother (there's only 16 months between them) as they recorded a first and second in the Irish Open at the National Rowing Centre in their native Cork.
They may have achieved so much together, but a fierce sibling rivalry remains when they're competing separately. "It's always in my mind when we're training, that I've never beaten him, and I want to beat him some day," admits Gary.
I think it's always in his mind when he's training everyday, that's he wants to beat me, and never let me beat him."
A return to normality means it's back to college too. While Gary is about to graduate from marketing in CIT, Paul is once again balancing his training with studying physiotherapy at UCD.
"Nothing really changed in our lives," Gary explains. "We came back, got back to our training, Paul's gone back to college, I'm graduating.
"I guess our high performance director (Morten Esperson) is experienced in these kind of situations with athletes winning Olympic medals.
"We talked about it and discussed what would happen. It wasn't a big surprise to us what would happen to our lives if we did win an Olympic medal.
"He had the Irish Open in place so that there was a bit of pressure on us to get back to training within a reasonable amount of time afterwards and we would be in reasonable condition to race and do well there after the Olympics."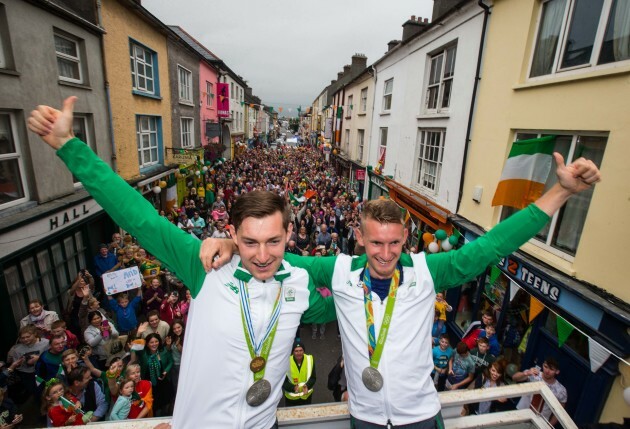 INPHO / Cathal Noonan The brothers during their Olympic homecoming in Skibbereen. INPHO / Cathal Noonan / Cathal Noonan
Their success, under the guidance of coach Dominic Casey, has proved that Ireland can compete with the rowing heavyweights despite their limited resources.
It has also gone some way to raising the profile of the sport nationwide.
"The amount of kids all over the country, especially in Skibbereen Rowing Club, we've noticed it a lot… almost every youngster in our area is taking an interest and they all want to give it a go," reveals Gary.
"We've been hearing that a lot of clubs around the country are having huge numbers wanting to start rowing. That's great. It's really encouraging for us to hear.
"Ever since we've been any way successful in rowing, we've been trying to promote it. Any time we get a chance in the press, we try because we just think it's a great sport.
"The more youngsters we can get started, the more successful Ireland can be in rowing in the future.
Exclusive Six
Nations Analysis
Get Murray Kinsella's exclusive analysis of Ireland's Six Nations campaign this spring
Become a Member
"It's really encouraging for us to hear that what we've done has inspired a lot of new young kids to try out the sport that we love."
Paul continues: "The best promotional work we can possibly ever do is win medals, and if we can continue to train hard, go fast and win medals, that will inspire kids more than any media or publicity.
But the two of them go hand-in-hand. If we can go to the World Championships or the European Championships, medal and get more exposure, a bit of longevity goes a long way too in that regard.
"We have an influence over younger people and even those our own age.
Gary comes back in: "But it's an incredible position to be in.  Not only are we able to do something that we love, but we're getting youngsters to start something that they will potentially love as much as we do. Hopefully they can go on and we create more and more success long into the future and even beyond us.
"In 15 years' time, who knows where we'll be or what we will be doing. We could be rowing in the Olympics in 15 or however many years' time with someone who is just starting today, and that's kind of cool."
You can expect to see a lot more of these two as they're as hungry as ever.
Paul and Gary O'Donovan have teamed up with Bord Bia to launch its Quality Assured Eggs campaign, encouraging people to choose eggs as fuel for their busy lives. For more information, check out www.bordbia.ie/eggs
The42 is on Snapchat! Tap the button below on your phone to add!