CORK'S PAUL KERRIGAN says he's honoured to become just the second Irish player ever to emulate his father by playing in the International Rules series.
Plenty of brothers and a number of uncle/nephew combinations have competed for Ireland at different stages over the years.
But until now, Kerry greats Sean and Tommy Walsh were the only father and son duo to both gain international recognition in the hybrid code.
That will change at Croke Park tomorrow when speedy forward Paul, who has been named in Ireland's 23-man match day, will follow in father Jimmy's footsteps.
Jimmy Kerrigan played for Ireland six times in total, competing in all three of the tests in 1984 in Ireland and in Australia two years later.
Like Jimmy, Paul, 28, has won an All-Ireland in Cork colours and matching his father's international achievement will be particularly sweet.
"It would have been a big part of Dad's career, playing in '84 and '86 and going over to Australia with Kevin Heffernan," said Paul. "They had a very strong team too.
"It was a bit more physical then than it is now, a bit more X-rated. But, yeah, I'm hugely honoured to follow the footsteps.
When I first told him that I had got the call for trials, he was delighted. He just said, 'Go for it, see how you go'. I told him then about making the 23 and he was absolutely delighted.
"It'll be a big thing for my family this weekend. To be honest, I mightn't have thought I'd get the opportunity at this stage but I'm delighted to have gotten it.
"I've heard people talking about it being one of the first father and son combinations to play for Ireland so that's a big honour."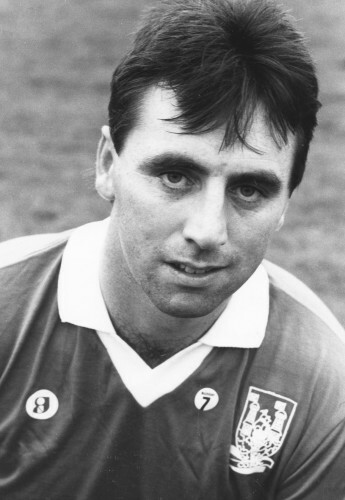 Alan Betson / INPHO Jimmy Kerrigan. Alan Betson / INPHO / INPHO
Current manager Joe Kernan believes Paul can have a huge say at Croke Park tomorrow.
Along with Tyrone's Peter Harte, the attack-minded duo have been given license to bomb forward and attempt to punch holes in the Australian defence.
"Joe has been harping onto me since we started training about where he wants me to get on the ball to burst into dangerous areas," said Kerrigan.
He wants fast fellas who can kick the ball and skilful fellas, so he's been very positive to me since I came in.
"We had a game recently and I'd say it was nearly my best one in seven or eight weeks that I've been up training. I was doing it best, what Joe has been asking me to do.
"My role is that I'm not going to be playing 80 minutes, my game is more about pace and myself and Peter Harte will be trying to bring that whenever we get in there."
Kerrigan will have little time to savour a win or equally to mull over defeat. On Sunday week, he will be a key man for Nemo Rangers who take on Clonmel Commercials in the AIB Munster club final.
He said it hasn't been difficult to balance club with country in recent weeks and believes one compliments the other.
The way I see it, the pace up here when playing with Ireland is so fast," he said. "I just try to use that to my benefit when I go back to the club. You're maybe that bit sharper because of it.
"We've been away from the Cork set-up a while and if I'd just been playing for Nemo, I might have slipped a bit. But there's no fears of that when you're training with the Irish players.
"The way I see it, with Ireland you have to move the ball that bit quicker. Okay, you have eight steps but you'd be lucky to ever get that. You just want to get it and get rid of it, that's how we play with Nemo as well.
"It's trying to have faith in your kicking either way as well, so one can help out the other."