WITH THE BENEFIT of hindsight, Paul Murphy believes that Kilkenny's crushing Allianz Hurling League semi-final defeat to Clare back in April was a blessing in disguise.
Better it happened then rather than in a Leinster semi-final or at the business end of the championship, Murphy reasons.
That day, the Danesfort corner back was otherwise engaged. He was ruled out through injury and declined the option to travel with the squad to Thurles.
Murphy could have went but decided not to. He's not a good spectator and relied on information via text messages and Twitter instead.
"I didn't watch the match to be honest because I was so disappointed not being part of it.
Some players can watch it and find there's no trouble watching it but I actually just followed it on Twitter because I couldn't deal with the whole atmosphere of not being part of it.
"After it then, to be honest nearly straight away I was happy enough because I said to myself if that was coming, I'm happy it happened now as opposed to an All-Ireland semi-final or Leinster final or All-Ireland final, whatever it was going to be.
Sheridans Ins / YouTube
"If we needed a kick in the arse at the time, well let that be the kick in the arse so and so what?
"It was disappointing obviously, if you had it back now you'd have wanted to win the match as you want to do with any match.
Lads were disappointed with their own performances that day but sometimes you need these reality checks to sort yourself out. It was a fair reality check as well but that's the way Clare were going at the time. They were flying it.
"They fully deserved what they did that today. Straight away we acknowledged we weren't at the races but that's the standard we have to raise ourselves up to.
"I was up in Dublin with my girlfriend and we went for a bit of a walk. We said we'd treat it like a normal day and I'd just follow it, getting a text from my sister or whatever it was.
Ryan Byrne / INPHO Kilkenny were off-colour against Clare in the Allianz League semi-final. Ryan Byrne / INPHO / INPHO
"It was no insult to the lads. You're given the option if you want to travel that day, I just didn't want to travel to it because it was something I didn't want to be sitting there looking at it, I want to be a part of this and you can look back on it now and say it's only a League semi-final but it's everything in the moment.
"I went for breakfast, for a walk then, out around Glendalough or somewhere and I followed it on Twitter."
Murphy also missed out through injury when Kilkenny lost to Dublin in a 2013 Leinster SHC semi-final replay.
But on that occasion, he was present in Portlaoise. Championship is championship, after all.
Murphy smiled: "I went to that game, that's championship though! You won't be part of the panel for the rest of the year if you missed that day!
"No, I went to that match again but circumstances were different. There were a good few lads injured and it's championship as well.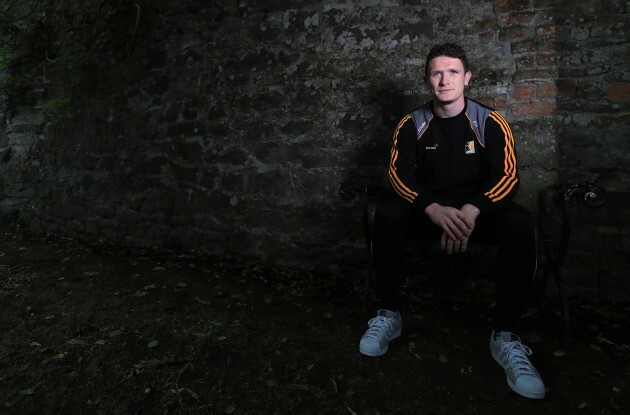 Donall Farmer / INPHO Donall Farmer / INPHO / INPHO
"In the League, lads are still trying to stake their claim for places as well. That was another thing, if a fella went in and had an absolutely brilliant game, you're kind of thinking 'I'm injured here, I'm powerless' and this fella is flying it as well."
Next Sunday, Murphy will compete in his sixth All-Ireland senior hurling final (including replays in 2012 and 2014).
One of the most accomplished defenders in the game, and a key leader for Kilkenny, Murphy accepts that Tipp have the potential to bring the very best out of the Cats.
Recent meetings between the counties have produced some stunning championship clashes, from 2009 right through until the 2014 final and subsequent replay.
But one of Murphy's highlights if a raucous 2013 qualifier at Nowlan Park, when the ground was almost full and heaving with anticipation 45 minutes before throw-in.
"One of the best matches I played in was the qualifier up in Nowlan Park.
"Again, it was a qualifier, it wasn't a glamorous situation to be in but the day was absolutely brilliant up there.
Donall Farmer / INPHO Paul Murphy in action against Tipperary's Brian O'Meara at Nowlan Park in 2013. Donall Farmer / INPHO / INPHO
"It's very easy to say that coming out the winning side of it but those matches are things that do stay with you and it's plain for everyone to see, regardless of whether you're playing or not playing, that players are getting the best out of each other on the pitch through a real, serious rivalry."
After Kilkenny won the 2014 All-Ireland final replay, manager Brian Cody let loose in the media.
Speaking about the late free awarded to Tipperary in the drawn game, the one that John O'Dwyer took and was ruled wide by HawkEye, Cody described referee Barry Kelly's decision to give it as "criminal."
Less than a month later, Cody found a Tipperary ally in Kieran Bergin, who expressed his view that he didn't think it was a free when Brian Hogan was blown for charging.
Murphy noticed Bergin's comments and it only increased his respect for Tipperary.
"We know the Tipperary lads well at this stage. It's not a case that we don't know them on a personal level.
"To a certain extent, a lot of lads go to college with each other and work with each other. We know each other well.
"There's so many similarities between both camps in that our attitudes towards hurling are very similar.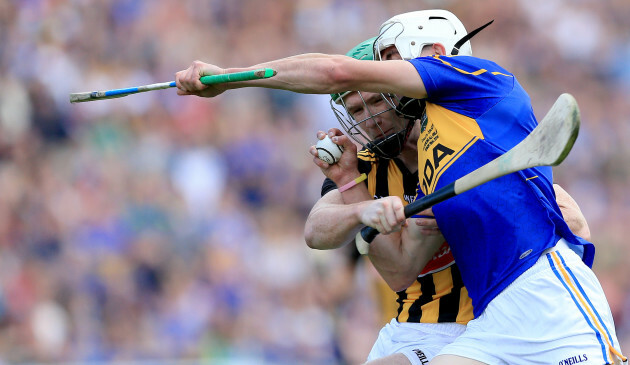 James Crombie / INPHO Paul Murphy gets to grips with Patrick 'Bonner' Maher in 2014. James Crombie / INPHO / INPHO
"A lot of players are living on the borders as well – a few miles here or there and you could be playing for the other team.
"So I think over the few years, regardless of whether you come out on the winning side or the losing side, the fact we've drawn so much out of each other and had massive matches, automatically respect comes from that.
"Sometimes you mightn't have to like each other but you respect each other and that's the bottom line in the whole thing.
"We've had serious battles over the years and tempers have frayed sometimes but the one thing that has underlined the whole thing is there is a respect there on both sides. Regardless of what happens next Sunday, you'll know there is a respect there after it."
Murphy is one of the main reasons why Kilkenny are here again – and on the verge of three-in-a-row.
He may have missed a late chance to win the drawn match against Waterford at Croke Park but his input in Conor Fogarty's equalising point cannot be underestimated.
"We could kind of see they (Waterford) were drifting back more and more.
"We were getting sucked out. I was free and even at that, I was standing out near the 45 at this stage.
Cathal Noonan / INPHO Paul Murphy reacts to his late missed chance against Waterford. Cathal Noonan / INPHO / INPHO
"You could feel they were pulling back and pulling back. It was Eoin (Murphy) hit the ball to Joey (Holden), Joey was free and I could just see there was space in front of me up the line.
"I just ran up and Joey had the calmness originally to just give it out to me then.
"When I looked up, Conor Fogarty had made the run. It was more so the fact they had pulled back so much and we stayed that small bit calm to take the score.
"It was by no means a gimme either, it was very close to 70m out, near the sideline as well.
"It was just the calmness needed in that moment, to take it down and play the ball short, and recognise that if we lorry it down, they will come out with the ball and it's not what we want. It was that small bit of calmness that was the real making of that point."
The42 is on Snapchat! Tap the button below on your phone to add!