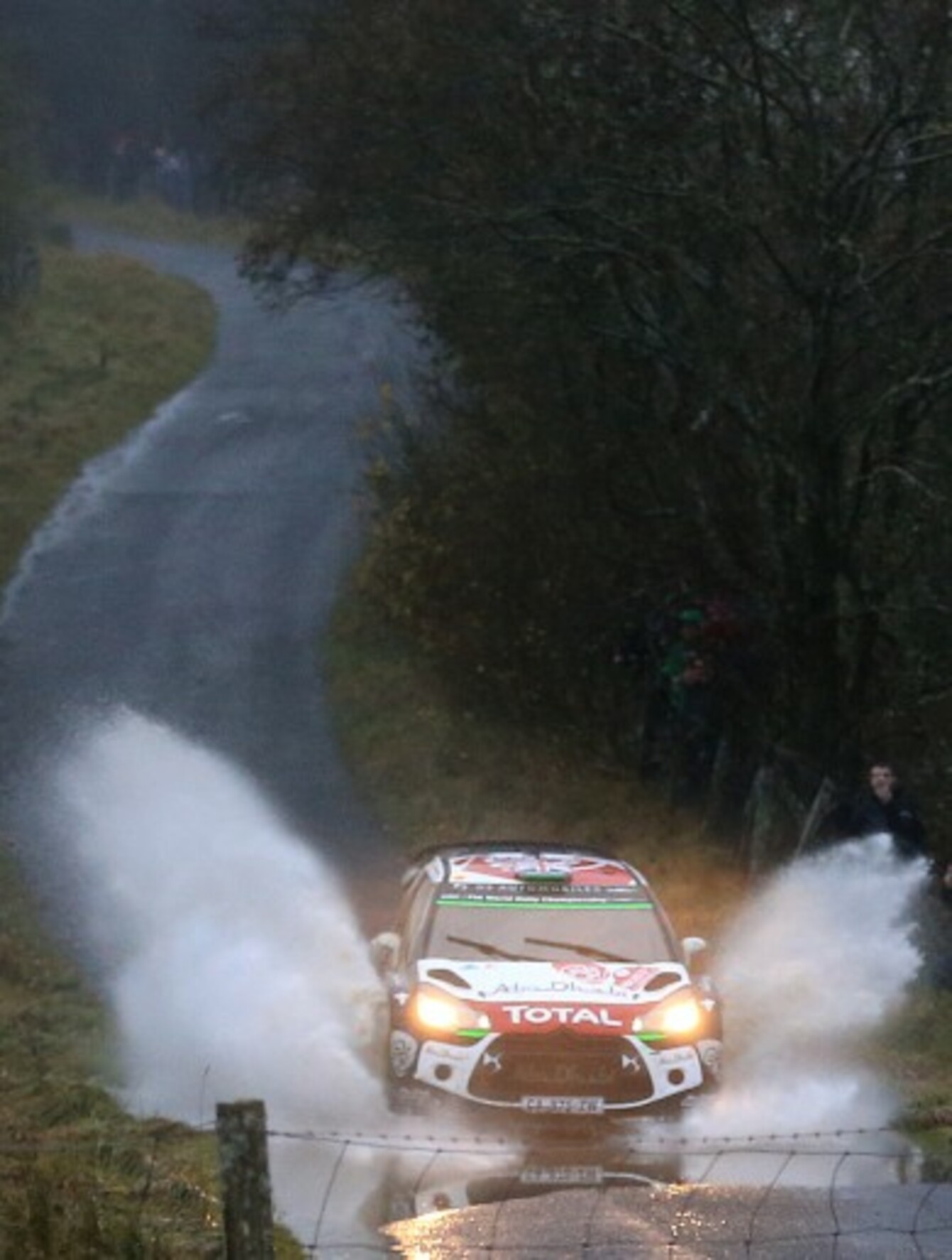 The Citroen Total Abu Dhabi WRT on Bre
Image: Nigel French
The Citroen Total Abu Dhabi WRT on Bre
Image: Nigel French
PAUL NAGLE IS hardly known in his hometown of Killarney but within his sport he's revered in the same way Colm Cooper is in Gaelic football.
The 37 year-old is a co-driver for one of the fastest men in the world behind the wheel, Dungannon's Kris Meeke, and the pair were last week rewarded for a brilliant season with a three-year contract each by Citroen.
In terms of job security, it doesn't get any better than that. In terms of realising an ambition he's had since he stood on ditches for a better view at the Lakes of Killarney Rally, Nagle is in dreamland.
"When we got the news during the week that we'd be kept it was a dream come true. It gives us a bit of relief anyway," he said.
What the Irish pair have been tasked with is simple; break the three-year stranglehold Sebastien Ogier and his Volkswagen Polo have had on the World Rally Championship and bring Citroen back to the top of the pile.
Before Ogier, Sebastien Loeb was unbeaten for nine years in his Citroen and the latter have trusted Meeke and Nagle to be the ones to reinstate them as the sport's standard-bearers.
"I started co-driving in 2007 and we never had more than a one-year contract so we'd to prove ourselves every year by getting results," explained Nagle of how short the careers can be of men in his seat.
"The last couple of rallies (in 2015) were tough because Citroen were battling for runners-up in the manufacturers World Championship and we secured that with second in Rally GB which really helped us secure the contract and to get three years takes a weight off our shoulders.
"But the hard work starts when you get a big contract like that; expectation and demand are there and the might of Citroen behind you means in 2017 and 18 the results will have to show."
That end-of-season nerve-shredder saw Nagle under immense pressure to deliver and calling the pace-notes to Meeke the latter produced "possibly the finest drive of his career".
The pair high-fived and hugged afterwards, not just because they finished second in treacherous conditions after nailing near-perfect drives, but they felt they'd suitably impressed the men upstairs.
"We were very, very strong all weekend and though we'd won Rally Argentina in April, that second place in Wales, with the pressure on, was probably the finest drive Kris has done in his career.
"It was very slippery and very, very wet and it was fantastic, but two days later we found Citroen wouldn't compete in the WRC in 2016 and at that stage our own futures were up in the air.
"It was an anti-climax for a couple of days but when they sat us down and explained their vision and their goal to come back stronger in 2017 and '18 it was an incredible feeling."
Nagle was born into a rallying family and his father ran a couple of events in their native county, such as the Killarney Historic Rally.
"I was involved in events like that and while I was in St Brendan's College (in Killarney) we started to do a couple of events and it led onto more and I got into rallies in the UK and then Europe.
"I was doing some rallying in the WRC before I met Kris and when I got a taste of that I knew it was where I wanted to be and I grasped for it. I worked very hard over the last 10-12 years and it's all paid off now."
Meeke is a year younger than Nagle and the pair are like peas in a pod for around 40 weeks a year. They're side by side on every flight, at every breakfast, lunch and dinner table – and at work as well.
That's helped them develop a telepathic understanding.
"We'd be good friends and buddies," says Nagle. "You have to be because we spend so much time together. We sit in the car for 17 or 18 hours a day sometimes and we're away for weeks at a time.
"We'd be on the same flights but we get on very well inside and outside the car which is very important for a crew because if you have a good relationship outside, it helps inside. We know each other so well that we know when we need space.
"The speed we go at, you have to have that trust and that working relationship so when the helmet goes on the professional side of us comes out and you just have to knuckle down and do the job."
The way it works is Meeke will drive every stage twice in preparation for an event, calling what he sees back to Nagle who makes notes. These notes are relayed back to Meeke during a stage – albeit when the car is travelling at 180km/h or more. It's a feeling he wouldn't change for anything.
"You have to stay focussed and I must be accurate and focused," he describes of his role. "You get into a little bubble in the car and I've my things to do but it just happens naturally, you get into the zone of calling the pace notes at the right rhythm.
"If Kris is driving everything just works and whatever I say he drives to those notes. That 10-second countdown comes up, your body goes into this zone and you must automatically switch on because a mistake is an accident.
"You never have to push or encourage Kris; he's got a brilliant turn of speed and sitting in the car with him is like nothing you can ever imagine. Kris brings the best out of everyone and he's made me a better co-driver because he expects the best and he's drawn that out of me.
"There are some very special moments when you're at high speed; the likes of Finland where the jumps are huge and you get a great buzz but sometimes you do get nervous when you might have the odd moment…obviously you have a crash every so often but the buzz inside a car is second to one, there's nothing like it, when you're at 180kph it's a feeling you'd get nowhere else."
Next season – which starts in a matter of weeks in Monte Carlo, will be very much a trial and error year for Nagle/Meeke and Citroen. They'll race selected events – with only the aforementioned and Rally Sweden (12-14 February) confirmed, as Citroen's main goal is to develop a machine capable of challenging Volkswagen.
"Monte Carlo is the pinnacle," interrupts Nagle, eager to get going. "You're over on the streets of Monaco before it starts, then you go into the mountains for a couple of days and you've the snow and ice and tricky conditions and it's one of those ones, when you have that on the CV it's one to keep. It's the pinnacle of the WRC."
It's a pity they have to wait until 2017 to challenge overall but in Meeke, Nagle is adamant their challenge will be a significant one.
"He certainly can become world champion he has the ability and always, always pushed himself to the limit when there was nothing available in the driving. That determination is there.
"He kept getting the deals and kept squeezing out results in cars that should never have been getting results. He's one of the few who can race the Volkswagen Polo (of Ogier) and he has that edge, the same as Colin McCrae and Richard Burns did and I think he can go on and try to win a WRC in 2017 or '18."
No Irish co-driver has won a WRC since Ronan McNamee in the early 80s, so for Nagle too he knows a place in the history books is attainable.
"Sebastien (Ogier) came in the last few years and has been very strong, he has a fantastic car under him and he's very strong mentally too. But we very close to him, we were within 20 seconds of him in GB and we've raced him a lot. He has very good cars but we're hoping to have the new car by 2017 to challenge him.
"The best car will win but you need the talent to drive it, you need good engineers, good mechanics, good tyres and good luck.
"The driver makes the wheels turn and sets stage times but there's a long list of people and resources behind the winning package and when you have Citroen backing us for 2017 then you know you'll have a good car."
Follow Paul Nagle on twitter @paulnagle1 and Kris Meeke @krismeeke
Be part
of the team
Access exclusive podcasts, interviews and analysis with a monthly or annual membership.
Become a Member