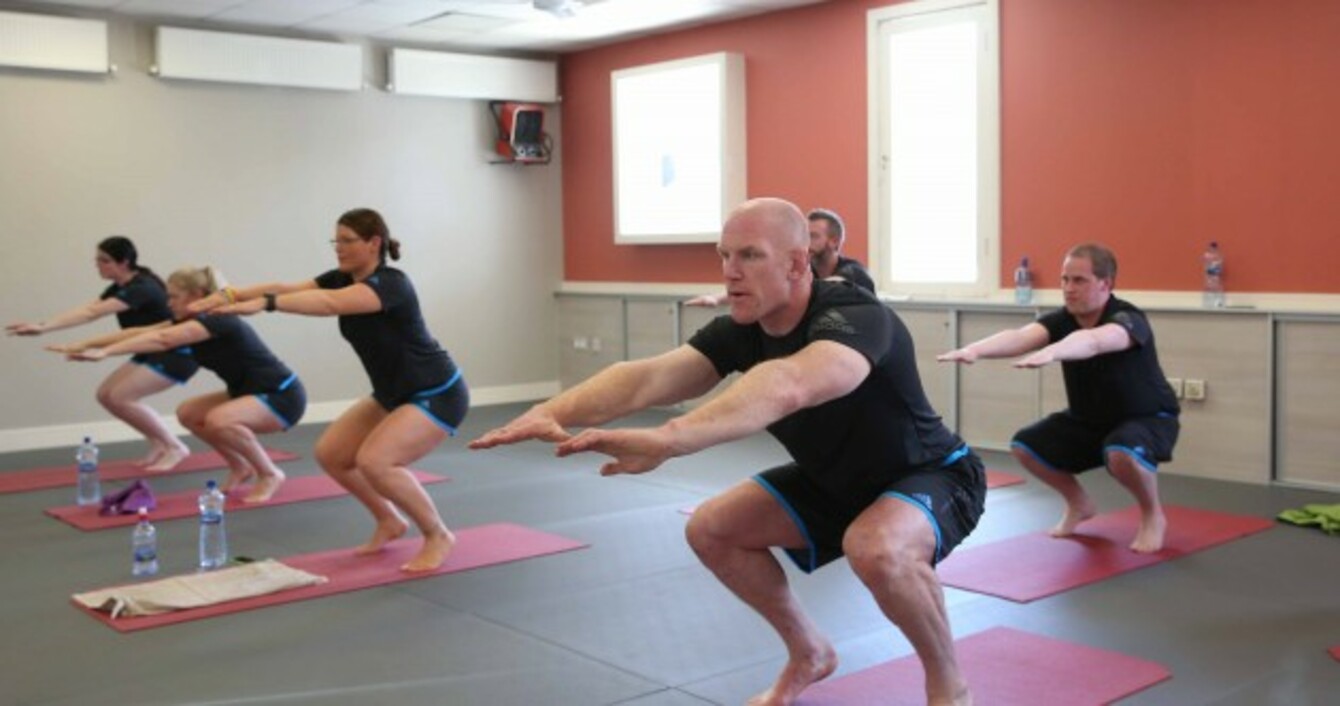 It's so damn hot. Milk was a bad choice.
Image: Billy Stickland/INPHO
It's so damn hot. Milk was a bad choice.
Image: Billy Stickland/INPHO
"HOW DO YOU fancy a one-on-one interview with Paul O'Connell?"
"Sure," I said "but would one of the rugby lads not be better suited with all these Toulon rumours?"
"Well it's more a fitness piece so will I pencil you in?"
"Fire away so."
"Oh, by the way, you'll be doing Bikram Yoga with him."
Sending the fat bloke to try his hand at yoga for the first time alongside one of Ireland's greatest ever athletes might seem like cruel and unusual punishment but even I appreciate the comedic value.
It's not all foreign to me. My wife's a big yoga fan and used the breathing techniques she picked up over the years to give birth to our son without the need for any pain medication.
I told her she was just being a show off. She told me to, well, something else ending with off.
However, I was only vaguely aware of what Bikram Yoga actually was. Stretching with the thermostat set on high. Just how high though, I didn't realise.
Google didn't provide me with much comfort. 40 degrees Celsius, humidity of 40%, something called 'Awkward Pose'.
"Won't they all be awkward poses for you" suggested a colleague who I've since reported to HR.
Further research involved watching the children's TV show 'Waybuloo' with my 18-month old. The characters in that practise something called yogo and as Teddy is able to get his foot into his mouth, it obviously works for increasing flexibility.
By the time Wednesday came around, I was fairly confident I wouldn't make a show of myself even if, as was suggested to me, Bikram Yoga with Paul O'Connell was as good a cause of death as any.
Hot stuff
The heat at InIt Yoga hits you the second you walk in the door, like walking into a pizza oven in your Long Johns and a sensible thermal vest your mammy would approve of.
O'Connell was running late but it gave me a chance to ask a few more questions of one of the teachers, Aoife Kane, who specialises in the Power Vinyasa style of yoga, a more free flowing version than Bikram.
"I think the main thing anyone should take away from any form of yoga is that it allows you connect to your breath and relax your mind," she said.
"When you connect to your breath, you take the awareness into your body. As a society, certainly at the moment, we are external all the time, be it Facebook, email, whatever.
"But when you come into a space where you're connecting to your breath, you give yourself a space where you can be in your body and outside your head."
My training partner soon arrived and if he cuts an intimidating figure on television, O'Connell is even more impressive up close. I've seen him in person before, part of the job, but I've never been close enough to tickle his bare feet before.
Be part
of the team
Access exclusive podcasts, interviews and analysis with a monthly or annual membership.
Become a Member
At 6'6″ and weighing in at over 17 stone, I couldn't help but think that were some sort disaster to strike the studio right now, future archaeologists coming across our remains would surely classify O'Connell as a different species from the rest of us.
In a way, I was glad the Munster and Ireland lock took his place directly in front of me. Hopefully, he would distract InIt Yoga's studio director — and our teacher of the day –Jeanne Fregil from just how inflexible I was.
While a normal Bikram Yoga class runs for 90 minutes, ours would be a basic introduction and even I was able to manage the 'Standing Deep Breathing' pose without too much hassle.
It was only when we got into things that involved balancing on just my left foot that I struggled. If Derek Zoolander wasn't an ambi-turner I quickly found out I wasn't an ambi-balancer. Luckily for me, even O'Connell struggled with some of the poses so I'll always have that in common with the 35-year old.
One thing that surprised the Munster man, as he told The42 after we'd both been fed and watered, was how long you hold the stretches for in Bikram Yoga.

"We'd obviously stretch in training but we'd hold them for two minutes, nothing like the length of time [five minutes] the teacher spoke about in class this morning.
"I've done some yoga before, not a lot of this type mind because they're 90 minute sessions and they take a lot out of you. I might do a little bit of it again during my holidays this summer as I think it's a big part of strength and conditioning at the moment.
"Flexibility and mobility are just as important as being big and strong and stretching and yoga are part of that."
Before you could say "Namaste", our class was over and I don't think I embarrassed myself too much.
Well, not until I had to stand beside O'Connell in the group photo and realised how Peter Stringer felt for all those years.
Like O'Connell, I enjoyed my first experience of Bikram Yoga. Would I have the patience to do it for 90 minutes a day, every day, for three months to become an expert at it?
Well, I'm writing this while eating free pizza that's just been delivered to the office so I think that gives you the answer.
Read our full in-depth interview with Paul O'Connell at 8am Sunday, 3 May.
********************
Irish rugby international Paul O'Connell launches the new adidas Climachill product range. When it comes to performance, every degree matters, the new Climachill product range makes sure athletes can perform at their best regardless of heat, through new age design and material selection for maximum cooling.
Climachill is the next generation of active-cooling sportswear and is available now from Life Style Sports and www.adidas.ie.