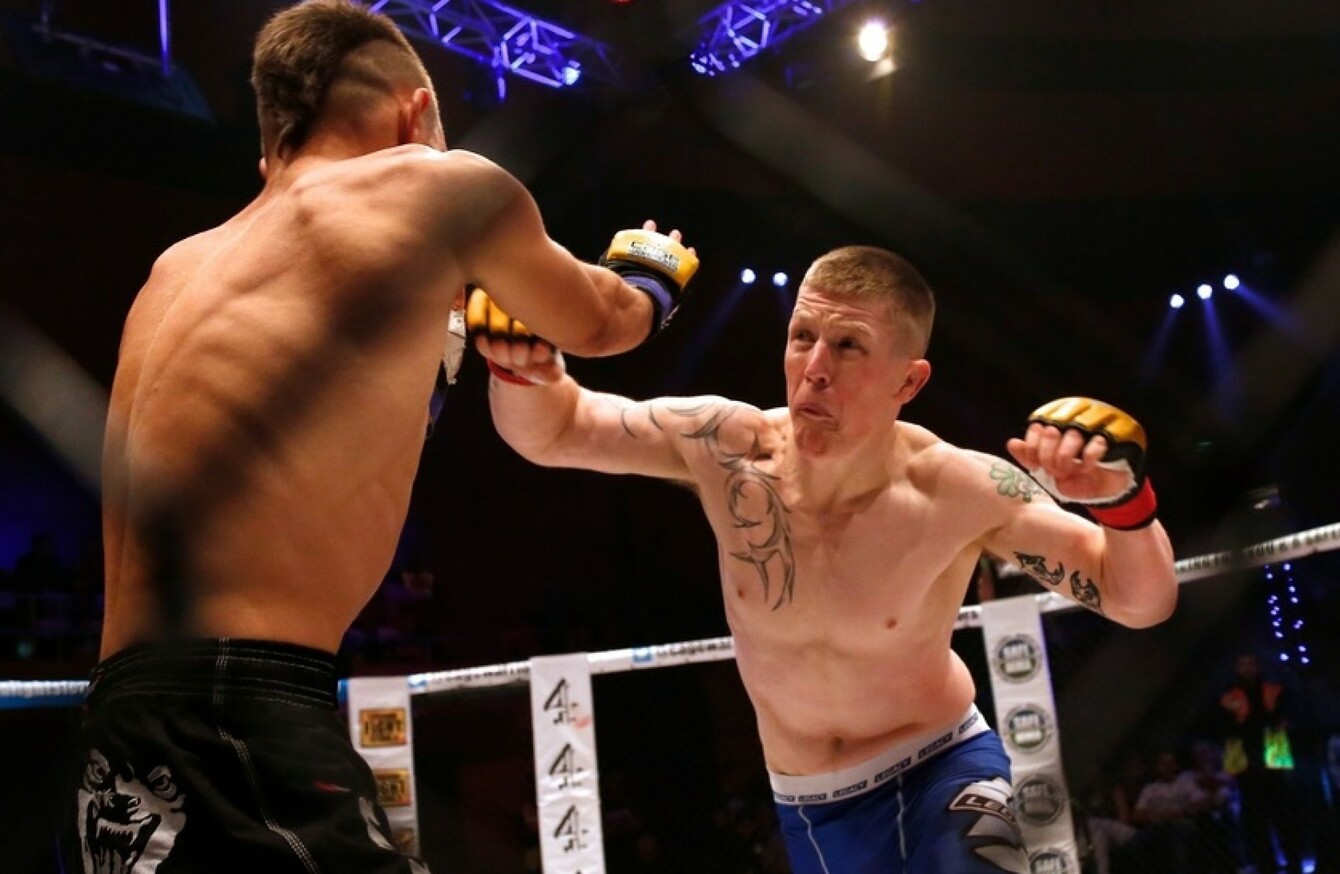 Paul Redmond in action during his win against Alexis Savvidis at Cage Warriors 70 in Dublin in August 2014.
Paul Redmond in action during his win against Alexis Savvidis at Cage Warriors 70 in Dublin in August 2014.
ON MONDAY MORNING, Paul Redmond received a call from his manager.
The UFC had been in touch by e-mail and the news wasn't good. Following two consecutive losses, Redmond's time with the organisation was over.
However, the message was clear. While there's no room for Redmond (10-6) on the roster at the moment, the door is open for him to return if he can prove himself once again on the European circuit.
The 29-year-old has wasted no time in beginning his journey on the road to redemption. Yesterday, Redmond verbally agreed a new contract with Cage Warriors Fighting Championship, the UK-based organisation in which he was able to grab the attention of the UFC in the first place.
Despite being dormant throughout 2015, Cage Warriors' return appears imminent. Redmond's next fight will be under the CWFC banner, with an event expected to take place early in the new year, he told The42 today.
"I'm going to go back to Cage Warriors. It's coming back big next year so I'll be looking to get back to the way I used to be.
"There were a couple of other offers on the table but Cage Warriors was where I was happiest so it made sense to go back with them," said Redmond, who also confirmed that he'll be returning to the lightweight [155lbs] division after a short stint at featherweight [145lbs] which required an arduous weight-cut.
Redmond was signed by the UFC back in January, stepping in on two weeks' notice to make his debut against Mirsad Bektic, a fight he lost via unanimous decision. That was followed in July by a TKO defeat to Robert Whiteford in Glasgow.
In spite of the back-to-back losses, many fans believe Redmond deserved another opportunity to show the UFC that he belonged in the world's leading organisation. However, the Dubliner insists he doesn't feel hard done by and there are no regrets about accepting his debut with so little time to prepare.
Source: Cage Warriors TV/YouTube
"I didn't perform to my best while I was in there," Redmond admitted. "I can't really dwell too much on the past. The only thing I can do now is try to control my future and get back to winning ways.
"I thought I was going to be cut after the Scotland fight anyway. Not that I'm bitter about it or anything but I don't know why it took them this long to cut me. Other than that, I don't have any complaints.
"It was an experience to learn from and at least I know now that 145lbs doesn't suit me so I'll go back up to lightweight and do the business there. No regrets at all."
Redmond also revealed that the UFC were initially trying to arrange for him to be given another opportunity in the octagon. However, with demand now exceeding supply when it comes to the number of fighters on the roster who are looking to stay active, Redmond was finally shown the door — four months after his last fight.
He said: "It would have been nice if I had known sooner because I could have moved on and taken a fight or two somewhere else, but Sean Shelby [UFC matchmaker] was actually looking to get me another fight.
"He was looking to get me matched, maybe on the Dublin card or the London card, but there were just no spaces available at the minute so they had to let me go. Sean Shelby was trying to get me something, in fairness."
Redmond's UFC release will now allow him to address some unfinished business. During his first stint with Cage Warriors, he accumulated an impressive 7-1 record in his pursuit of the CWFC lightweight belt, but the UFC picked him up before he was given a chance to fight for a title which was previously held by Conor McGregor.
Redmond: "By the end of next year I should be the Cage Warriors lightweight champion."