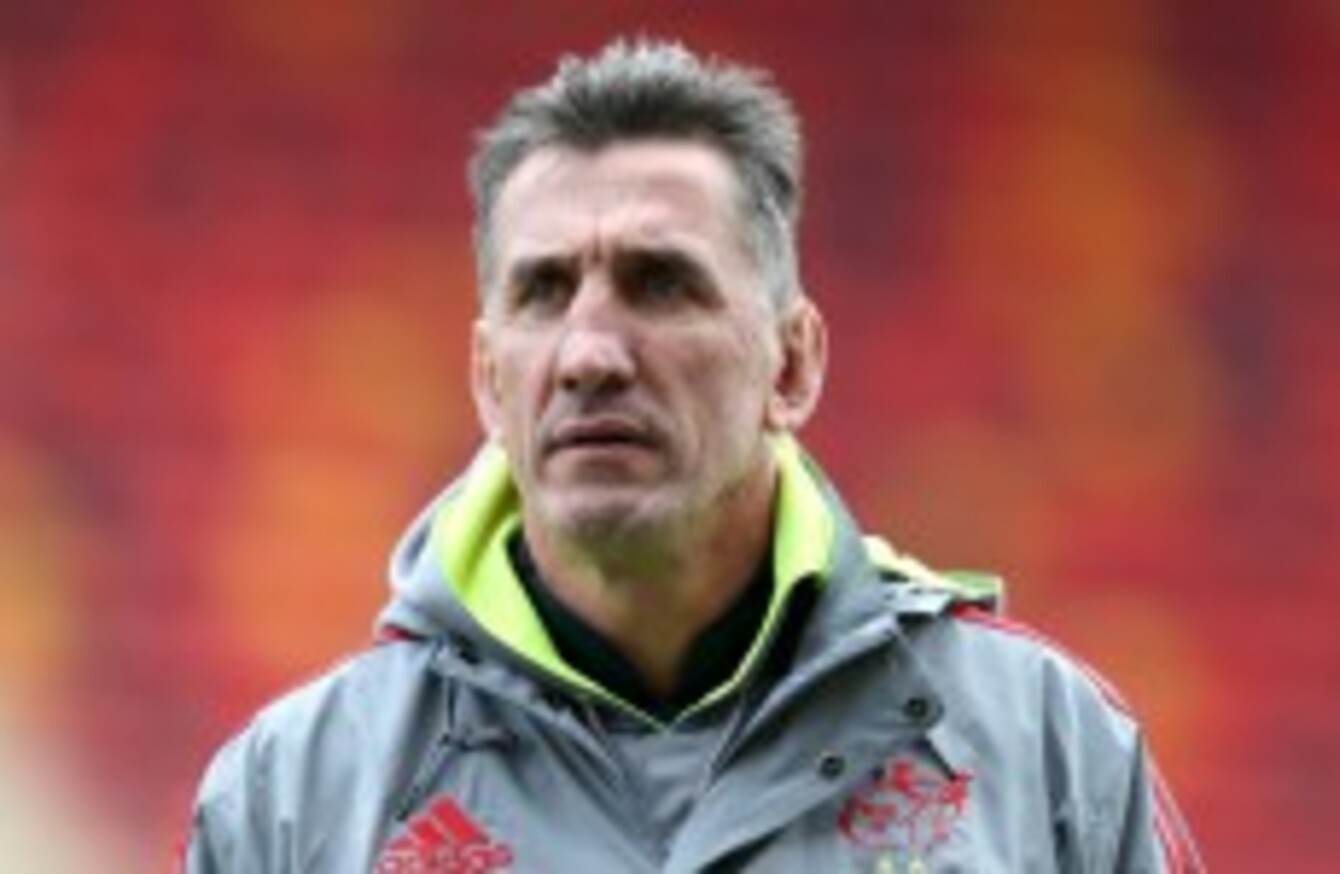 Penney feels David Kilcoyne has the potential to play for the Lions this summer.
Penney feels David Kilcoyne has the potential to play for the Lions this summer.
MUNSTER COACH ROB Penney said he was satisfied with his side's performance, but suggested there is still progress to be made, after seeing them beat Racing Metro 29-6 today.
"We came up against resilient opposition and the boys played some pretty compelling rugby at times," he said.
On the red card given to Antoine Batut, Penney said he hadn't properly seen the incident, but acknowledged that it had a significant influence on proceedings, saying:
"Without doubt, any time you lose a player, you're up against it."
The coach conceded that his side were not at their best in the opening stages of the game, but said they improved as the match developed.
"I thought we made a couple of errors early on on the back of us being anxious. Once we got into our rhythm, we looked very efficient.

"Our mental preparation and our ability to stay focused for the whole 80 minutes was something that we were going to need. And that relentlessness we've been seeking was there today."
Penney praised the entire side, while also highlighting the contributions of several individuals.
"I thought Donnacha Ryan has been excellent for Ireland and us. He's starting to come to grips with his role in the group.
"Peter O'Mahony really stepped up. The two young blokes, David Kilcoyne and Tommy O'Donnell, really came of age."
"We're a hair's breadth away from doing some pretty good stuff."
Penney added that he felt relieved more than anything at the outcome of today's game.
"I think all today's result does is that it takes the pressure off me.

"If I can't have faith in this particular group and can't take the criticism, then I shouldn't be sitting here.

"The expectation of this organisation continually being involved in playoffs [is tough]. That expectation is a special part of why Munster Rugby ends up doing as well as it does – because the players feel it and the management feel it. I try to treat it as a positive.
"We're seeing massive growth in some of the guys that have had a bit of exposure – we're seeing that as a management group.
"We've only been at this for six months and we're really proud at where we're getting to."
He also reserved special praise for Kilcoyne, suggesting he could even potentially make the British and Irish Lions squad this summer.
"The message should go to Gats that if he needs someone play on top of the ground in Australia later on in the year, he should look closely at the two Irish loose-heads, with more reference to 'Killer'.

"His scrummaging is fine and with a little more maturity, he's going to be class. He's got the potential to do some special things with his robustness in the carry and his round-the-field play. It's a bit unique for a front-rower. He's also a bit like a back-row and his nickname sums him up."
Though their upcoming quarter-final tie with Harlequins wasn't confirmed at the time of the interview, he spoke about the prospect of playing them.
"Harlequins are a team that are doing great in the Premiership – they've got class across the park. It'll be bloody tough to go over there, but we'll embrace it.
"When we've got the blend of international boys and the young blokes – that's when we have a real belief and confidence and we've seen that in the Heineken."
From what he has seen so far, Penney says he is excited about the future for Munster Rugby.
"There's still progress being made. There's a lot of talk of it being my plan, but it's a conglomeration of things. I've a viewpoint on the way in which the game should be played.
"I'm a massive believer in everyone having input – the drivers need to believe in it most of all.
"It's a pleasing result today. It gives guys the confidence to push on, to put the ball in the air, to go through the middle. The key thing is trying to do the right thing at the right time."
*Additional reporting by Aoife Danagher