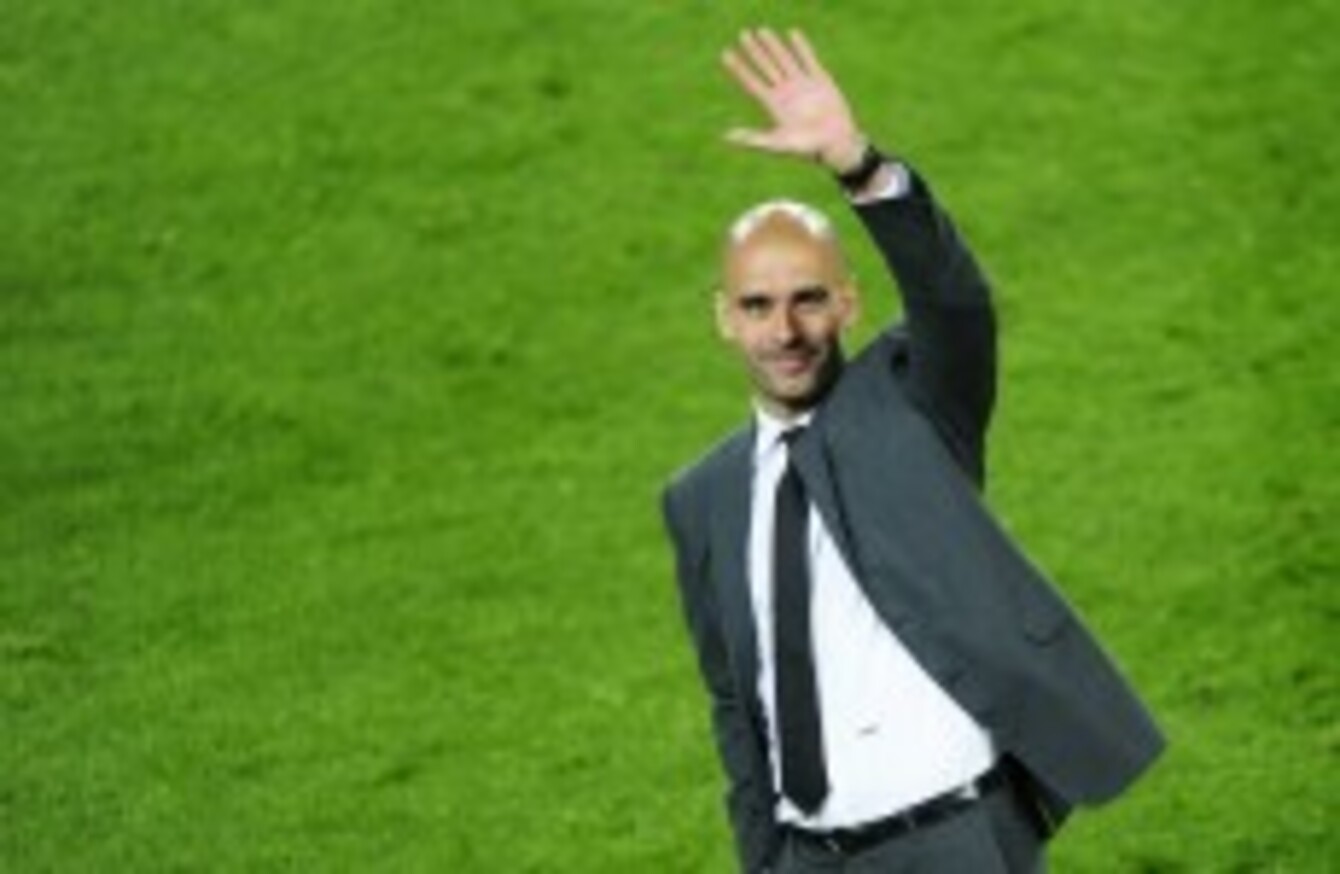 Guardiola waves to Barcelona fans in May.
Image: AP Photo/Manu Fernandez
Guardiola waves to Barcelona fans in May.
Image: AP Photo/Manu Fernandez
THE PHONE IS off the hook and the answering machine mailbox is full- can't some people take a hint?
Lance sports daily in Brazil is reporting that former Barcelona boss Pep Guardiola would leap at the chance of coaching the five-time World Cup winners.
Brazil sacked coach Mano Menezes on Friday and the search for a soccer supremo to lead them into the World Cup in 2014 is on.
"The Brazilian national side is the only team he would be ready to coach tomorrow," an unnamed Guardiola confidant told Lance group founder and chairman Walter de Mattos Jr., who penned the article linking the former Barca boss with the post.
Guardiola, on the other hand, insists he will see out his sabbatical in the United States after leaving the Nou Camp last summer.
But the source said he would do a good job with the five-times world champions, who are now on the lookout for a successor to Manezes, fired on Friday barely 18 months away from Brazil's hosting of the next World Cup. The mysterious insider commented:
If he coaches the Selecao [Brazil], they will win the World Cup – you tell that to the chairman of the Brazilian Football Confederation [CBF]"
The CBF says it will unveil a successor to Manezes, who failed to deliver the Olympic title at the London Games last summer when Brazil fell to Mexico in the final.
The new man, if he does start in January, will have six months to fashion a side capable of lifting the Confederations Cup on home soil which serves as a dress rehearsal to the 2014 World Cup.
Foreign somebodies
Lance said a foreign choice would be controversial and a factor therefore against Guardiola.
The article stated, "Currently there is no coach in Brazil – even among the good ones we have – capable of promoting not just a rejuvenation of the squad but carrying out a revolution to influence all Brazilian football from the grassroots up.
"That's just what Barca did … putting the emphasis on the jogo bonito" or beautiful game which serves as a hallmark of Barca and also Brazil.
Guardiola is a potential target for AC Milan while his name came up after the sacking of Roberto di Matteo at Chelsea.
Yet he was also mentioned as early as last summer as a possible eventual successor to the hapless Menezes.
Crucially, Guardiola's agent Josep Maria Orobitg told Lance there had been no contact between the Brazilians and his client. He said:
I have had no call for contact whatsoever from the CBF. I speak regularly to Pep and he has not given me any instructions to negotiate with anyone for a possible contract."
Also in the frame is Brazil's 2002 World Cup-winning coach Luiz Felipe Scolari, along with Tite of Corinthians and Santos' Muricy Ramalho.
*Additional reporting courtesy of AFP, 2012