PETER LEAHY REMEMBERS the day so well. That feeling as he looked in the mirror and realised just how much he needed to turn his life around.
***
The Mayo manager is up for interview, fulfilling his media duties at the captain's day of the Lidl Ladies National Football League finals.
Brendan Moran / SPORTSFILE Peter Leahy at the league final launch this week. Brendan Moran / SPORTSFILE / SPORTSFILE
After being involved with the Westerners as coach last year, he's taken the reins as manager and steered them to the Division 1 decider against Dublin. A repeat of the 2017 All-Ireland championship final is on the cards at Parnell Park on Sunday, the perfect opportunity for redemption after that heartbreaking defeat to the Sky Blues last September.
Leahy settles into the couch in the lobby of the Croke Park Hotel as the dictaphones are fired across the table. Notepads, pens and the huddle of reporters at the ready and gathered around him. There's one definite question to be asked but that doesn't come for a while, with everyone hoping for an answer about a certain Mayo great's future.
He's hit with the expected first; Sunday, Dublin, their semi-final win as they emphatically ended Cork's six in-a-row bid, the competitive nature of Division 1 this year, this notion that sometimes it's looked at as 'only' being the league.
Leahy's open and honest, he says it as it is. His answers are well thought-out, long but extremely substantial and you're left hanging on his every word.
The Cora question comes up, as everyone knew it would. Still no decision made, no answer to give. It's not a story, he insists. The ball is in her court, they've been in contact but won't address the matter again until after Sunday's showdown.
"She's honouring the girls that are there, that have done the job to get to a league final," he says. "She doesn't want it to be about Cora Staunton.
"I don't want it to be about Cora Staunton. I don't want it to be about Peter Leahy either. This is about the girls that have got to a league final, who are playing outstanding football right now so that's what it's all about."
He speaks glowingly of his players, and how much he's enjoying his new role as manager. It's been fantastic, he says, but it's taken some getting used to and adjustment all the same.
Leahy's impressive sporting background has seen him involved with an abundance of different teams across various levels and codes, both playing and coaching. He most definitely has no shortage of experience.
His time with Mayo isn't his first involvement in the ladies game. He led his native Westmeath to Leinster and All-Ireland intermediate success in 2011 as joint-manager, when they broke Cavan hearts in Croke Park following a replay.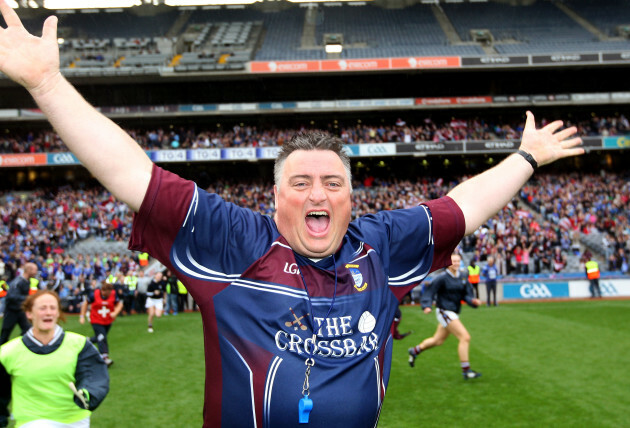 Ryan Byrne / INPHO Celebrating the 2011 All-Ireland intermediate title win, Ryan Byrne / INPHO / INPHO
That same man who was on the line at GAA HQ that day is pretty much unrecognisable now though.
"Peter, can I just ask as well… I would have seen you when you managed Westmeath, you were obviously a lot bigger," is how it is put to him. He laughs, and throws his hands to his head.
"You've lost a lot of weight. Is that something you consciously decided to do?"
Of course, if he didn't want to talk about it no one would bat an eyelid but in typically honest Leahy fashion, he's more than happy to share his story.
***
Rewind to 2005; he was diagnosed with thyroid cancer. Like anyone who has heard the C word in relation to their own health, Leahy's world surely came crashing down. But luckily enough, he knew it was something he could fight.
"With thyroid cancer, it's probably the best cancer you can get, as in it's something that's fairly easily managed," he explains.
That same year, he had his full thyroid removed and was fully treated. He plays it all down though: "You go on a bit of chemo, a bit of radiotherapy. I was over and done with it in four months."
Now without a thyroid and on false thyroxin, things began to change. It's a well-known fact that many patients gain weight after having their thyroid removed, and this was indeed the case for Leahy.
"I used it as an excuse and I got very big," he continues.
"As a sports scientist myself, I knew probably too much. Without a thyroid, it's very, very difficult to lose weight. I used it as an excuse for quite a long time."
And then came that day when he looked in the mirror and realised just how much he needed to turn his life around.
In August 2015, Leahy was appointed as the Westmeath minor football manager. New manager, new team, new gear. He recalls the day as if it was yesterday.
"I remember getting the gear. They got me XXXXL O'Neill's gear and it didn't fit me. From that day, I changed my whole lifestyle.
"I run every single day now, I run between three and five kilometers every single day. I watch what I eat. I dropped nine stone. I wear a size medium to large now from XXXXL.
James Crombie / INPHO With the Westmeath hurlers in 2012. James Crombie / INPHO / INPHO
"It's simply because, the way I looked at it was, as a strength and conditioning coach, it's very hard for people to believe in you when you look in the mirror and you're very big.
"What I needed to prove to myself, and to everybody else, is that with willpower you can do anything. Without the thyroid, it was a lot slower to lose weight, it was a lot harder.
"I had to do twice as much as everybody else, but like anything, it's always good when it's hard."
As he opens up and shares his story, the reporters surround him praise his resilience and the likes but he again, plays it all down.
"Listen, everybody has it in them. I just firmly believe everybody's a winner. Everybody is a winner, it's about where it clicks and when it clicks. That's the most important thing.
"It's like anything, everybody has excuses in their lives. It's indicative of life itself; you can feel sorry for yourself or you can pick (yourself up).
"It didn't take until I got the XXXXL stuff and it was stuck to me — and it was stuck to me — I looked in the mirror and I just went for it. People weren't telling me because people don't tell you.
"You have to make these things up yourself. You have to. That's on a different level than football completely."
He assures us that his thyroid problem is all managed and under control now, but there's one main reason for that in his eyes.
"Losing the weight was a big help for that. I had diabetes, sleep apnea – all gone, all gone from exercise. I'm a big believer.
"I've become the other. I'm like the person who has given up smoking — I'm at everybody to try and just get exercise, exercise, exercise, exercise for everyone."
It's still a constant battle. Over Christmas, he says, he put on 10 pounds. He enjoyed himself, and rightly so. But when the festivities were over, he went back out running again.
"It's a never-ending cycle. As people, we're creatures of habit so now it's a habit for me. I still, to this day, the minute I put on my runners to go out for a run, I hate it. I hate going to run.
"I never liked running. Even when I played rugby and GAA at the highest level, I hated running, I hated pre-season. I still hate running. I put my runners on but I know after that 20-minute run or 30-minute run that I'm going to feel good.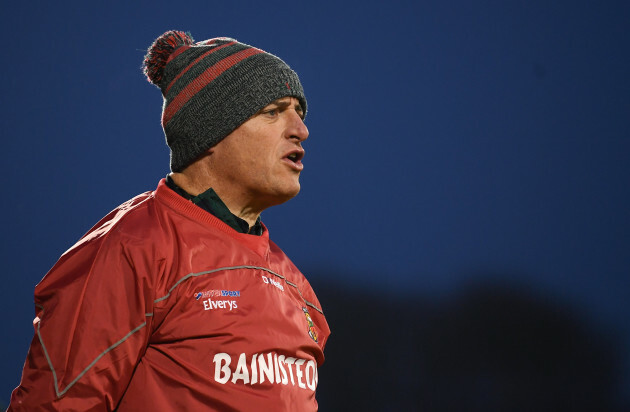 Stephen McCarthy / SPORTSFILE Earlier this year on the line with Mayo. Stephen McCarthy / SPORTSFILE / SPORTSFILE
"I started up a club there two years ago and I put over 200 people through 5km, from zero to 5km. I'm big into getting people out exercising, it's huge."
***
It's hard to go back to the football chat after hearing a story like that which puts everything into perspective. But sport has been such a driving force for Leahy, a constant throughout his life and there's no sign of that changing.
His entire focus is on Sunday and the 60 minutes of football that will be played between his Mayo side and Dublin with the Lid Ladies National Football League Division 1 crown the prize at the end of it all.
The fact that it is a repeat of the 2017 All-Ireland final does add a bit of spice, but the Green and Red won't buy into that too much. Leahy insists over and over that the better team won on the day. It's not about that; it's about how far Mayo have come since then.
"The outstanding team won the game. The team that was better prepared, coached, won the game. I make no qualms about that. It's how much lessons did we learn that day. I personally learned a huge amount of lessons.
"We have to match ourselves against them and see how we go against them, see how far we've come in that time. We're just out there to play football, we're out there to really have a go.
"Absolutely can't wait for it to be honest. For us, it's really, really exciting. It's a huge day out for the girls. It's another top quality match against the best team in the country, the All-Ireland champions.
"Everybody wants to win a final. Who doesn't set out wanting to be champions? That's what it's all about."
The42 Podcasts / SoundCloud