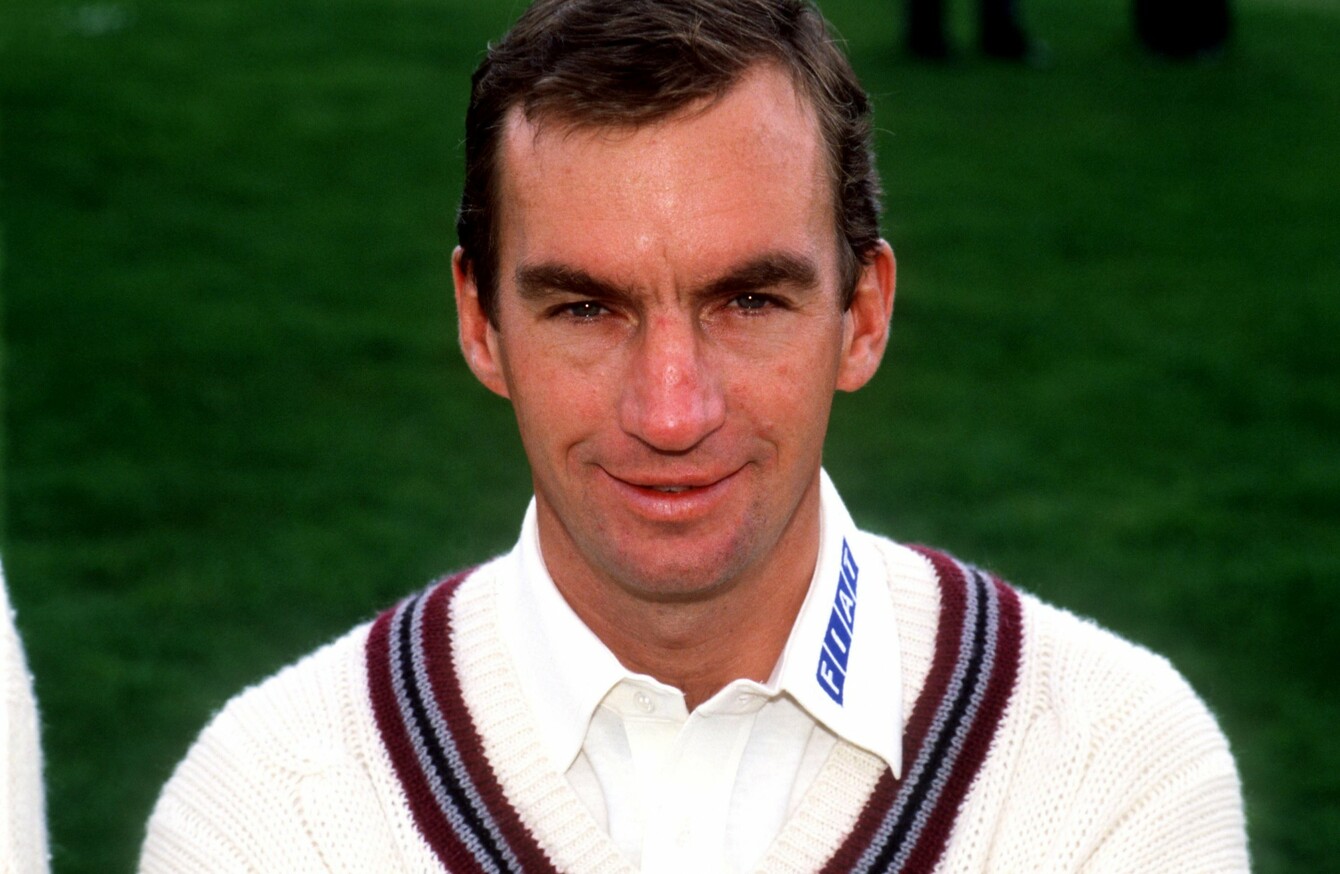 Peter Roebuck (file pic).
Image: S&G and Barratts/EMPICS Sport
Peter Roebuck (file pic).
Image: S&G and Barratts/EMPICS Sport
BELOW IS AN extract from Chasing Shadows: The Life & Death of Peter Roebuck by Tim Lane and Elliot Cartledge.
Roebuck was an English cricketer who captained Somerset during the 1980s and later became an acclaimed newspaper columnist and radio commentator.
Roebuck died by suicide in South Africa after being questioned by police about an alleged sexual assault.
IN HIS OWN WORLD
'The idea that children inhabit some innocent reverie has been disproved a hundred thousand times. No one familiar with schoolboys or their own consciences could argue otherwise.' – IT TAKES ALL SORTS, 2005
'You're like Don Quixote… chasing windmills,' the English cricket writer Scyld Berry said to Roebuck, and he reckons he never saw him look so hurt.
'It was just for a few seconds. Then he closed up and moved on.' Before he did, though, Roebuck gave a hint as to the source of his pain. 'My dad,' he replied, 'said that to me once when I was young.'
That the reminder of a father's chiding words hit such a raw nerve says something poignant, for Roebuck generally gave the impression of having no nerves, raw or otherwise.
Not only did he not exhibit any response to pain, he appeared not to feel it. He
admitted, 'I did cry during my first hiding, but resolved never to repeat the mistake.'
In a brief character assessment, discovered among his late father's papers and appended by Roebuck as an epilogue to his own autobiography, his father described his second
son as being 'beyond the range of normal weaponry'.
As such, wrote Jim Roebuck, he 'can strike as hard and often as he wants without fear'. The father had experienced first-hand what later was so readily apparent to others: his son's tungsten-like exterior.
It was a very real part of the person people came to know, reflected not only in his writing and broadcasting but in his outward being, and manifesting not in a huff-and-puff kind of way but in a manner that was credible, admirable.
When Roebuck's considered professional view was that strong words were required, he appeared to have no squeamishness in expressing them. And once that was done, the possibility of recrimination was treated simply as not a matter to be considered.
While it is true that journalists who deliver opinion and judgement must be resolute, few enjoy bumping into the subject of a damning assessment the following day.
Roebuck was different. Asked about a stinging indictment of Brett Lee for bowling beamers, and the likelihood of backlash, he batted it away as an irrelevancy, something simply not worthy of consideration.
It was the response of one pretty much as his father described, seemingly beyond the range of normal weaponry.
'He wanted to remain elusive, a puzzle, part of one circle or another yet somehow apart and outside of all circles.' That is the fondly expressed view of Toby Jones, a long-time friend and associate from Sydney's Cranbrook School, where Roebuck taught from 1978 to 1986.
Another interpretation is that he was pathologically secretive – a 'house with fierce dogs outside', as Viv Richards put it to his Somerset teammate when Roebuck plunged into one of his malaises.
Roebuck did not shy away from the description. He included it within the pages of his 1983 diary of a county cricket season, It Never Rains.
Graham Greene's pessimistic assessment – 'The world is not black and white. More like black and grey' – amused and resonated with Roebuck, and might have been written to describe how many people viewed him. Or, indeed, how he saw himself.
He told one friend who got closer than most: 'A lot of people know one-third of me, you know two-thirds. That's enough.'
Those who liked and admired him took the position that regardless of an almost total unapproachableness on personal matters, intangibly expressed but real nonetheless, he possessed an unimpeachable morality.
Those who disliked him – some instinctively, others gradually – read his unusual nature as evidence of something amiss. The fact that he refused to lash out, in keeping with his father's assessment, at most of those detractors only served to strengthen the view of the believers.
Then there are the ones in between. David Frith, the Anglo-Australian cricket historian and writer, sums it up: 'Most other people in cricket you can say, "What a great bloke, wish he was still here", or "What a bastard". With Roebuck, it's neither.
There has never been anyone like him in my experience, so you can say it was interesting knowing him and I'm sorry it ended that way.'
Roebuck's was a life lived in fragments, in a way reflective of his personality. Born English, he enjoyed stints in Greece, took out Australian citizenship, built a house in South Africa and, at the end, was thought to be contemplating a move to India.
While he never married or formed a conventional settled relationship, he assembled what he regarded as his own family: young men from a Zimbabwean orphanage. He formed connections but had few enduring close friendships.
He appeared to all and sundry as a man who was uniquely alone.
The42 is on Instagram! Tap the button below on your phone to follow us!
Extracted from Chasing Shadows: The Life & Death of Peter Roebuck by Tim Lane and Elliot Cartledge (Hardie Grant, £12.99). More info here.