UNLESS YOU'VE GOT an unusual compulsion to hear an array of national anthems, or two or three repeated over and over, the chances are that you'll have watched only a handful of medal ceremonies at these Olympic Games.
Yes, when all the sweat and anguish has pushed athletes faster, higher and stronger the actual crowing moment ordinarily provides very little in the way of entertainment.  So unless you're watching your own country take a home a hunk of metal or a true superstar of world sport, then most podium presentations will only move you faster, higher, stronger in pursuit of the remote control.
Sometimes, though, things don't go as expected. That's when we move from mere formality to outright furore and it happens in more than just the Olympic Games.
1. Sore losers?
Many pointed out yesterday that Sofya Ochigava was less than sporting as Katie Taylor took gold. the Russian cut a sullen figure as grudgingly accepted her silver medal in the ring – this is actually the happiest picture we could find of her. Of course, Ochigava was hardly the first athlete to show her displeasure, early yesterday we brought you this Tumblr of USA's McKayla Maroney in various states of unimpressed-ness.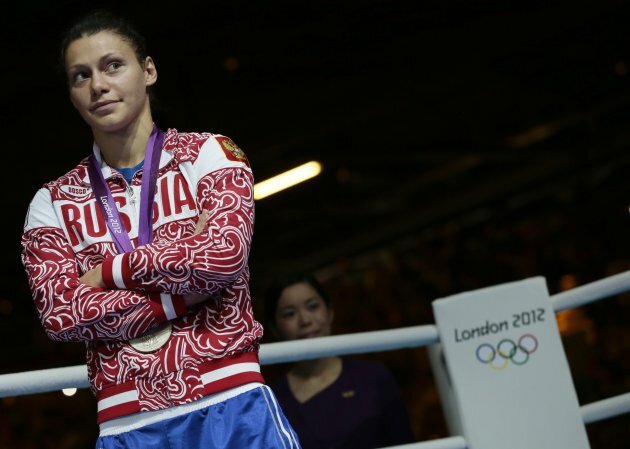 Ivan Sekretarev/AP/Press Association Images
2. Black power salute.
In 1968 Tommie Smith and John Carlos had earned their moment on the podium. Smith had claimed gold and a new 200 metre world record. Carlos would stand alongside him with bronze. It was just over six months after the death of Martin Luther King and the sprinting duo would provide one of the most iconic images in Olympic history in honour of his cause. Each bowing their head and raising a black-gloved fist as the star-spangled-banner played. They were suspended by the IOC.
YouTube credit: datruth4u
3. Silver? No thanks.
Not much has changed in 40 years; when the US come to play Olympic basketball they expect to take gold. 1972 was just one occasion when they failed to do it, but to say the manner of their defeat to the Soviet Union left a sour taste would be a huge understatement.
USA thought they had come from behind to win 50 – 49 with two free-throws on the buzzer. The Soviet coach protested, claiming he had called a time-out. That set in motion a bizarre series of argument, counter argument  clock-resetting and two inbound plays. Eventually, the USSR won and to this day the silver medals remain locked away in a Swiss safe, the US team unwilling to lay claim to them.
YouTube credit: verzaad
4. For Make Benefit Glorious Nation of Kazakhstan.
Imagine for a moment that you are awaiting your proudest moment, but instead of Amhrán na bhFian, some plank in charge of the sound decided to play something off the soundtrack to Valentines Day.
Well, when Kazakh shooter Mariya Dmitriyenko took her place on the podium, she could have expected something a little bit more respectful than the theme from Borat: Cultural Learnings of America For Make Benefit Glorious Nation of Kazakhstan. It seems, though, the Kazakhs are guilty of their own anthem fail, when Ricky Martin's Livin' la vida Loca blared out at an official function. Love those inappropriate trumpets.
YouTube credit: primetimeru
5. Walk off.
The basketball players of Croatia and Yugoslavia had previously dominated the sport in Europe and sat at the very top table of the world stage. However, by the time Eurobasket 1995 came around they were separate nations in the shadow of war.
Yugoslavia would prove the stronger nation in the sport and claimed first place, but right alongside them were Croatia ready to accept bronze. The atmosphere was tense yet civil… until the medals were awarded and the Yugoslavian anthem played. That sound prompted the Croatian players to step off the podium en masse and continue out of the arena.
YouTube credit: mngweco
6. Absolute disdain.
Four years ago, Swedish Greco-Roman wrestler Ara Abrahamian was a disgruntled 84kg semi-finalist. Having had an appeal against his controversial defeat to Andre Minguzzi turned down, he angrily stepped moved from the ceremony and moved the bronze medal from his chest to the floor.
YouTube credit: chaby63
7. "There's no doubt a lot of chicanery went on."
The above are the words of BBC gymnastics commentator, Mitch Fenner. He adds: "The eastern block nations when they got together, under the influence of the Soviets, could bend the judging rules."
At the Mexico City Games in 1968, Czechoslovakia Vera Caslavska entered as the hot favourite having dominated the competition four in Tokyo four years earlier. Few could see any dip in her form and her floor routine was hailed by most onlookers. But when the scores came in, she was not in outright first place. She would share the gold medal with the USSR's Larisa Petrik.
After the Czech, the Soviet anthem was played and in a political and sporting protest as elegant as her floor routine, Caslavska simply bowed her head and looked to the ground on her right until the music stopped.
On returning home, Caslavska was 'punished' and conspired against. She would not work for five years and was not allowed to leave the country. Commenting on the issue recently, she said: "Their aim was for me to be forgotten."
YouTube credit: CoCoNuTsiopatHic