THE FOURTH AND final Irish province crashed out of the Heineken Cup last weekend, but that's no reason to mope around and forget about rugby.
The RaboDirect Pro12 is reaching an exciting conclusion to its regular season.
Though it's most definitely the second choice silverware on offer to Irish teams at the start of the campaign, there is no doubt that at this time of the season all the big guns come out and all the ingredients for a thrilling finale are thrown into one big pot.
So, just in case you've been devoting exclusive attention to European games this season, here's a quick reminder of exactly how this competition works:
How do we win this thing?
Finishing top is nice, but it's not the be all and end all in the Pro12. At the end of the 22-game season the top four finishers play off in semi-finals – first v fourth, second v third – with the top-seeded team in each case nominating the semi-final and final venues.
How are we fixed?
There are two rounds of league fixtures remaining before the playoff line-ups are confirmed and the table looks like this. We've cut it off at Ospreys as sixth-placed Scarlets are on 46 points and so have missed the playoff boat.
All five of Leinster (74 points), Glasgow (69), Munster (68), Ulster (65) and Ospreys (60) are technically in with a shout of a home semi-final. And, bar Leinster, each side could still miss out on the playoffs entirely.
That's tight, how will the teams be separated?
The next two weeks will provide plenty of answers and, hopefully, won't leave too many teams level on points.
However, in the event that (for instance) Glasgow finish level with Leinster, or Ospreys with Ulster, then the Pro12 rules dictate that placings will be determined by the number of matches won this season.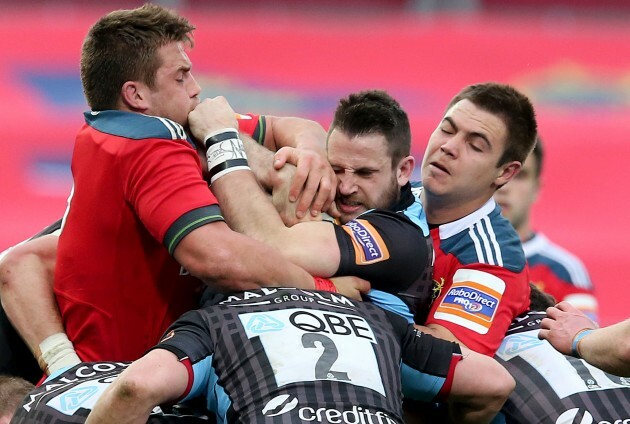 Dan Sheridan / INPHO Dan Sheridan / INPHO / INPHO
Glasgow lead the way in this regard at the minute with 16 wins, while Ospreys are the most likely to fall foul of the rule as the maximum they can achieve is 14.
If matches won isn't enough to put some daylight between clubs then we'll move on to measuring their respective points difference (scored minus conceded). Then tries scored, points scored…  but we'll cross that bridge of useless information when we come to it.
So Ulster aren't in as much danger as it looks then?
Well, not quite. But they do need five points to guarantee a playoff place and prevent Ospreys from replacing them in the top four with back-to-back bonus point wins.
Two points will do the same job for Munster, and Glasgow need just a point from their clash with Treviso.
Right, who do we have to beat?
Here's where the 'ifs and buts' come in.
Ospreys kick-off the 21st round of fixtures against Zebre this evening and they'll wrap up their season at home to Connacht next week. They have the easiest run-in of the five playoff-hopefuls.
Ulster on the other hand have the toughest 160 minutes. They host the big match of the weekend tomorrow against Leinster and will hope to have a post-season berth booked before running out at Thomond Park against Munster. Before that game, Rob Penney's Heineken Cup heroes are in Meggetland to take on Edinburgh.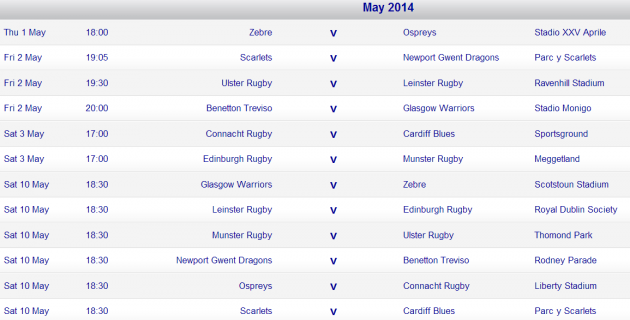 RaboDirect Pro12 RaboDirect Pro12
Glasgow are another who have a relatively handy couple of games to finish off. Having seen off Ulster and Munster in recent weeks their reward is the sight of Treviso (a) and Zebre (h) as their final fixture hurdles to achieving home advantage in the semi-final.
Leinster will be desperate to cling on to top spot and their five-point cushion. After the trip to Ulster they'll close league at home to Edinburgh, confident it won't be the last time they're in the RDS this season.
Prediction / Wild guess
1: Leinster (80). 2: Glasgow (79). 3: Munster (77). 4: Ulster (70).