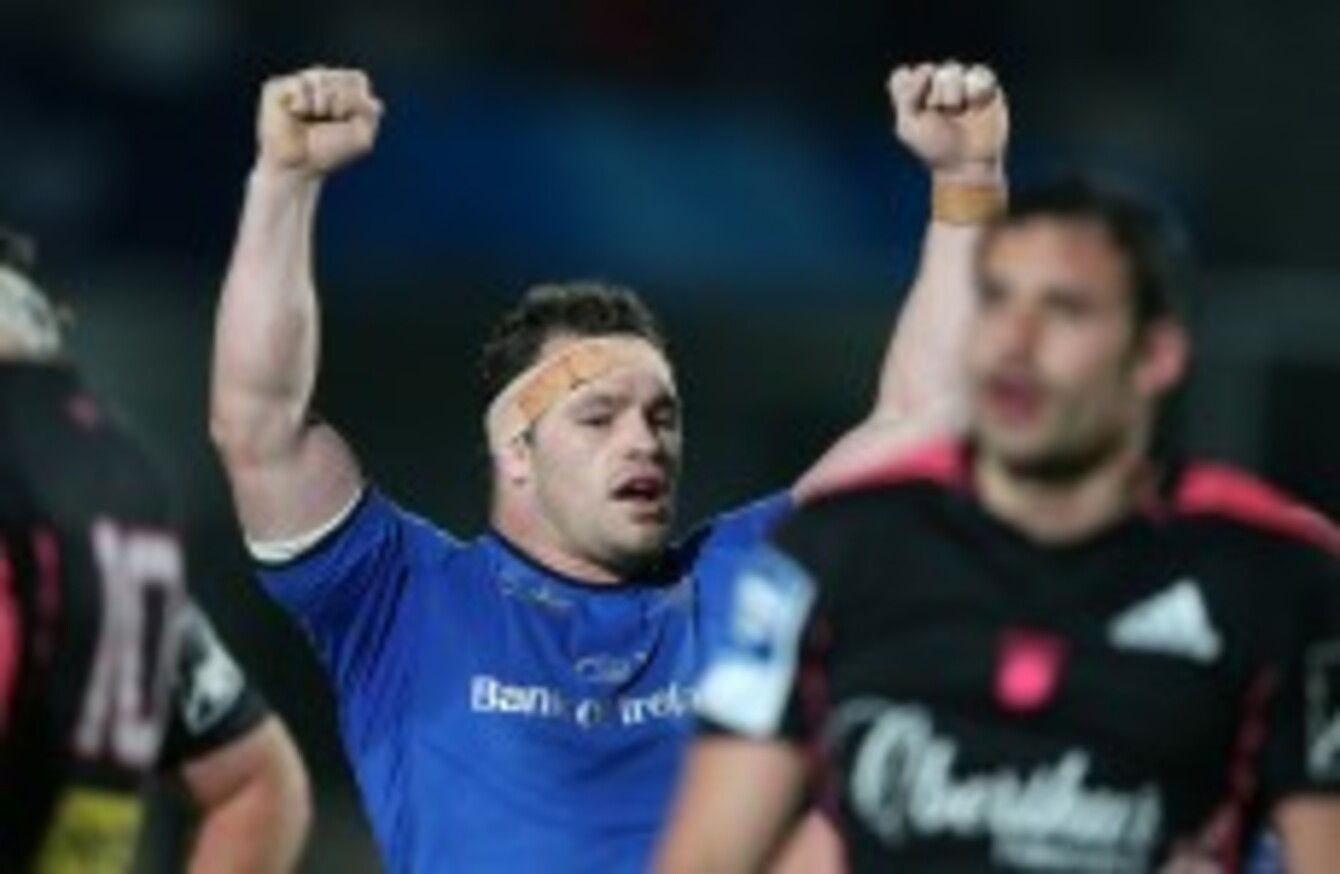 Cian Healy says Leinster are primed for double success.
Image: ©INPHO/Billy Stickland
Cian Healy says Leinster are primed for double success.
Image: ©INPHO/Billy Stickland
CIAN HEALY IS a player that holds steadfastly to the 'one game at a time' doctrine. Getting the prop to talk about the upcoming Lions Tour, for which he has been selected, is not easy but he obliges briefly before swiveling the conversation to Ulster and the Pro12 Final.
"It's all Leinster for me up until now," he proclaimed. "It wouldn't be right to Leinster if they didn't have my full attention and winning another cup."
Ulster, by virtue of their league form, are the designated home team at the RDS on Saturday but Healy is planning a warm welcome. Two defeats in a row to Ulster, and three successive defeats in league finals, have not weakened his position that Leinster are the team to beat. Still, he allows a compliment on Tom Court, John Afoa and Rory Best to pass his lips.
"They've a great front row," he told TheScore.ie. "They've done a job on a lot of teams."
Two players that were part of the Ulster side that did a 22-18 job on Leinster earlier in the season were young Kyle McCall and the journeyman prop Ricky Lutton [27] who was elevated to the senior squad from Belfast Harlequins via club rugby with Canterbury in New Zealand. Healy reasoned:
If a fella is in there, he is in there for a reason. They are not going to bring him in if he can't hold up a scrum. They've sourced a good player there."
Devastation
Healy declares that the inter-pro opposition, while they are being closely analysed in training and video sessions this week, are not the driving for motivation ahead of the final. A winning-mentality has been established at Leinster and defeats are hard to take.
"For Leinster to lose this final would be devastating," he said. "We've lost to them already before [this season] but it doesn't matter who the opposition is. Losing a final is something terrible and something you don't want to do. We've been working hard to ensure that it doesn't happen again.
In the last few years there has been a thrive for success at Leinster; a want to win, be the best and continually be the best. When that doesn't pull off, that's something that hurts."
Leinster coach Joe Schmidt made no small gesture by inviting young prop Jack McGrath to the post-match briefing after last Friday's Amlin Cup win over Stade Francais. The invite was a show of confidence on a player that Schmidt confessed to being hard on but only because he sees a future star of the game. Competition for the loosehead position, says Healy, drives him on.
"It doesn't mean older is wiser," he remarks. "Jack has a lot of input into what I do and I would have an input to what he does."
Healy with 'mini-fans' Hannah Mahony, Mark Arraj and Dan MacNeice at the launch of Specsavers' search for Ireland's most Unbreakable Friendship. (©INPHO/Dan Sheridan)
As Leinster fullback Rob Kearney alluded to earlier in the week, the three-time European Cup champions may have celebrated last Friday's cup win with a beer but it was a case of resting the bodies the following day and straight back to work on Sunday.
Healy said, We've learned in the past that basking in the success of a Heineken Cup win doesn't help come the next game. This time around we have been pretty clinical in our thinking and how we've trained and how we've kept that goal in mind.
Everything has been tactically perfect. The meeting are quite good, point by point, which they always are. Joe has that nailed down. Training has been good as well. Everyone has their head down and is hungry for that second trophy."
Healy praises Schmidt's drive to breed success at Leinster and credits him for adding an extra dimension, or two, to his game with ball in hand. "I've thrown two skip passes for tries this year so he's obviously done something right, hasn't he?"
The Ulster defence has been warned.
*While Healy is causing havoc in Australia with the Lions this summer, Specsavers will be embarking on a nationwide search, to find Ireland's most Unbreakable Friendship. Entry forms are available in Specsavers' 44 stores nationwide.