THE GUINNESS PRO12 campaign has crept up on us amidst all the focus on the World Cup but the league returns with lofty ambitions on Friday night, when Connacht, Leinster and Ulster are all in action.
With meritocracy involved for the first time, Sky Sports and Guinness getting involved, and a new winner in the shape of Gregor Townsend's deservedly popular Glasgow Warriors, last season was the biggest and best Pro12 yet.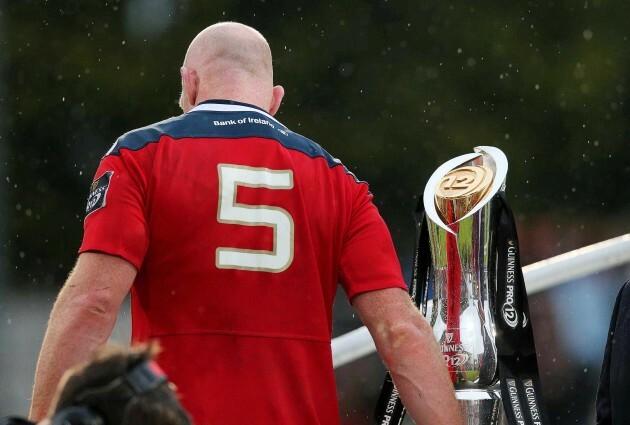 Ryan Byrne / INPHO Paul O'Connell lost out in last season's Pro12 final and is moving to the Top 14 post-World Cup. Ryan Byrne / INPHO / INPHO
Now tournament organisers are hopeful that 2015/16 will see more growth, even if the World Cup will understandably dominate the rugby agenda in the coming months.
While the Pro12 itself is happy with their rate of progress, comparisons with the Aviva Premiership and Top 14 remain slightly unfavourable, in a commercial sense as well as competitively in European competition in recent times.
Pro12 outfits Leinster and Ulster made up the 2012 Heineken Cup final, but only English and French clubs have competed in the decider since, five of the six finalists in 2013, 2014 and 2015 having been French.
The IRFU have a degree of fear around the spending power of the French sides in particular, but Pro12 chief executive John Feehan is more relaxed about that wealth.
I think every league has to look at the other leagues and say 'What are they doing that we could do better?'" said Feehan. "Clearly France is slightly different.
"You talk about their league, but you're actually talking about only two or three of their clubs. That's two or three individuals with massive amounts of money to spend and there's no commercial return, other than the fact that it's satiating somebody's ego.
"The reality is we can't do that here, so we've got to find cleverer, easier, better ways to do it. The fact of the matter is, if you look at the Pro12 over the last seven, eight, nine years, our record would stand up against any of the other leagues. I'm pretty comfortable that we're there or thereabouts.
"In any given year, you might have one or two of the French clubs that poke their head above the fence. Clearly money is no object and that helps. Money is an object to the rest of us, but that doesn't mean to say we can't have really strong squads and be really competitive."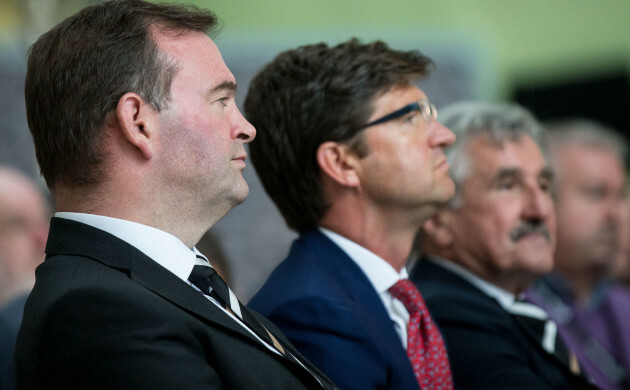 James Crombie / INPHO Feehan (left) is CEO of the Pro12. James Crombie / INPHO / INPHO
One of the reasons the Pro12 is confident that they can continue to expand is what they see as a better quality of rugby on these shores than what's on offer in the Top 14.
There is pride in the fact that 107 players from the Pro12 clubs have been named in World Cup squads, compared to 85 from the Top 14 and 89 from the Premiership, while there is a belief that the Pro12 is a more exciting competition to watch.
The Canal+ TV rights deal worth more than €70 million per season might suggest otherwise, but new managing director Martin Anayi feels the Pro12 is on the right track.
"The Top 14 is a competition that has done incredibly well commercially, but I don't think it has the product we have," said the former MD of the FIA World Rallycross Championships.
When I watch Top 14 games, I'm not that excited by the rugby that's being played, to be honest. If they've done that well commercially, because they're very solid on what they offer and have an amazing TV deal, that's what I would take from it.
"If we, the Pro12, have got good rugby and a good competition and latent potential market likes Wales, Scotland, Italy, and all we need to do is put a bit more structure in, then I think that's an amazing opportunity. We've got the bit that really matters, which is the product.
"If the rugby isn't very good, then are people going to come and watch? What the Premiership does incredibly well is the tribalism, they're creating a reason for people to come to stadiums week in, week out.
"It's like football was in the '90s effectively. There's a lot more to learn from the Premiership than there is from the Top 14."