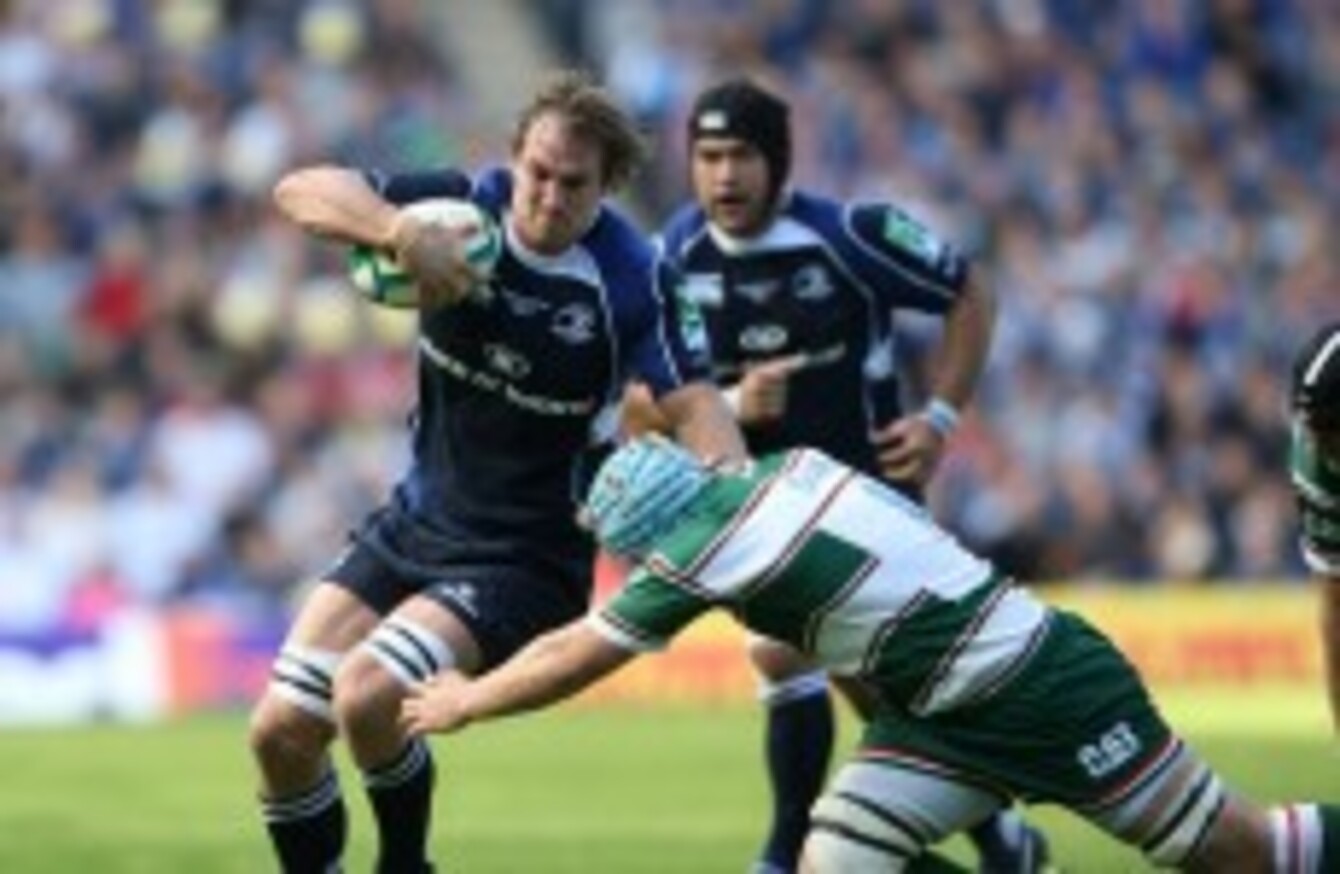 Rocky Elsom was one of Irish rugby's best ever signings.
Image: Billy Stickland/INPHO
Rocky Elsom was one of Irish rugby's best ever signings.
Image: Billy Stickland/INPHO
SO THIS MUST be how French club rugby fans feel all the time, right? You wake up in the morning, have a bowl of chocolate-based cereal, open the paper and see which big-name southern hemisphere player your team is linked with today.
The last few months have seen the Top 14 pick up an ungodly amount of talent from DC10 to former Australian captain, Will Genia. But this week, the Irish provinces struck back.
First, All Black Charles Piutau signed for Ulster.
Then, All Black Francis Saili was bagged by Munster.
And then yesterday, Julian Savea retweeted a request that he sign for an Irish province at the EXACT same time that a Leinster press conference was postponed for an hour.
Coincidence? Well, yes, it turns out it was but for a brief moment Irish rugby was Wall Street and they were buying and selling the sport's most valuable commodities.
Leinster eventually said yesterday that they might be in the market for an import at the moment so we thought we'd give the Irish teams a few tips as they decide who to buy.
Don't discount veterans
When you think of veterans, why do second rows always appear in your mind? It seems to be the position where players age the most gracefully and Irish provinces have benefited hugely from the wisdom of some of rugby's tallest oak trees.
John Langford came to Munster in 1999 and used his Brumbies experience to help professionalise the set-up ('hey guys, maybe we shouldn't drink the week of a match anymore?') .
Johann Muller was also a big presence during Ulster's improvement over the last 5 years and Leinster hit on two teak-tough old-timers in-a-row.
Nathan Hines and Brad Thorn both contributed to Heineken Cup-winning teams and their team-mates have spoken glowingly about what they brought to Leinster.
One thing these veterans have in common is that they came to provincial rugby immediately after playing at a similarly high level elsewhere. People can talk about Mils Muliaina's influence behind the scenes but he hadn't played top class rugby since 2011 before this season and it is noticeable. You have to remember that the province hired him as a player, not as a mentor.
Shopping at the bargain bin can be very fruitful
A nice shirt is a nice shirt, whether you get it in Pennys or Armani.
Not everyone needs to be signed on a massive salary, and the provinces have proved plenty of times that a less-heralded player can still have a huge impact. Guys like Stan Wright, Shaun Payne, Federico Pucciariello and Ray Ofisa contributed just as much to their respective teams as the big-name recruits.
And very often, fans feel more of a connection with these guys. Every Wright rumble received a bellowing cheer just as loud as when Cian Healy goes off on a destructive carry today.
Whenever possible, buy a world-class player at the peak of their powers
Yes, I am here to point out the obvious. This one is a no-brainer but its hard to do given the spending power of the French and English clubs. Rocky Elsom, Doug Howlett and Ruan Pienaar are three recent examples of the Irish provinces writing a novelty-sized game show check for an international player and having it pay off big time.
Munster and Ulster will hope they've captured similar signings with Piutau and Saili.
Even this transfer tactic isn't 100% sound though. CJ van der Linde and Jean de Villiers arrived in Ireland within a year of each other having been involved with South Africa's World Cup-winning squad in 2007 but neither came close to justifying their pay packet.
Poor CJ's big toe meant he rarely got to see the field while de Villiers was well-beaten by BOD in one of his first games and besides the odd moment, left an underwhelming impression.
SEE SPORT
DIFFERENTLY
Get closer to the stories that matter with exclusive analysis, insight and debate in The42 Membership.
Become a Member
Strange thing with de Villiers is that he was great thereafter and appeared to just have an off year in Ireland. You win some, you lose some.
Look at cast-offs with something to prove
See: Jim Williams, Trevor Halstead and Ollie le Roux. Players who have been overlooked by club or national teams in their own country tend to perform quite well over here. These three all used their bitterness as fuel that saw them thunder into collisions, like the time Halstead helped Munster win the Heineken Cup.
Probably best to avoid guys coming over with injuries
Christian Cullen was once one of the world's best fullbacks and joined Munster with big expectations. Unfortunately, it was clear early on that he wasn't the same player and never came anywhere close to the level of performance he reached with the All Blacks.
Other players just ended up on the treatment table throughout their time in Ireland, Lote Tuqiri being one. Another memorable dud was Brian 'The Chiropractor' Lima, who never made a single appearance for Munster after getting injured early on in his stay. He probably wasn't even allowed keep this jumper.
When in doubt, DO NOT SIGN any of the following: Eddie Henkenui, Julian Brugnaut, Peter Borlase, Clint Newland, Steven Sykes, Rob Dewey or Clinton Huppert
They can't all be Heineken Cup winners.
Originally published at 13.51