MOST PLAYERS HAVE taken to playing surfaces that resemble mud baths more than rugby pitches in their time, but the last place one would expect to see it happening is in the Six Nations.
Last weekend's clash between Italy Women and their Scottish counterparts was played out in rather alarming conditions at Stadio Plebiscito in Padua, with heavy rain turning the pitch into an utter mess.
Italy, to their credit, managed to earn a bonus-point win, but the condition of the pitch made life very difficult and looked dangerous for both sets of players.
Six Nations Rugby / YouTube
Rachael Burford, the England 15s and sevens international who is working with International Rugby Players, watched on from afar with some concern.
"The weather conditions looked awful but the pitch didn't look like it was up to the right standard, which can have an effect on how you can play the game and then, potentially, on the result," said Burford.
"I think it's definitely something that people are going to be questioning moving forward because there needs to be a minimum standard on pitch facilities for an international game.
"I think back to that photograph, I don't know how many years ago, of Fran Cotton completely covered in mud. We need to be looking at having top facilities and top pitches for players to be playing on."
Burford was in Dublin yesterday as part of International Rugby Players' [IRP] announcement of their move to the Irish capital.
IRP represent female players, as well as male players, and Burford believes the association can play a major part in maintaining the standards in women's rugby and pushing them even further.
While great strides having been made in recent years, the hope is that there is never a repeat of last weekend's incident in Italy.
"The great thing is that we haven't seen a lot of it, so I don't think it's something that's in the game," said Burford.
"I think an incident has happened where we need to investigate and make sure that there are contingency plans in place if that does happen."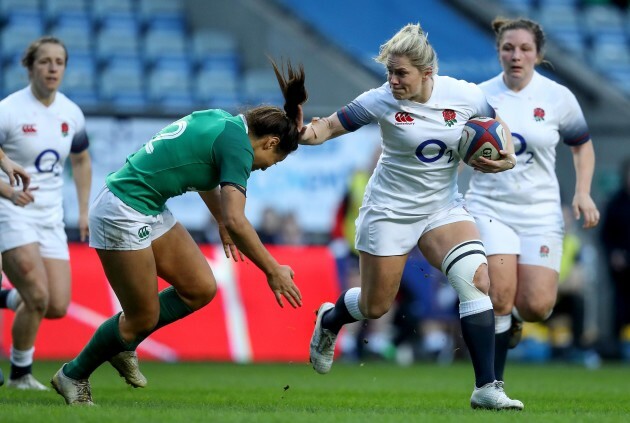 Tommy Dickson / INPHO Burford in action against Ireland last weekend. Tommy Dickson / INPHO / INPHO
Among the key issues for women's rugby players right now is the demanding schedule of World Cups.
Last year's tournament was "a huge success" in Burford's eyes, and she felt Ireland did a brilliant job of hosting it, but the three-day turnarounds in between games remain far too demanding.
IRP has engaged with World Rugby on this topic and Burford says the governing body recognises that it is a problem as the sport continues to grow.
"If we can make it even better than what it is on the back of 2017, then World Rugby are prepared to do that," said Burford.
"Historically, with the men's game, everything is faster, the collisions are bigger and it's the same with the women's game now, so all we're looking forward to is making sure that changes and that there's a significant amount of rest between games so there's an opportunity for greater in-competition turnaround."
The progress in women's rugby was underlined earlier this month with New Zealand Rugby's announcement that they have given professional contracts to 30 of their players for the first time, following England's lead.
As five-time World Cup winners and current holders, New Zealand had always been moving in this direction, and now their players will earn around up to $NZD45,000 a year as they train with the professional provincial men's set-ups around the country while coming together as a squad 50 days per year.
Burford welcomes the move.
"Absolutely. They've been world dominating for so many years now, it's long overdue that something should have been done for them. I'm really happy for the girls to be in a position to be as professional as they can be.
"You're starting to see this happen more, whether it's a domestic league or at international level."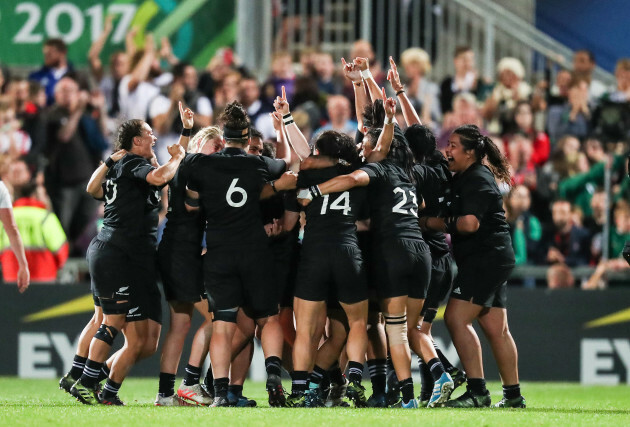 Billy Stickland / INPHO The Black Ferns beat England in last year's World Cup final in Ireland. Billy Stickland / INPHO / INPHO
England's RFU shifted their focus of professional contracts from 15s to sevens last year, the intent being to focus on the Rugby World Cup Sevens and Commonwealth Games in the seven-player code for now.
The investment will be more heavily slanted towards 15s again in the build-up to the 2021 World Cup, but Burford feels England can learn from the Kiwis' contracting.
New Zealand Rugby's agreement with their female players includes a 'Parental Policy'.
This will allow players coming back into the Black Ferns set-up from maternity leave to have a support person travel and stay with them to look after their child during camps and competitions, paid for by NZR up to a cap of $NZD15,000 a year until their child turns one.
The policy also means Black Ferns players can go on maternity leave or "move into other safe employment within the rugby network" until they go on maternity leave.
"It's looking after the player but also looking post-rugby," said Burford. "There are a few women within the New Zealand team who have children, so it's supporting them and allowing them to have their children to come in and have care whilst they're on international duty.
"Because, ultimately, family is so important and it's hard for a female because you want to have children but it's difficult to know when to have them, the middle of a season kind of thing.
"It's a really good step and I think a lot of countries will be looking at that, and certainly players will be talking about it now."
In England, the RFU launched the Premier 15s last year with an initial investment in excess of £2million and while it is not quite a fully professional league, each of the 10 clubs is required to provide a professional coaching set-up to support the development of players.
Dan Sheridan / INPHO Burford was in Dublin yesterday with International Rugby Players. Dan Sheridan / INPHO / INPHO
Burford – who plays for Harlequins – is positive about the progress so far.
"What might happen now is that the international players get looked after but the next level below don't, so they're trying to turn that around now where my club players who don't play internationally are getting the S&C, physio, analysis, game understanding, coaching foundations in place.
"The whole level rises and we start producing a greater quality of players. That's a smart way of doing it. It's giving lots of young girls an aspiration to be part of this league."
The league is now attracting more players from overseas, while Burford also points out that it has meant job opportunities for non-playing staff.
"It's created so many other opportunities for players to be involved in women's sport, in terms of physios, coaches, managers – it's not just an opportunity for players, it's everybody."
Women's rugby is clearly moving forward at an encouraging pace but Burford and International Rugby Players are keen to avoid the possible pitfalls too.
Former All Black Conrad Smith, a qualified lawyer, is working with IRP on agent accreditation and Burford explains that this is increasingly relevant in women's rugby.
"More and more girls are getting approached by agents and we don't need to go down the route of girls signing with agents and something really bad happening," said Burford.
"We can actually start with using Conrad, using the good practice for agents and apply that straight away so we don't develop issues. There's a really nice opportunity there where we know the game is growing, we know issues are going to come, but we can be more proactive about them."
The42 is on Instagram! Tap the button below on your phone to follow us!