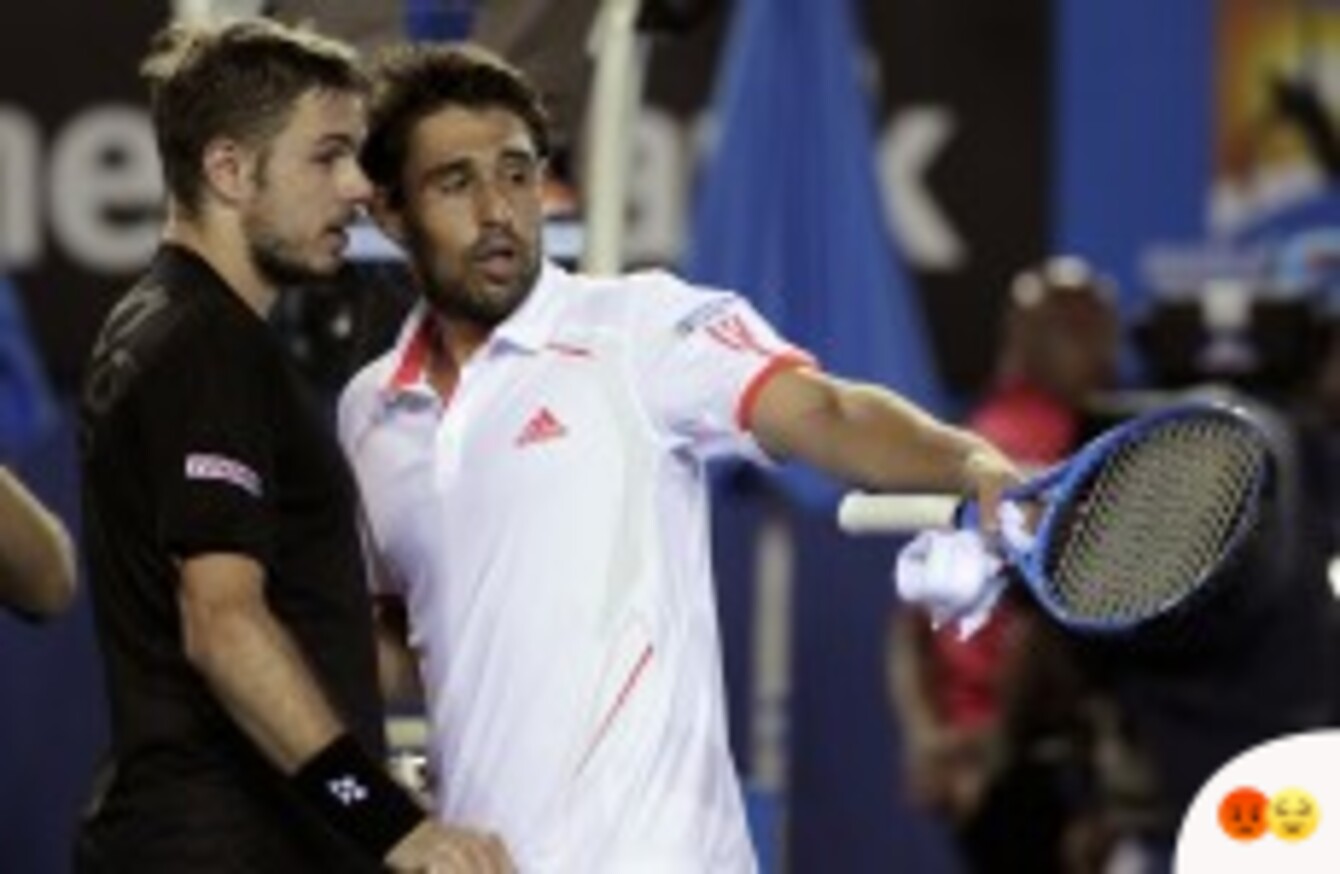 "See that, Stan? I did that."
Image: John Donegan/AP/Press Association Images
"See that, Stan? I did that."
Image: John Donegan/AP/Press Association Images
MARCOS BAGHDATIS' EXTRAORDINARY racket massacre was a sure sign that the Cypriot had "lost it", according to John McEnroe.
Baghdatis grabbed the headlines yesterday when he methodically smashed four of his rackets between sets during his second-round defeat by Stanislas Wawrinka at the Australian Open.
Baghdatis narrowly lost the opening two sets but appeared to bounce back after taking out his frustration on the rackets, winning the third set before falling to a 7-6 6-4 5-7 6-1 loss.
Asked about the tantrum, McEnroe, who is no stranger to on-court outbursts, said it was immmediately obvious that the Cypriot had cracked under pressure.
"He was trying to do it to fire himself up," McEnroe said during a webchat with Fox Sports Australia. "Also, he'd lost it."
"I can speak from experience that ultimately you want to do something better. He was frustrated that the match was slipping away.
This is a tough game. People who play it would appreciate how difficult it is to do what you feel like you can do. Emotions run high. This is Baghdatis's best tournament historically, he's got a lot of fan support and he felt like he wasn't living up to what he was capable of doing.
YouTube Credit: AwaRone
McEnroe also suggested that the ATP should consider revising their current challenge system, which has come under scrutiny following David Nalbandian's defeat to John Isner.
In the deciding fifth set, the pair were locked at eight games apiece with Nalbandian at break point against the big American. Isner's next serve was called out by the line judge, but the decision was then overruled by umpire Kader Nouni. Having saved his service game, Isner went on to win the final set 10-8.
"You can appeal to the supervisor, but as usual they do absolutely nothing," McEnroe said. "To me, he should have overruled the umpire and let Nalbandian challenge. I don't know why he says he can't do anything."
You could make another argument that challenges should be allowed on anything after a certain point in the game. In American football, the last couple of minutes of each period or half, it's automatically challenged.

You would think in a match of the magnitude that we're talking about – in a grand slam – that the whole reason this challenge system came into being was so that the right person won, that someone else didn't win on an umpire's mistake.