REAL MADRID HAVE topped the football rich-list for the eighth year in succession after breaching the €500m revenue mark for the first time.
The Spanish club, and La Liga champions, recorded a 7% increase in revenue last year to take in €512.6m [last year's figure was €479.5m].
Barcelona, who finished second to Real in the league last season, are runners-up again but they will be satisfied with their earnings haul of €483m.
The news comes on the same day it was revealed that unemployment in Spain has reached 26%.
Premier League clubs make up five members of the top 10, with Manchester United taking home 2012 revenues of €395.9m.
United, despite their earlier elimination from the Champions League, found their revenues up from €367m in the previous year. Their 1996/97 to 2003/04 reign at the top of the richlist has now been equaled by Real.
Bayern Munich, with Pep Guardiola on his way this summer, are in fourth [368.4m] while the team that beat them in the Champions League Final, Chelsea, are fifth [322.6m].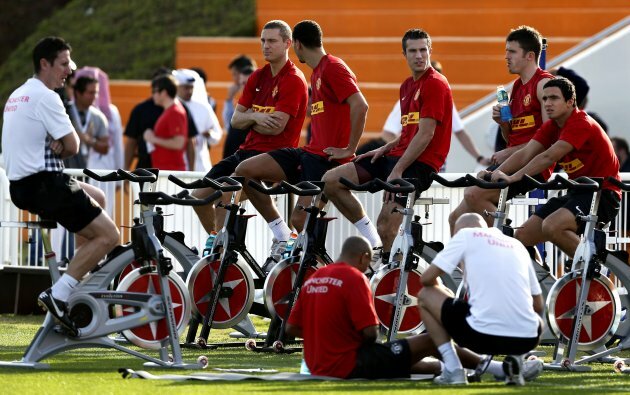 Manchester United: A lot of money, a lot of bikes. (Fadi Al-Assaad/AP)
Arsenal have increased their revenue by 39m to reach €290.3m and take sixth. The biggest bump comes from Manchester City, up €116m in the space of one year to rocket up from 12th to €285.6m and seventh place.
The top 10 is rounded out by AC Milan, Liverpool and Juventus. The only change in the top 20 has seen Newcastle United replace Valencia in 20th.
Dan Jones, partner in the Sports Business Group at Deloitte [the company that carried out the richlist report] called Real Madrid's €500m breakthrough 'an impressive achievement'. He said:
Real have led the way in the phenomenal rate of revenue growth achieved by the game's top clubs, with the double digit (10%) increase by the top 20 clubs representing continued strong performance in these tough economic times.
"The combined revenues of the top 20 clubs have quadrupled since we began our analysis in 1996/97."
Football revenues – Top 10 (money in €)
Real Madrid – 512.6m
FC Barcelona – 483m
Manchester United – 395.9m
Bayern Munich – 368.4m
Chelsea – 322.6m
Arsenal – 290.3m
Manchester City – 285.6m
AC Milan – 256.9m
Liverpool – 233.2m
Juventus – 195.4m
*You can read the full report here >>>