1. They are aiming to peak at the right time this year
On their way to reaching the All-Ireland final last year, Mayo were in electric form throughout the summer and comprehensively brushed aside all challenges until they fell to Dublin in September.
With an average winning margin of 15.25 points per game up until the semi-finals last year, it could be argued that James Horan's men peaked in August when they trashed Donegal by 4-17 to 1-10 in the quarter-finals.
This time out, Mayo seem to be minding their form with an eye on hitting their best when it really matters this year. They've been a little less emphatic on their run to the last four this time out, averaging a 7.75 winning margin along the way with victories over New York, Roscommon, Galway and Cork.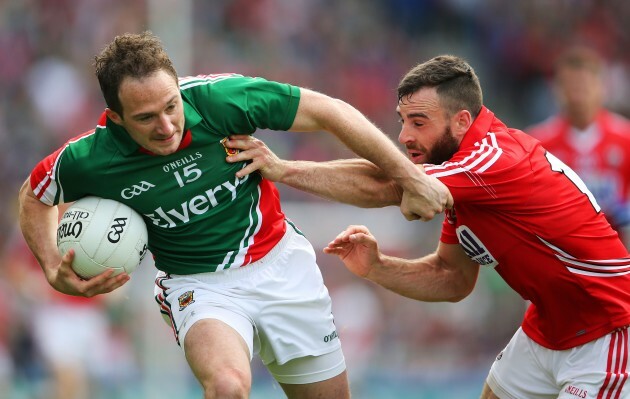 Cathal Noonan / INPHO Cathal Noonan / INPHO / INPHO
2. Keith Higgins's move back to defence is a vital one
The ever burning question for James Horan has been whether to play Keith Higgins in defence or attack. The two-time All Star defender has spent considerable time in the past 12 months alternating between half-forward and his conventional corner-back role, but it seems as though Horan has decided he best serves this Mayo side in the latter.
There is a clear advantage for playing Higgins in his natural home. The tight-marking defender's pace and experience are vital assets in the full-back line. Higgins may have a big job in taking on James O'Donoghue and Bernard Brogan before the season is out.
Stat: Mayo have conceded an average of 14.25 points per game in the championship this year.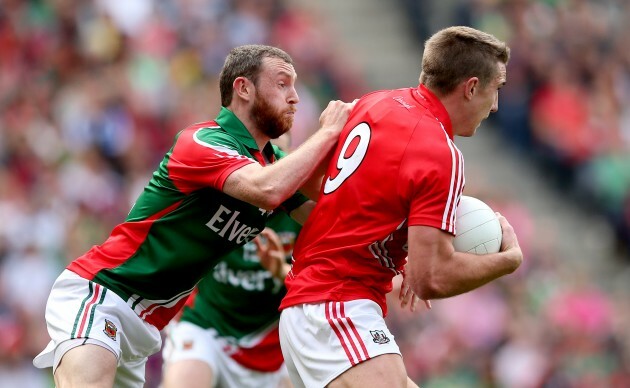 James Crombie / INPHO James Crombie / INPHO / INPHO
3. Playing Aidan O'Shea at centre-forward causes the opposition problems
James Horan made an important switch in the Mayo team before the Connacht final against Galway by releasing his talisman Aidan O'Shea into the number 11 role. With a wealth of options in the form of Barry Moran, Jason Gibbons and Donal Vaughan all capable of slotting into centre-field alongside Seamus O'Shea, Horan has opted to appeal to Aidan's attacking instincts to good effect.
By placing O'Shea at centre-forward, it means Mayo possess a strong triangle in the middle from kick-outs and also provides a difficult dilemma for the opposing centre-back. The fact that O'Shea tends to drift from centre-forward to where the kick-outs land means that he will either be left unmarked to win possession, or if his man picks him up, a huge gap in the middle will appear for the likes of Vaughan, Boyle, Keegan to move into.
O'Shea is a scoring threat, as displayed by the manner in which he rounded Ken O'Halloran and goaled in the dying moments against Cork in the quarter-final. Placing him closer to goal has only increased Mayo's potency in attack.
Stat: Mayo won 17/22 of their own kick-outs against Cork, going short only three times.
Cathal Noonan / INPHO Cathal Noonan / INPHO / INPHO
4. This experienced bunch of players have the hunger to keep coming back
Only three teams in history have bounced back from successive All-Ireland final defeats to make the All-Ireland semi-finals the following year – Galway in 1942, Cork in 1989 and Mayo this year.
That shows just how good this bunch of players are at bouncing back and how determined they are to claim the ultimate prize in September. As a group they've won four Connacht titles but it hasn't been enough to satisfy their thirst for Sam.
10 of the side who lined out in the 2012 All Ireland final defeat to Donegal started against Cork in the quarter-finals. It's been seven years since a team retained the All-Ireland title and it remains to be seen whether Dublin have the hunger to do so this year.  Mayo certainly have that appetite.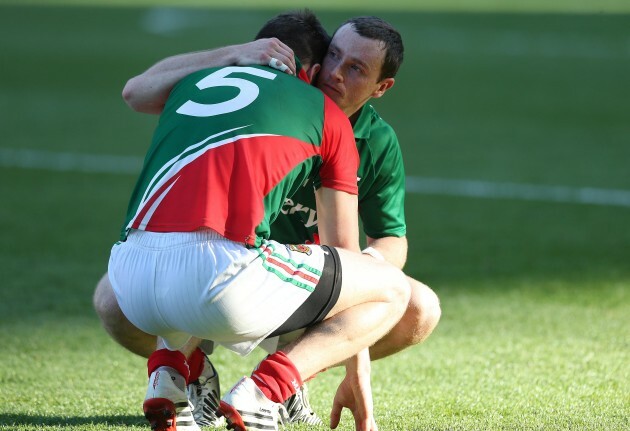 Lorraine O'Sullivan / INPHO Lorraine O'Sullivan / INPHO / INPHO
5. Horan shook things up this year
Now in his fourth year in the job, James Horan kept things fresh this year. The introduction of a professional athlete like Gavin Duffy to the county panel would have been a huge boost to the players.
Elsewhere, Horan shook things up early on in the campaign by handing Diarmuid O'Connor and Conor O'Shea their first championship starts. Andy Moran, Alan Dillon and Alan Freeman have all spent time on the sidelines this year, with Horan utilising the increased depth he has in his squad.
*****
Tomorrow: We take a look at the aspirations of Dublin and Donegal