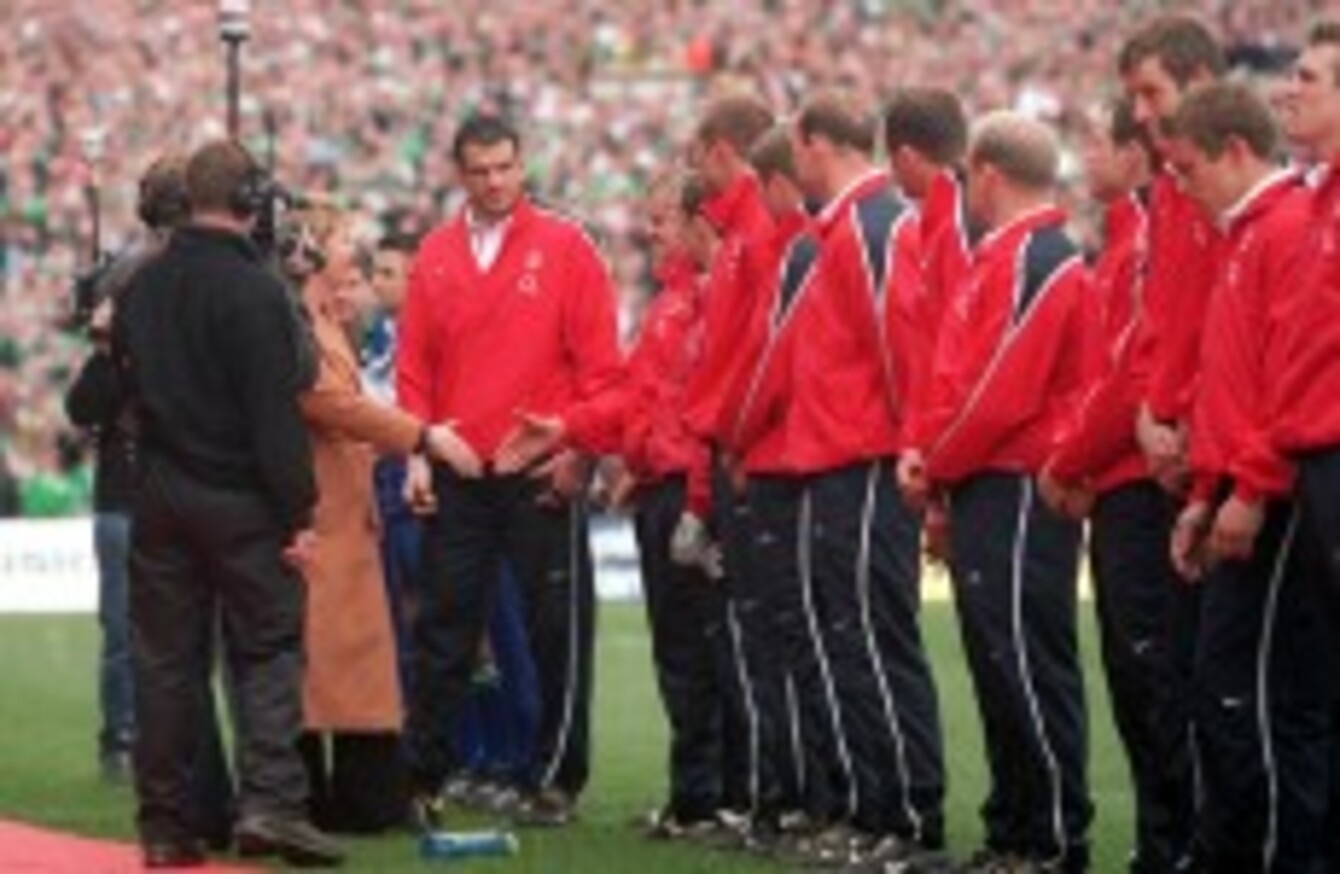 Mary McAleese shakes hands with the English players.
Image: ©INPHO/Patrick Bolger
Mary McAleese shakes hands with the English players.
Image: ©INPHO/Patrick Bolger
IT HAS BEEN a decade since England beat Ireland away in the Six Nations.
One incident, which took place before the match even kicked off, has become ingrained in our sporting psyche and still resonates on its 10-year anniversary.
The English team, led by Martin Johnson, took up residence on Ireland's side of the red carpet and refused to budge. The Irish team were forced to line-up on the grass.
President Mary McAleese was caught up in the furore but kept up her end of the bargain and cheerfully shook hands with both sets of players.
But first, to the game itself. As former Ireland winger Denis Hickie recalls, the team was playing 'really well in 2003′ and explains that there was a genuine sense of belief in the camp.
"However," he added, "We were beaten in the Grand Slam decider by England at Lansdowne, and well beaten, by the team that ultimately went on to win the World Cup."
England celebrated on the pitch – Grand Slam and Six Nations winners – while the Irish tried to play down the fact that the game was lost [42-6] before it ever began.
Ahead of today's game at the refurbished Lansdowne Road, we asked Donncha O'Callaghan and TheScore.ie columnist Shane Byrne to revisit that infamous day in Irish sporting history.
Speaking after the emphatic victory, Martin Johnson told the BBC, "With due respect to the Irish President, people don't come here to watch the presentations. They come here to watch a game of rugby.
"It's all a fuss about nothing."
To the victor, the spoils: Johnson celebrates. (©INPHO/Billy Stickland)
'Not giving an inch' – O'Callaghan
"At the time, Martin Johnson was my hero," O'Callaghan, who made his Irish debut the previous week but did not feature against England, told TheScore.ie.
"Anything he did, I didn't really have a problem with. It was just one of these unfortunate things that happen in sport."
Be part
of the team
Access exclusive podcasts, interviews and analysis with a monthly or annual membership.
Become a Member
He added, "I know exactly the way you are thinking there, you don't want to give an inch. We see it sometimes, even small little things.
It's different to soccer really. Putting guys in a tunnel together isn't healthy. We're getting ready for that first contact and you leave that dressing room probably after an unbelievable team talk, something like that, and you're ready for action straight away.
"It wasn't right, it wasn't. Our President shouldn't have been put in that situation; it should have been corrected."
YouTube credit:  markoconroy
'Belligerence' – Shane Byrne
"Martin Johnson, and you can word this any way you like, was a dick," declared Shane Byrne, who started as hooker in 2003.
"If I was picking a world's best 15 in the morning I'd definitely pick him. His leadership qualities were fantastic.
Whenever I was played against him for Leicester or England, the plan was to take him out. You'd be wasting your time though because he was hard as nails.
Byrne added, "The red carpet typified it. That was just belligerence; he wouldn't back down."
Michael D
Having flown back from Italy during the week to sign off his approval of IRBC's liquidation, President Michael D Higgins should be in attendance at the game today.
O'Callaghan believes 'there's no fear of him' being offset by pre-match antics.
He commented, "It's always a massive honour to shake your President's hand.
"I've said it before, to me it feels like you're going into battle. You're getting the O.K off your President."