This post is part of The42′s Facing History series, supported by Cadbury Boost. To read more, click here.
IF THE PRESSURE truly comes on in Soldier Field, if Ireland can make a mockery of the 21-point handicap and push the favourites into the closing minutes, the All Blacks will feel they are equipped for the mental challenge.
While we tend to focus more on the exceptional catch-pass ability, spellbinding footwork and explosive power when analysing New Zealand, world-class mental skills have been an equally important part of their global domination in recent years.
James Crombie / INPHO James Crombie / INPHO / INPHO
We saw a prime example of that in Dublin in 2013. Clear thinking under pressure, an utter focus on the task at hand, every one of the All Blacks in the moment.
"If you think of physical conditioning, technical understanding and tactical appreciation as forming three legs, the stool isn't balanced unless you have psychological strength as well," is how All Blacks' assistant coach Wayne Smith puts it in James Kerr's Legacy.
New Zealand rugby has learned some harsh lessons in the past about poor mental preparation. Their 2007 World Cup quarter-final defeat to France is perhaps the most infamous example, and it was a genuine catalyst for improvement.
Gilbert Enoka has been with the All Blacks since 2001 as their mental skills specialist, but in 201o he called on a business named Gazing Performance Systems to aid his work in this area.
Ceri Evans, one of the directors of Gazing, has been the figurehead for the firm's involvement with the All Blacks, and his cameos are easily the most fascinating part of Chasing Great, the recently-released documentary about Richie McCaw.
Though Gazing would be swift to point out that their influence has only been a thin strand in the multitude of things that have seen the All Blacks become back-to-back world champions, they are a fascinating business.
Working with companies and organisations in all fields around the world, Gazing's simple aim is "to deliver sustainable improvements in performance."
One aspect of doing so is helping teams to learn how to perform under pressure.
You may have heard of 'red head' and 'blue head' in relation to the All Blacks, the latter being the ideal state of mind in pressurised rugby circumstances. It was Gazing's Evans and his co-director, Renzie Hanham, who originally came up with the concept.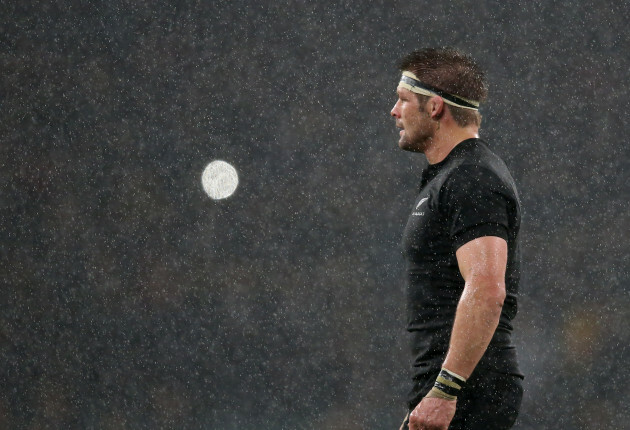 Billy Stickland / INPHO Richie McCaw worked closely with Gazing's Ceri Evans. Billy Stickland / INPHO / INPHO
A red head is characterised by feelings of anxiety and doubt, the sensation of being overwhelmed and desperate, when focus on the task at hand is slipping away and the possible outcome is causing inhibition.
Blue head, in contrast, sees the beholder clearly concentrating on the process – calm, certain of their job, and living in the moment. It's obvious which state is more suitable for delivering under the pressure that can come with Test matches.
First, though, it's worth defining what pressure actually is.
"Typically, we talk about pressure coming from three critical areas – expectation, scrutiny and consequences," says Martin Fairn, one of Gazing's directors and a former top-class rugby player with Coventry in the amateur era.
"The expectations placed on you in terms of your performance – that can come from your coach, your fellow players, the media, the crowd, your family, not least of which there will be the pressure you put on yourself.
"We also think that scrutiny is another one. That's people watching you, looking at you and focusing on how well you're doing what it is you're doing. That adds pressure to it.
"The last sort of pressure is the consequences of your performance. In sporting terms, it's almost entirely connected to the quality of your performance linked to the result.
"If you imagine that nobody wants to lose a match or a game or a point. Certainly, when it comes to something as high profile as a World Cup, elite athletes wouldn't want to lose that. The implications of winning or losing that, because they come in equal measure, are a significant source of pressure."
Fairn explains that some organisations are still wary of working on mental skills, perceiving it as the treatment of a condition or an illness, rather than a way of improving their performance.
"We see the ability to perform mentally under pressure and to control your attention under the great stress and strain of pressure and expectation as a skill," says Fairn.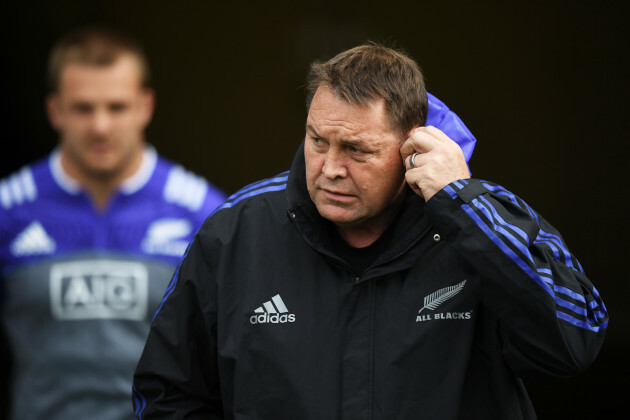 Photosport / Andrew Cornaga/INPHO Steve Hansen has invested lots of time into mental skills work. Photosport / Andrew Cornaga/INPHO / Andrew Cornaga/INPHO
"It's not just about positive thinking, because there's a problem with that. The flip side of positive thinking is that there are negative thoughts that intrude onto your mind and all of a sudden it becomes an unhelpful battle and dialogue going on in your head.
"Actually, the skill is to recognise when your attention is diverted and to develop your own strategy to move your attention back from diverted, unhelpful, probably limiting your effectiveness of performance to getting back on task, making sure your mind is completely clear and able to execute the particular skill or strategy at hand."
Red to blue. That first step of recognising attention has been diverted is crucial. Without an awareness that "the red mist" is descending, it's almost impossible to use well-rehearsed strategies to find the blue.
"Once you've recognised it, you have a strategy that you need to put in place to get yourself back on task," says Fairn. "That's where the anchoring comes from."
Richie McCaw's method was to stamp his feet on the ground, while current captain Kieran Read will gaze to the outer bounds of the stadium he's playing in. Gazing help the process of each team and individual forming their own unique strategy.
Red to blue is the base level of Gazing's work with organisations and it is highly relevant to all of them. Fairn's daughter's football team have done sessions in this area, as have schools in Soweto, and even now the famous Gurkhas – one of Gazing's newest clients.
Gazing, founded in 1998, began with a primary focus on "'traditional business learning and development," which remains the case. But with their five directors all having strong sporting backgrounds, the overlap was clear.
"As much as our focus was on developing, training and coaching for business, there has always been a connection to sport.
"Mindset is a critical element, whether you tap into mindset in terms of motivation, or in terms of resilience under pressure or just in terms of the alignment and connection into whatever you're doing and the mental strength associated with that.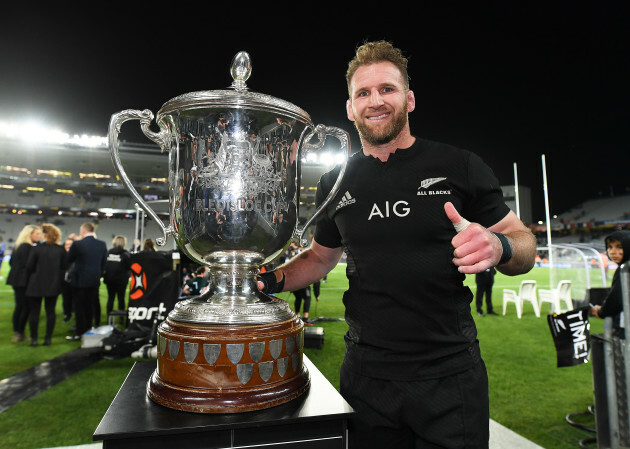 Photosport / INPHO All Blacks captain Kieran Read with the Bledisloe Cup. Photosport / INPHO / INPHO
"Those elements, it became clear, were important parts of the make-up in business and obviously they are part of the make-up of performance in sport. From very early on, we began to generate opportunities to work in sport."
The Rugby Football Union [RFU] was one of Gazing's first clients in rugby, with Brian Ashton bringing them in to work with an academy year including Danny Care and James Haskell.
The thing that appealed most to Ashton, and many of Gazing's other clients, was the simplicity of their approach.
"The point that Brian made really clearly when he saw Ceri speaking to coaches – he said it was the first time he had seen mentality and mental skills described in a way that was accessible for him as a coach."
The entirety of Gazing's delivery to each client is presented on what they call a "map," consisting of just a single A4 page. The maps are ultra-concise and therefore encouragingly actionable.
Evans' work with the All Blacks has, of course, gone on to the elite level of mental skills, taking in fields such as personal motivation, personal triggers and personal filters, which are far more confidential.
But even still, the All Blacks base their approach to mental skills on shifting from red to blue. Steve Hansen, Enoka and the entire organisation understand that their stool simply can't stand without a focus on mental skills.
"The really good coaches know there is an element of mentality required in performing a technical skill – handling – under pressure," says Fairn.
"So when they build up their scenarios and game exercises, one of the ideas will be that you're required to execute those skills under huge pressure, whether that pressure is fatigue or a suffocating defence or a short amount of time to make decisions because these skills work in conjunction with one another."
In terms of the pure mental skills, Gazing help their clients to prepare for worst-case scenarios, something that is still ignored in many places.
"With regards to mentality specifically, we help practice that skill through the creation of scenarios that are likely to threaten mentality," says Fairn.
James Crombie / INPHO The All Blacks were able to deliver under pressure back in 2013. James Crombie / INPHO / INPHO
"This is an area where we actually started to work with New Zealand at an early stage because one of the biggest flaws – it's amazing it happens in organisations – is that teams and organisations don't consider the risks to performance.
"They don't deliberately spend time looking at what might happen, what could go wrong, and what are we going to do when it does."
Think of the All Blacks not having a drop-goal strategy in place for that 2007 defeat to France, when they lost 20-18, and the doubt that gripped them when they realised they were not prepared to be in that place mentally.
"You can sort of see why New Zealand used not to do it, because they were so bloody good at everything they did, you can sort of forgive them for just focusing on doing what they do as well as they can possible do it, because eventually they'll still win," says Fairn.
"Unfortunately, over the course of 16 or 20 years when they lost however many World Cups they should have won, it didn't work like that. They got themselves in situations where it wasn't going well and mentally they weren't prepared for that in terms of being able to refocus on what they needed to do or adapt their thinking in order to be prepared to win.
"It sounds simple, but it was literally the beginning of the work saying, 'You guys have to be prepared for things that might go wrong, recognise they have gone wrong, recognise the threats to your mentality individually and collectively have a good strategy for getting on task.'"
In the 2011 World Cup final, the All Blacks were mentally prepared. They lost players to injury, their performance levels weren't at a peak, but they stayed on task and got over the line. By 2015, they had moved to another level and opposition teams struggled to deal with them.
While Gazing do take pride in working closely with an organisation like the All Blacks, who have driven their mental skills forward, they are humble enough to realise that their work is simply another part of the jigsaw.
"When you get all those things working well together, which is what the All Blacks achieve time and time again," says Fairn, "that's when you get the level of performance that you see."
The42 is on Snapchat! Tap the button below on your phone to add!