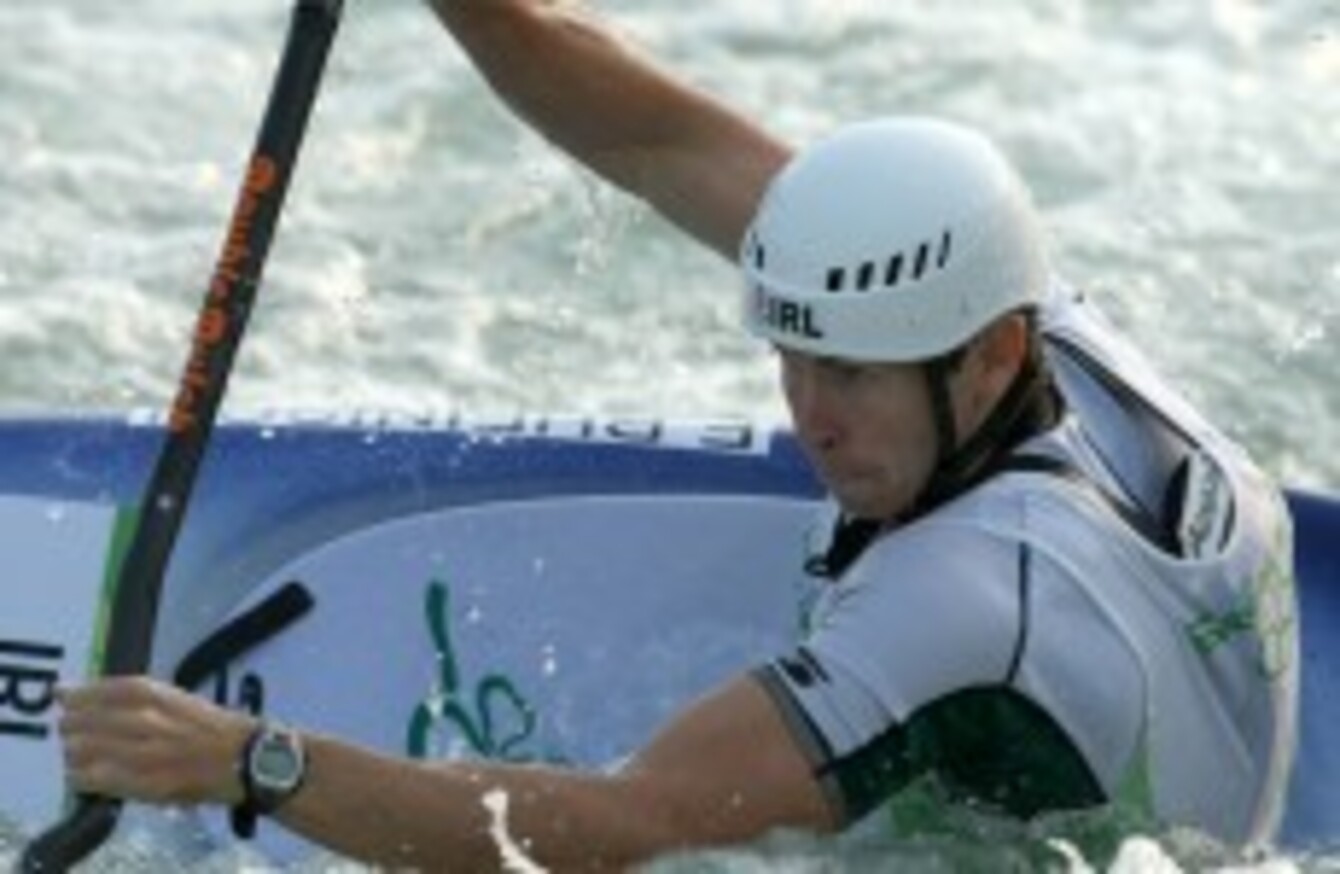 Image: ©INPHO/Morgan Treacy
Image: ©INPHO/Morgan Treacy
AS A FOURTH place finisher at the Beijing Olympics in 2008 and World Cup gold medalist, slalom canoeist Eoin Rheinisch surely deserves consideration alongside the cream of Ireland's athletic elite.
But while some of his more illustrious countrymen – participants in headline-grabbing sports like football, rugby and golf – have done much to popularise international athletics' glamorous ideal, Rheinisch's extra-competitive routine remains a greater test of his perseverance than a whitewater course ever could be.
Case in point: two days removed from his most satisfying result of the season, in Augsburg, Germany, the 32-year-old has yet to arrive home. His progress slowed by the three-and-a-half metre kayak strapped to the roof of his car, he's spent the better part of 48 hours traversing the continent.
"I have to catch an overnight ferry back to Ireland; I won't be home until Tuesday," he notes, wearily.
No flights, no champagne reception in the arrivals hall of Dublin airport, but the Kildare native isn't complaining: he's just booked his place at a third consecutive Olympic Games, taking the first of two qualifying spots on offer at the European Canoe Slalom Championships.
There was, he explains, no margin for error.
"It would have been nice get a place in the top-10 [Rheinisch finished the K-1 event in 12th place] – if you're in there you get another run- but it's a different kind of race when you're racing for qualification. I always try to leave a small margin for safety and make sure you don't touch a gate.

"It's not as pretty a form of racing as, say, the guys who made the final – they all had there Olympic places locked up. It would have been nice to attack the course fresh and free, with the job done, but it was a quite a measured performance. I didn't have one touch… you really can't afford to; it just puts you out of contention."
With qualification in the bag and his dreams of improving upon that fourth-place finish four years ago very much intact, Rheinisch is already looking ahead to months of frenetic competition. In addition to entering a further two World Cup events, the Kildare native anticipates a significant amount of on-site practice.
"There are official practices on the course in London now, set weeks when you can go over and train. There'll be one of them at the end of May. Any chance there is to get on that course in London, I'll be over there. That's the main priority right now – getting time on the water. All of these courses are so unique, it's really important to get as many hours on them as possible."
As a K-1 canoeist from the only country in Europe that lacks a whitewater training facility, Rheinisch is no stranger to a peripatetic lifestyle. He travels extensively throughout the season, returning home only between events and training camps.
An "understanding girlfriend" and family help ease the inconvenience, but his isn't a lifestyle for the faint-hearted.
"It's very hard to keep a normal existence going in Ireland… Any given season, I'm away from Ireland a minimum of 200 days a year.

"During a heavy training phase, you're doing around 18 training sessions a week. That includes a day off. Obviously, as the racing gets nearer, the intensity increases. The volume goes down, but you get a bit sharper."
Rheinisch attributes his success to what he describes as a "professional" approach: full-time commitment. Though his funding has proven susceptible to recent dips in public expenditure, it's only through the intercession of the Irish Sports Council that his third Olympic campaign remains on track.
"Funding can help you go full-time, which what you have to be if you want to succeed. You have to be professional about it. After 2008, I got very good support form the Sports Council… The sport of canoeing as a whole has suffered a little bit, thanks to cuts across the board, but I think it's beginning to improve at the moment."
Rheinisch will be joined on the water in London by compatriot Hannah Craig, who secured her K-1 qualification on Friday.