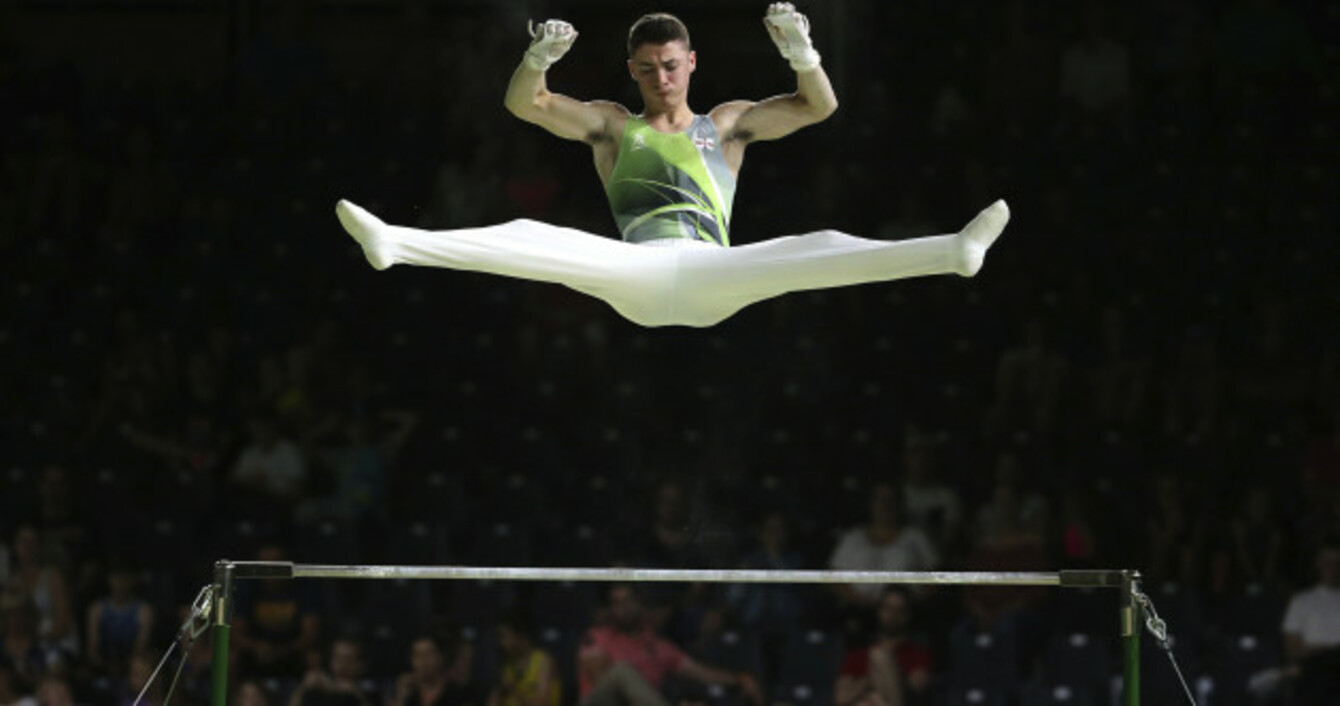 Northern Ireland's Rhys McClenaghan competes on the parallel bars at the men's artistic gymnastics competition at Coomera Indoor Stadium during the Commonwealth Games on the Gold Coast, Australia this week..
Image: Dita Alangkara
Northern Ireland's Rhys McClenaghan competes on the parallel bars at the men's artistic gymnastics competition at Coomera Indoor Stadium during the Commonwealth Games on the Gold Coast, Australia this week..
Image: Dita Alangkara
AS A CHILD, Rhys McClenaghan was a ball of irrepressible energy. So much so that his parents decided to enrol him in his local gymnastics club. After all, if anything is sure to tire a child out, it's doing leaps and somersaults.
"My aunty had done gymnastics for the Northern Irish team," he explains. "So that's what got the gymnastics thing in their head. They brought me to the local club and I loved every second of it."
That was when he was six-years-old. Since then, the Co.Down native has established himself as the country's top male gymnast and a leading Irish prospect for Tokyo 2020.
This weekend, the 18-year-old is busy vying for medals in the Commonwealth Games, where he is representing Northern Ireland. He has qualified for both the men's individual all-around final and the pommel horse final, both of which will take place this weekend. (He qualified for the latter in second place behind Olympic gold medallist Max Whitlock.)
It's quite a feat, especially for a teenager from Newtownards, Co. Down But McClenaghan is as motivated a teenager as you're ever likely to come across. He speaks more confidently and assuredly than most adults, and you get the impression that he has a five-year plan drawn up somewhere.
In fact, he's always been a forward planner. As a child, he dabbled in sports like football and swimming, but quit both in order to dedicate himself more fully to gymnastics.
"When I turned eight, I started to get selected for more competitions and started to increase the hours I was training," he says. "I actually made quite a mature decision for an eight-year-old. I was like, 'I need to focus on gymnastics, I need to stop these other sports.' And for an eight year old, looking back on it, that's weird. Because I know a lot of eight-year-olds from the gymnastics club and I don't think any of them are that mature. But I could be wrong."
Growing up, this unwavering commitment to his sport left many of his friends and peers flummoxed.
"When I was that age, they didn't really understand. They were always like, 'Why are you going to training?' After school, I'd just go straight to training and that would be my evening taken up. So they'd be really confused when I'd be like, 'I can't play XBOX' or 'I can't play football.'"
He also faced slagging about being a boy in what many still view as being a traditionally female sport.
"Especially when I was at school, the 'funny' thing to say would be, 'Why are you doing a girl's sport?' And I was like, 'Well, it's not just a girl's sport actually. It's a very difficult sport to do.'"
But that soon changed when he started competing at more high-level competitions.
"People didn't understand why I was doing this sport until I appeared on TV and I could laugh in their faces," he jokes. "I completely understand, but it's just that people don't have a great knowledge of gymnastics. And I think by me getting more results and increasing publicity of the sport, it will make people understand more about gymnastics and create a newfound respect for it."
His breakthrough came in 2016 when he won a bronze medal in the pommel horse at the British Championships, placing behind Olympic medallists Max Whitlock and Louis Smith. This, despite the fact he was still only a junior.
"That competition was quite a big deal for me," he says. "I see it as a pinnacle in my career because that was broadcast live on BBC2, so I knew all my friends and family were going to be watching it at home."
"It was interesting because when you go to compete on the pommel horse, especially, you're very shaky and nervous. Normally when you put your hands on the pommel horse getting ready, your hands are shaking, your arms are shaking. And I remember presenting to the judges and putting my hand on the pommel horse and thinking, 'Why aren't I nervous?' I was really confused. But then I was like, 'Just enjoy this moment.'"
Not only did he enjoy the moment, but he wound up doing his best routine to date scoring 15.175. As he stood on the podium with Smith and Whitlock, 'two of the best pommel horse workers in the world,' McCleneghan said it imbued him with a newfound confidence.
"It was one of those moments where I was like, I believe now I can be one of the best in the world," he recalls.
A word about the pommel horse. It is by far McClenaghan's best event. In 2016, he was the first Irish gymnast to medal at a European Championships when he won gold in the pommel horse in the U18 category. Last year, his pommel horse routine saw him finish in a very respectable 14th at the World Championships.
It's all the more impressive when you consider his age. McClenaghan says that the world's best pommel horse specialists tend to be a little bit older than specialists in the other apparatus.
"I think it's because it's quite an intricate piece of apparatus and it takes a while to get used to it," he says."The older you are, the more you understand about the event. But I seem to understand it pretty well now if I'm 14th in the world. I hope to just work my way to the top."
But don't pigeonhole him just yet. While he may excel at pommel horse, McClenaghan continues to see himself as an all-around gymnast.
"I'm not just focusing on the pommel horse singularly," he explains. "I'm doing all of the other events."
"I'm just at a higher level on the pommel horse. I'm closer to the top in the world than all of my other events."
His aim over the next two years is to improve as an all-around gymnast. That means more consistency, increased difficulty and higher scores.
All of which should come in handy ahead of the Olympics. Last year, McLenaghan was one of a dozen Irish athletes to be awarded an Olympic Solidarity Scholarship to assist with preparations for Tokyo 2020.
To date, just three Irish gymnasts have participated in the Olympics – Barry McDonald, Kieran Behan, and Ellis O'Reilly. McClenaghan is respectful of the Irish gymnasts who came before him, but he's not shy about his desire to deliver better performances. To paraphrase Conor McGregor, he's not here to take part.
"They went and participated in the Olympics. I don't want to just do that. I want to go and get results. I want to make finals, I want to win medals. I want to really continue doing that through every competition I do. I don't want to go and just take part in the competitions."
Once he graduates from college this year, his plan is to train full-time under coach Luke Carson at Rathgael Gymnastics. There are competitions aplenty, including the European Championships in August and the World Championships in October.
This weekend, though, it's all about the Commonwealths. Will he find himself standing on a podium with Max Whitlock again?
As McClenaghan has proved time and time again, anything is possible.